UTA honors alumni for commitment to University, community engagement
The University of Texas at Arlington is recognizing individuals who have represented or advocated for the University through professional and civic achievement and community engagement at the 2018 Distinguished Alumni Awards presented by Oncor on Nov. 9. The annual event celebrates alumni and friends of the University for their exemplary accomplishments and anchors UTA's weeklong Homecoming festivities that culminate with a street festival, parade and basketball games on Saturday, Nov. 10.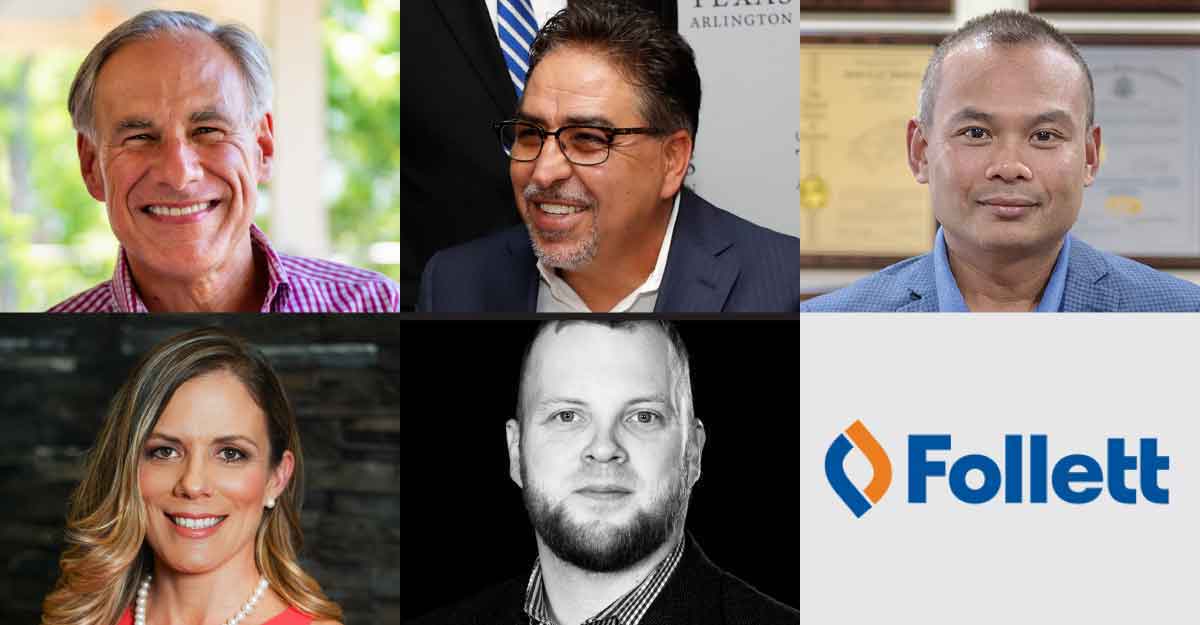 This year the Distinguished Alumni Awards features the awarding of the UTA President's Medal to Gov. Greg Abbott. He is the second person to ever receive the medal. The University also gave the medal to Her Royal Highness Princess Muna Al Hussein, mother of His Majesty King Abdullah II of Jordan, in 2016.
The 2018 awardees also include Mike Dolabi, Kevin Le, Maria Mejia, Matthew Foster and Follett Higher Education Group.
The Honorable Greg Abbott (UTA President's Medal): A native Texan and avid sportsman and hunter, Gov. Abbott was born in Wichita Falls and raised in Duncanville. He studied accounting at UTA from 1976 to 1978 before graduating from The University of Texas at Austin with a bachelor's of business administration degree in finance. He also earned a law degree from Vanderbilt University Law School. Prior to his election in 2014, Abbott was the 50th and longest-serving attorney general of Texas. He also previously served as a justice on the Texas Supreme Court and as a state district judge in Harris County.
Mike Dolabi: Mike Dolabi studied at UTA and is now the president and owner of National Autobody Parts Warehouse. Founded in 1993, he and his wife, Sunny, have turned the Grand Prairie-based company into the largest independent aftermarket parts supplier in Texas. The company has been recognized as a Certified National Sanitation Foundation Automotive Parts Distributor since 2012 and has earned outstanding ratings from the customer satisfaction survey repeatedly over the last six years. Dolabi's leadership and knowledge of International Organization for Standardization-quality management systems and National Sanitation Foundation International Strategic Registrations certification programs have made him a respected authority in the industry. He sits on the board of directors for the Automotive Body Parts Association, the leading professional organization for the industry.  
Kevin Le '99 BS, '01 MS, '05 PhD: Kevin Le is a co-founder and chief technical officer of Arlington-based Luraco Technologies, a high-tech corporation dedicated to providing research, advanced technologies and innovative products to the military, industrial, commercial and residential sectors. Under Le's leadership, Luraco has been recognized as a Dallas Top 100 Company, Top Defense Contractor in Tarrant County and winner of the Export Achievement Award by the U.S. Department of Commerce. Le is also a co-founder of Vietface Television, the largest free Vietnamese network in America that provides entertainment and educational programming for Vietnamese-American viewers and communities. Luraco has filed for 32 U.S. and international patents with 17 patents awarded and 15 patents pending. Le earned his bachelor's, master's and doctorate degrees in electrical engineering and all at UTA.  
Maria Mejia '02 BBA:  Maria Mejia is the senior vice president and chief financial officer at Ulterra Drilling Technologies L.P., where she is responsible for all aspects of financial management in support of the company's strategic and operational goals. In addition to her CFO responsibilities, she also oversees the legal, information technology and compliance divisions at Ulterra. More than that, she has become known for leading change by creating an environment of empowerment, a culture of responsiveness, an emphasis on employee education and development and a focus on visible internal programs to reward innovation. Maria graduated Summa Cum Laude with a bachelor's of business administration degree in international business at UTA.
Matthew Foster, '11 BA, '13 MPA (Distinguished Recent Graduate): Matthew Foster is a U.S. Army veteran who served in the 101st Airborne Division with a deployment to Iraq in 2005-06 in support of Operation Iraqi Freedom. He is currently the director of external and legislative affairs for AT&T and is responsible for AT&T relationships with community leaders and elected officials across much of North Texas. Foster is an avid volunteer with the nonprofit Team Rubicon, a veteran-led disaster relief organization that helps victims of natural disasters across the globe. He holds a bachelor of arts degree in interdisciplinary studies and a master's degree in public administration from UTA.
Follett Higher Education Group (Distinguished Honorary Alumni): Follett has been a trusted partner to K-12 schools, districts, college and university campuses for 145 years, taking care of the critical details that make it easier for schools to run, teachers to teach and students to learn. At UTA, Follett has established several student resources, including the Follett Academic Center in College Park Center and the Follett Student Leadership Center. Follett's partnership with the University has made higher education more accessible for students and increased their rate of success while attending UTA. The award will be presented to Alan Stratman on behalf of Follett Higher Education Group.
The Distinguished Alumni Awards event is at 6:30 p.m. Friday, Nov. 9, in the E.H. Hereford University Center's Bluebonnet Ballroom. Tickets and table sponsorships at several levels are available for purchase at https://alumni.uta.edu/daawards. For more information on sponsorships, please contact Jeff Serrano at 817-272-6495 or jeff.serrano@uta.edu.
As the fifth fastest-growing university in the country, UTA is one of the very few that is designated as both a Carnegie R-1 institution and a Hispanic-Serving Institution. In the 2017-18 academic year, UTA awarded more than 14,000 degrees and academic certificates, continuing a trend of increasing levels of degree attainment over the past five years. The University is ranked No. 1 in the state of Texas for veterans (Military Times, 2019) and adult learners (Washington Monthly, 2017), and the U.S. News & World Report recently ranked UTA in its top tier of national universities.