UTA researcher working to determine minimum energy use possible in lasers
Inside massive data centers, electrical data interconnections consume huge amounts of electricity. But an alternative—semiconductor laser-based optical interconnects—offers an energy-efficient solution for the sustainable power consumption required to keep up with explosive data traffic growth.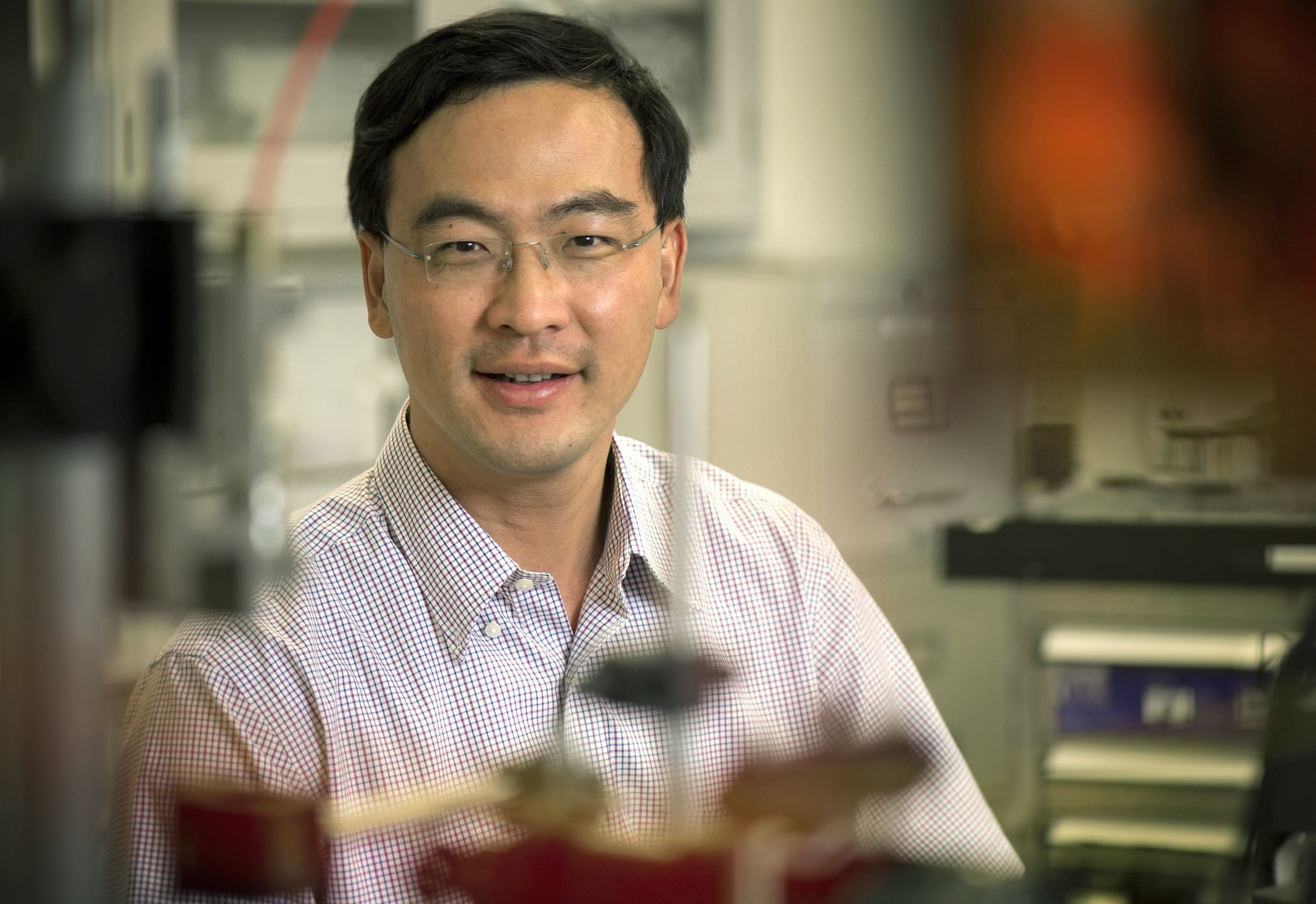 Weidong Zhou, an electrical engineering professor at The University of Texas at Arlington, will use a $450,000 grant from the Army Research Office to determine the minimum amount of energy required to develop high-speed and energy-efficient lasers based on nanophotonic cavities and nanostructured materials.
Zhou's research will explore carrier dynamics, or the speed at which electrons are distributed and how quickly they change to light in different materials. For example, when a flashlight is turned on and off quickly, the amount of time it takes for the charge from the battery to create light is based on carrier dynamics. In lasers, better carrier dynamics leads to better efficiency and greater speed.
He will work with quantum dots—essentially, artificial atoms—to determine their physical parameters with edge-emitting and surface-emitting laser configurations and to achieve maximum efficiency.
In applications such as data communications, sensing and the Internet of Things, speed and energy-efficiency are the most important factors for lasers. Specifically, researchers are trying to achieve the least amount of energy consumption necessary to transmit information optically per bit.
"By looking at the processes involved in carrier dynamics, we can look into ways to improve speed by using different materials or changing the structure of the laser cavity," Zhou said. "Our goal is to eventually understand and demonstrate new laser structures that will be better than the current state-of-the-art."
The new structures could allow scaling of lasers to nanometer sizes. Potential applications for the technology include data networking, flexible displays, solid-state lighting, energy harvesting, infrared night vision and image and gas sensing for medical, biological, environmental, military and homeland security uses. 
Zhou has received several other grants in the area of photonics, including a five-year, $3 million Multidisciplinary Research Initiatives grant from the High Energy Laser Joint Technology Office in 2017 to develop a high-power semiconductor laser that is compact, efficient and power-scalable. Since joining UTA in 2004, his Nanophotonics Group has received more than $10 million in research grants.
His latest award is an example of data-driven discovery, one of four themes of UTA's Strategic Plan 2020, said Peter Crouch, dean of the College of Engineering.
"Advances in photonics hold tremendous promise for scientific and technological discovery. Dr. Zhou has contributed a great deal to the field and continues to lead the way in innovative thinking," Crouch said.
Several other UTA electrical engineers are conducting research in optics and photonics, including the following:
Professor Robert Magnusson is a charter Fellow of the National Academy of Inventors and a Life Fellow of the Institute of Electrical and Electronics Engineers. He leads UTA's Nanophotonics Device Group, which pursues theoretical and experimental research in periodic nanostructures, nanolithography, nanophotonics, nanoelectronics, nanoplasmonics and optical bio- and chemical sensors. Magnusson holds 30 issued and pending patents and has garnered more than $10 million in research funding and endowments for UTA since becoming the Texas Instruments Distinguished University Chair in Nanoelectronics in 2008.
Professor Michael Vasilyev is a fellow of the Optical Society and holds 10 issued patents. His research focuses on nonlinear and quantum optics, optical communication systems and devices and nanophotonics. He has been the primary investigator on research grants totaling more than $3.4 million since joining UTA in 2003.
Assistant Professor Alice Sun earned a National Science Foundation CAREER award in 2016 and has been the primary investigator on research grants totaling more than $2 million since beginning her career at the UTA in 2013. Her research interests include optofluidic biomedical and chemical sensing, nanophotonics and biophotonics, microfluidics and point-of-care devices and bio-inspired photonic devices and systems.
 -- written by Jeremy Agor