UTA laboratory teams with India to fix large penstock pipes
A University of Texas civil engineering researcher is teaming with the Indian Society for Trenchless Technology to work with government of India to solve leakage of large-diameter pipes that carry storm water to provide hydroelectric power to Indian communities.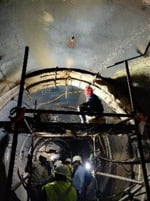 Mohammad Najafi, director of the Center for Underground Infrastructure Research and Education, or CUIRE, is leading the 16-month project to first analyze penstock defects and then provide the necessary analysis, testing and recommendation for repair and rehabilitation using trenchless technologies.
Penstocks are large-diameter pipes that channel water to an energy plant. Some of these penstocks in India are 12 feet in diameter. The penstocks Najafi will work on are each about one mile long and carry water  to a power plant in northeast India.
Najafi said the first task for his research group is to identify where the penstocks are leaking.
"From there, we can determine what materials and methods and how much to use to best repair the system," said Najafi, who said this is CUIRE's fourth international project, following endeavors in China, Brazil and Colombia. "We hope to expand upon this collaboration with India. This research project could put CUIRE on the international map. When we show the successful results this project will yield, countries will use CUIRE's technology and know-how to help their penstock challenges."
The project speaks to two of UTA's four themes of its Strategic Plan 2020: sustainable urban communities and global environmental impact, said Ali Abolmaali, chair of the Civil Engineering Department.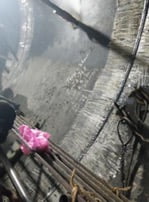 "Dr. Najafi's work in CURIE has worldwide implications," Abolmaali said. "Hydroelectric power is used around the globe. Making that system more efficient, environmentally friendly and less costly is important to UTA, the state, the nation and the world."
Najafi is the author and co-author of many publications and manuals of practices, such as: Pipeline Infrastructure Renewal and Asset Management, Trenchless Technology Planning, Equipment, and Methods, Trenchless Technology Piping: Installation and Inspection and Trenchless Technology: Pipeline and Utility Design, Construction and Renewal.
Najafi also is the director of Construction Engineering and Management degree. Started in fall 2014, UTA offered the coursework online to help meet industry demand, especially in the booming North Texas area.
OnlineMasters.com recently ranked UTA's online master's of construction degree No. 21 nationally. UTA also was recognized as having the best interdisciplinary studies among the ranked programs.
Najafi's research through his years at UTA has centered on infrastructure, including:
A grant from the Texas Department of Transportation to investigate building underground freight transportation in certain urban environments with heavy truck traffic.
A  grant from the nonprofit Water Environment Research Foundation to conduct manhole design and failure detection research at CURIE.