First in series of symposiums focuses on UTA's strategic plan
About 60 faculty members from across The University of Texas at Arlington campus attended the first of a series of symposiums aimed at determining the progress the University has made in its strategic plan themes.
University officials stressed that one goal of this symposium and future symposiums is to engage faculty and staff to share their current initiatives, and how those interests could stretch across the campus to various disciplines in support of those initiatives.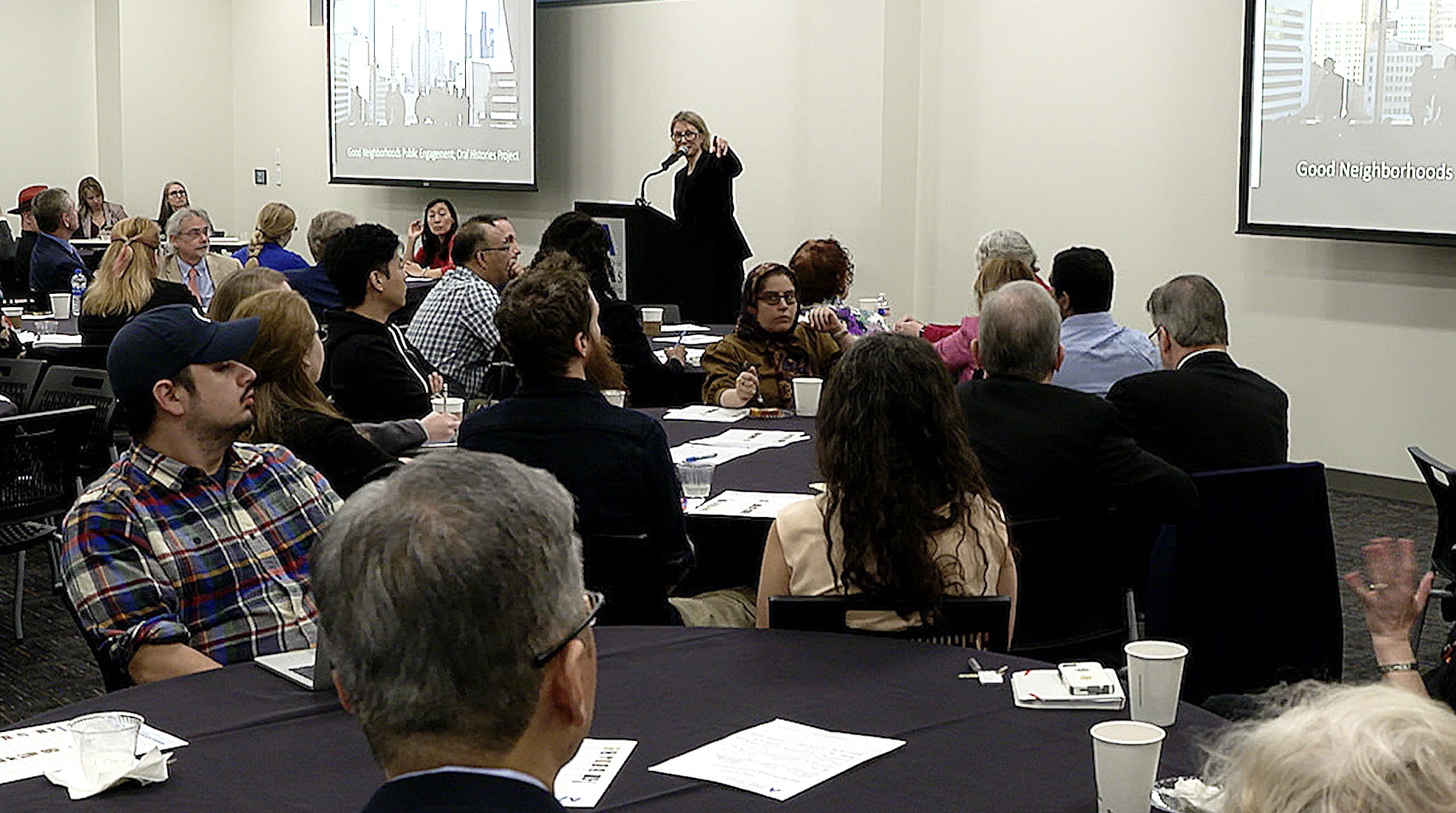 Held in early February, the inaugural symposium focused on sustainable urban communities.
After that prologue and opening remarks from Provost Teik C. Lim and Vice President for Research Duane Dimos, several deans relayed projects their colleges are working on that either already employ or would encourage multidisciplinary collaboration in this sustainable urban communities area.
In addition, Dimos presented faculty in attendance with federal research funding opportunities related to the university's strategic theme, including existing opportunities through the National Science Foundation and common themes relevant to Sustainable Urban Communities often funded by the National Institutes of Health. 
Adrian Parr, dean of the College of Architecture, Planning and Public Affairs, prompted the audience to look for multiple interpretations of what sustainable urban communities means.
She said that in CAPPA, it brings social, economic and environmental variables into a conversation with one another through the disciplines of design, policy and public affairs.
"For me, sustainability is inherently an empathetic undertaking. You've got to step outside your own reality and invision yourself in someone else's reality," Parr said. "Whether we're talking about individuals, communities or countries we've never been to before. It's also a spirit of generosity. It's something that's transnational, trans-species and trans-generational."
She highlighted some of the interdisciplinary projects in CAPPA, like C-TEDD, or the Center for Transportation, Equity, Decisions & Dollars. Parr also outlined a number current CAPPA projects, like creating new health facilities' designs, the Parallel Construction program and the UNESCO Water and Human Settlements work.
Peter Crouch, dean of the College of Engineering, said that with about 190 full-time faculty, the college's areas of expertise are quite expansive because faculty members have so many areas in which their research projects exist.
He listed transportation, electric power, communications, materials, autonomous vehicles, disaster measurement, infrastructure design and replacement, sewer and water maintenance, aircraft design and testing and bioengineering as some of those areas.
Scott Ryan, dean of the School of Social Work, listed the school's areas of expertise as projects focused on eradicating social isolation among the elderly, smart incarceration, transportation options for older adults, substance abuse intervention, counseling, treatment, evaluating older adults' vulnerability to natural disasters and how transportation affects recently released convicts efforts to re-enter society.
After the deans' presentations, individual faculty members relayed what projects they were working on or which ones they were interested in.
The next symposium in the series is about Global Environmental Impact, scheduled for 11:30 a.m. to 1:30 p.m. Wednesday, March 20, in the Nueces Room of The Commons. See this site for more information and to register.