Second strategic plan symposium focuses on environmental efforts
The diverse ways The University of Texas at Arlington's research and programs address critical issues affecting the planet were on display at a March 20 symposium on one of the University's four strategic plan themes.
Faculty members joined University leadership to discuss progress on initiatives designed to study and address global environmental impact as UTA prepares to update its Strategic Plan 2020. The first in this series of symposiums was held in early February and focused on sustainable urban communities.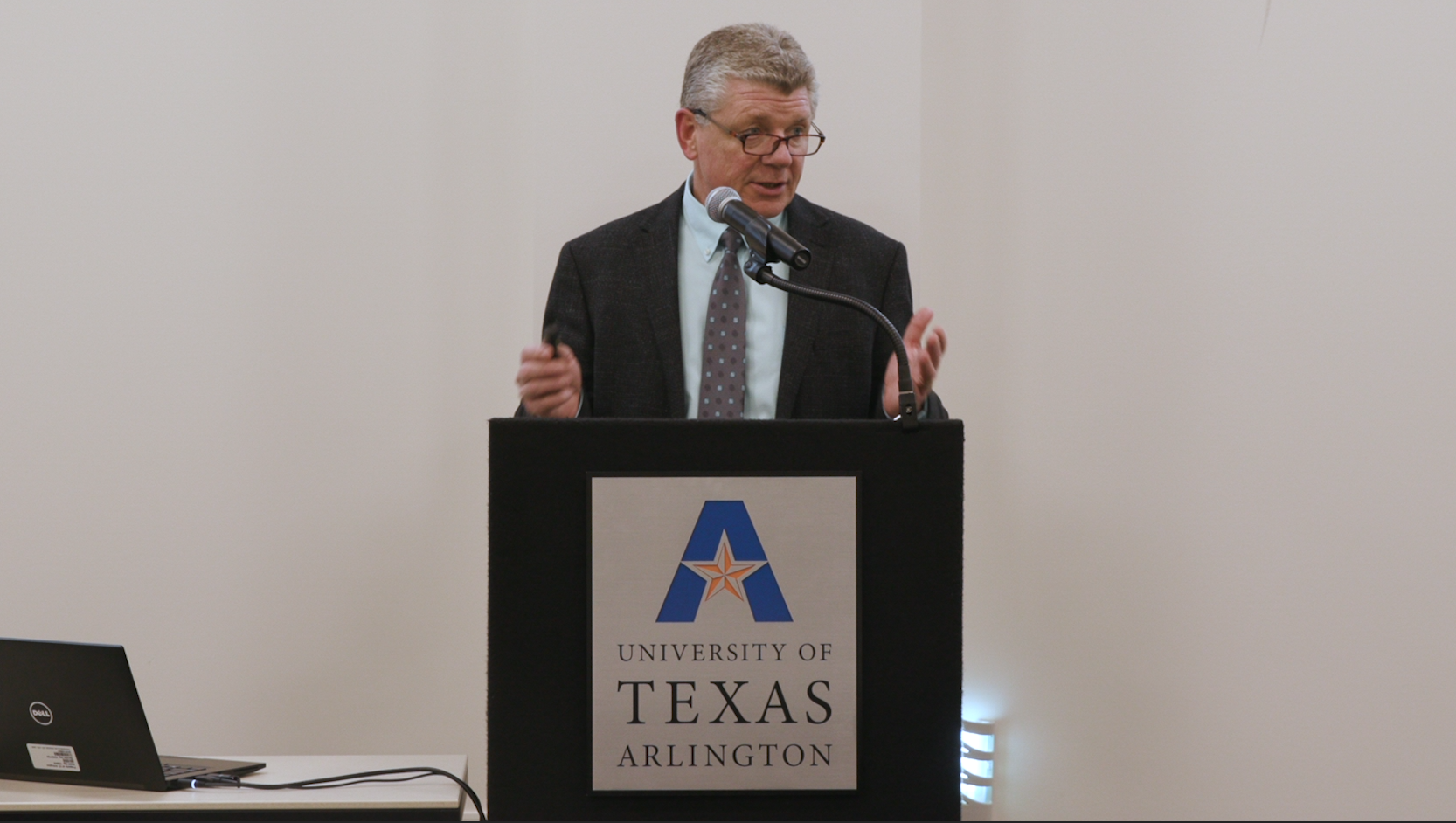 University officials stressed that the goals of the symposiums are to engage faculty and staff to share their current initiatives and discover potential opportunities to collaborate with colleagues in different disciplines across campus.
"I know many of you are already involved in research and educational programs in the area of global environmental impact," Vice President for Research Duane Dimos said. "This symposium is intended to highlight things we are already doing, draw attention to areas in which we could do more and catalyze the discussion across campus on how we can work together."
Dimos highlighted the necessity and importance of interdisciplinary programs and research to make significant progress in addressing challenges related to the global environment.
Dimos also presented some areas of excellence in the University's global environmental impact research portfolio, including water, energy, environmental issues and climate. He shared funding opportunities from the National Institutes of Health to investigate global environmental impact issues and discussed two institutes with a strong focus on the topic—the National Institute of Environmental Health Sciences, or NIEHS, and the Fogarty International Center.
Dimos encouraged faculty members to explore the Virtual Consortium for Translational/Transdisciplinary Environmental Research (ViCTER) program through the NIEHS for opportunities to collaborate and exchange knowledge and resources.
UTA research expenditures have increased by 30 percent over the past three years, topping $100 million for the first time in 2018. More than 65 percent of UTA's research funding comes from federal funding sources, Dimos said.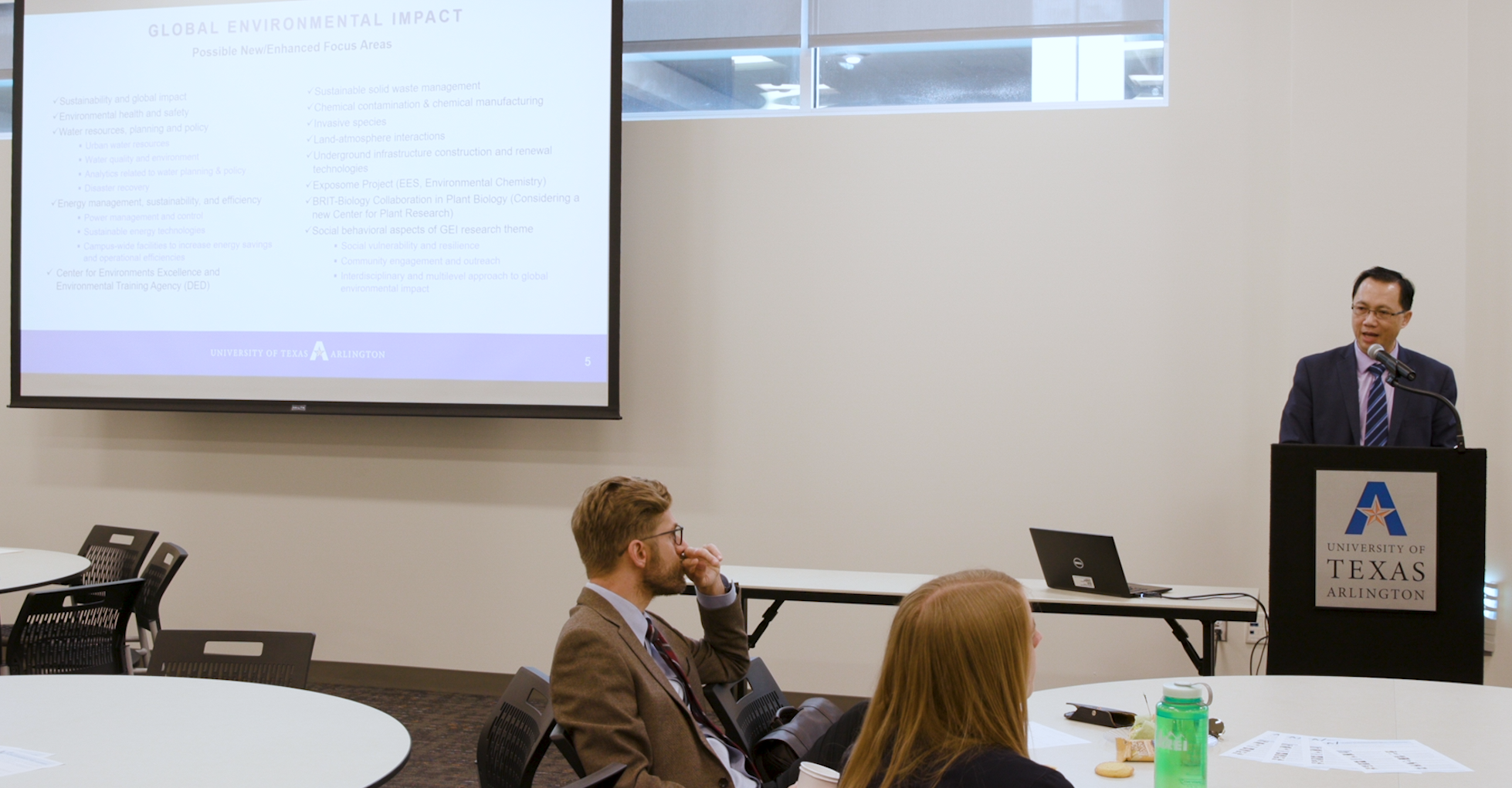 Provost Teik C. Lim shared that UTA has hired 12 new faculty members whose expertise is specifically related to the global environmental impact strategic plan theme. He also introduced possible new or enhanced focus areas and academic programs, noting that faculty proactivity is essential for advancing the proposed plans.
"The administration and I want to be catalysts to help you identify funding and potential collaborators, but we need your involvement to make these things happen," Lim said. "These symposiums play an important role in facilitating that."
The problem-solving nature of UTA research was a recurring theme as University officials demonstrated the efforts of their respective disciplines to enable the well-being of the global environment.
For example, in the College of Science, researchers are investigating issues related to sustainability, climate change and impact, geohazards and environmental health, Dean Morteza G. Khaledi said.
"Our research across our departments is fairly comprehensive in addressing issues related to the environment," Khaledi said. "We are looking to initiate collaborations and hire faculty that increases our synergy among our ongoing research focus areas."
Ali Abolmaali, Tseng Huang Endowed Professor and chair of the Department of Civil Engineering, shared the department's efforts around global environmental impact, which includes establishing a Center of Excellence in Water Resources, Planning and Policy in collaboration with the College of Architecture, Planning and Public Affairs.
"In our ongoing projects with the current Urban Water Institute, it has become evident that no discussion about water infrastructure can be had without the inclusion of policy," Abolmaali said. "We are grateful CAPPA has agreed to partner with us so we can more comprehensively resolve water-related challenges."
Following the keynote presentations, faculty and staff members updated the audience about their ongoing projects and developing areas of interest to spark ideas and new opportunities for collaboration across campus.
At the conclusion of the symposium, Lim spoke about the growing network of faculty at UTA, with 66 new tenure-track faculty brought on board in the current academic year.
"We actively look for new faculty members that support our strategic plan themes," Lim said. "Global environmental impact is one area in which we have a lot of opportunity to expand our expertise and leadership."
Watch a complete video of the symposium here. The next strategic plan symposium is Thursday, April 18 from 8:30-10:30 a.m. in the Nueces Room of The Commons and will focus on health and the human condition. Registration information is available now.