UTA to bring host of activities, demonstrations for festival attendees
The University of Texas at Arlington will have a 3-D printing demonstration, a formula racecar built by students and explosive science experiments at the 2019 Main St. Fort Worth Arts Festival Thursday, April 11, through Sunday, April 14.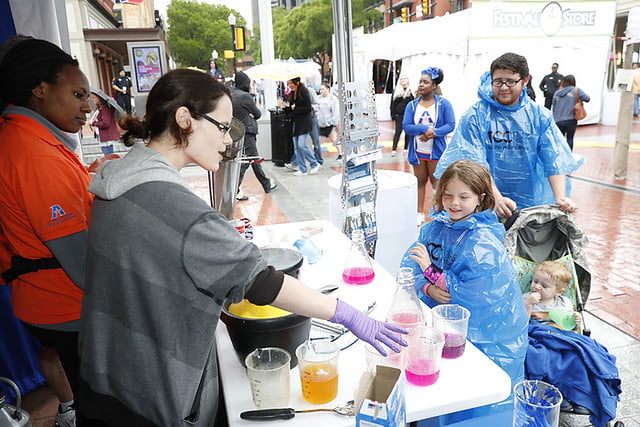 UTA is a sponsor of the festival this year, which features 18 blocks of food, fun, music and art. The free festival stretches from Weatherford Street on the north to Ninth Street on the south and all blocks in between.
The UTA Main Stage on Ninth Street features music from the Dallas-Fort Worth Professional Musicians Union Trust Fund for much of the daytime entertainment. Musical genres include Americana, alternative rock, blues, classic rock, jazz, Latin, country, disco, Texas blues rock and many more.
More than 200 artists will display their works.
An exclusive university partner of the festival, UTA will showcase dynamic learning environments with exciting presentations from the various colleges on campus at the exhibit tent near Sundance Square, between Third and Main streets. 
UTA's schedule of events are:
Thursday, April 11
Julienne Greer, UTA assistant professor of theatre arts, will be demonstrating a robot's interaction in the world of liberal arts, noon to 4 p.m.
Friday, April 12
Fab Lab: embroidery and 3-D printing demonstration, 9 a.m. to 2:30 p.m.
Social Work hosts a carnival games exhibit, 2:30 to 8 p.m.
Saturday, April 13
Nursing exhibit 9 a.m. to noon
College of Engineering and UTA's Formula SAE racecar, 9 a.m. to 2:30 p.m.
Wild Pony Print Shop Demonstration/College of Education Quiz Bowl, 2:30 to 8 p.m.
Sunday, April 14
College of Science Ambassadors, 10 a.m. to 1 p.m.