UTA history professor named to 2019 class of Andrew Carnegie Fellows
First UTA recipient of prestigious grant
A University of Texas at Arlington professor has been named to the 2019 class of the prestigious Andrew Carnegie Fellows Program, the first UTA recipient selected for this annual program.
John Garrigus, professor of history, is one of 32 scholars in the 2019 Carnegie class of fellows selected from among 273 nominations, and represents the only fellow selected from a Texas university this year.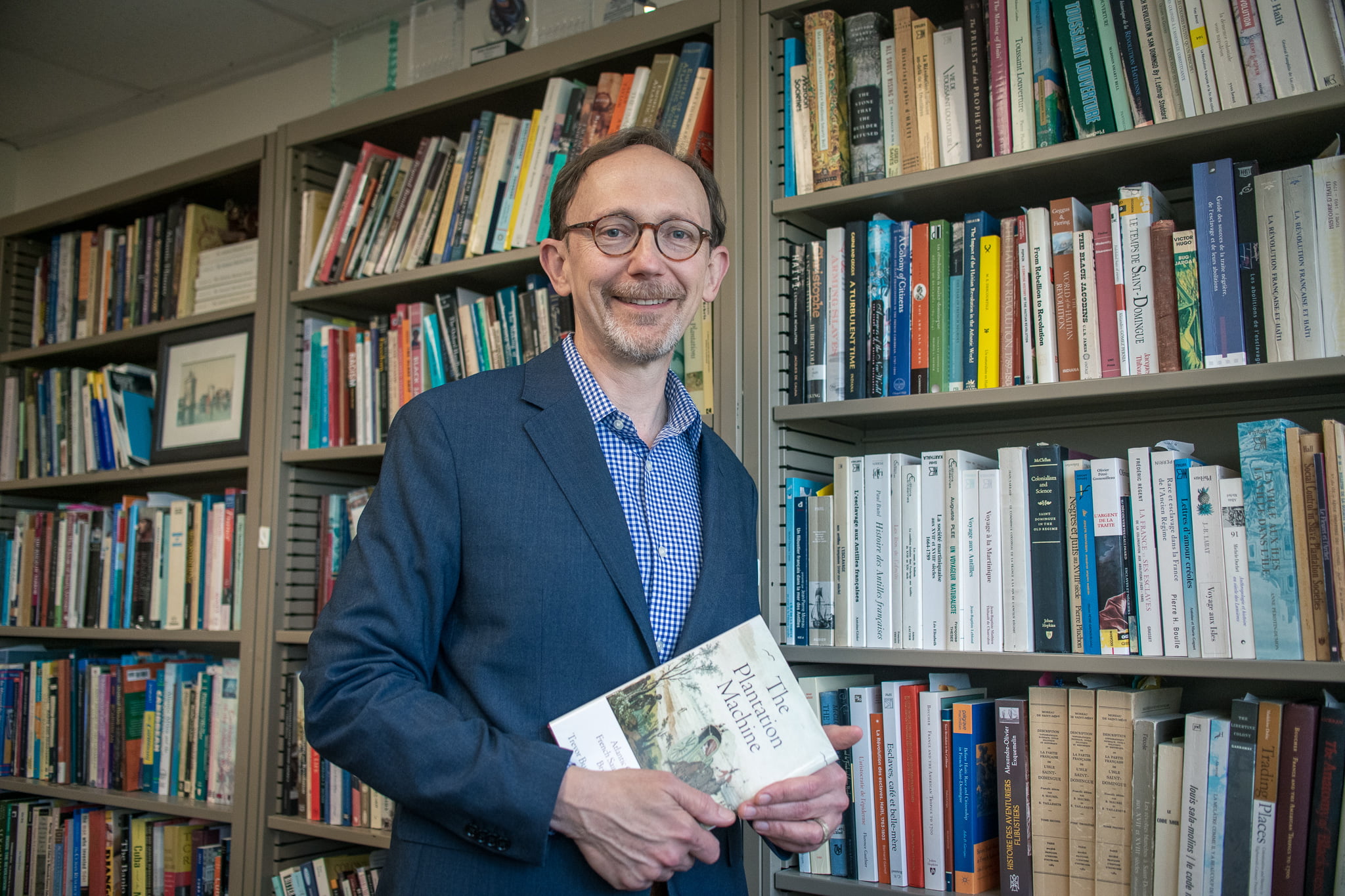 Garrigus is a leading scholar of Atlantic and Caribbean history who uses archival research and geographic information systems technology to provide fresh insight into thousands of mysterious deaths that preceded the 18th-century Haitian revolution—the only successful slave uprising in modern history. He is also a 2017-18 fellow of the prestigious National Humanities Center.

The Andrew Carnegie Fellows Program recipients each receive a grant of up to $200,000, making it possible for them to devote significant time to research, writing and publishing in the humanities and social sciences.
"It is humbling. And it's a recognition of what The University of Texas at Arlington has become," Garrigus said. "I would not have been considered for this award before we received the R-1 Carnegie designation."
UTA first received R-1: Doctoral Universities—Very High Research Activity status in 2016 from Carnegie Classification of Institutions of Higher Education. It is the definitive list for the top doctoral research universities in the United States.
During his fellowship, Garrigus plans to continue his lifelong work on slave life in the Caribbean. Much of his research has centered on Francois Macandal, a Haitian burned at the stake by French planters who believed he had fatally poisoned thousands of slaves, hundreds of colonists and countless livestock.
Garrigus' book project—"Macandal is Saved": Disease, Conspiracy, and the Coming of the Haitian Revolution—proves that a generation before Haiti's successful slave revolution, the French colony was decimated not by rebel slaves wielding poison, but by anthrax spores transported from France in a shipment of mules.
Garrigus believes his research on the Macandal affair will change the way people think about the Haitian Revolution that ended slavery there 45 years later.
"I think everyone who lives in a democracy owes a debt of gratitude to the Haitian revolutionaries," Garrigus said. "Twenty years ago, we didn't understand that. But we're learning more and more. With this award, I'll have the time to write a general audience book about this fascinating episode."
"Professor Garrigus' scholarship is shedding new light on Haitian history and the effects of French colonization. His exacting research is ensuring a better understanding of the revolution and of aspects related to the human condition. I'm thrilled that his scholarship has been recognized through a 2019 Andrew Carnegie Fellowship," said President Vistasp Karbhari. "Professor Garrigus exemplifies the highest levels of excellence that define our faculty in the College of Liberal Arts and at The University of Texas at Arlington. Our students gain significantly from his brilliance in the classroom and as they initiate their own research."
The 2019 class of the Andrew Carnegie Fellows Program includes recipients from leading institutions across the United States, including MIT, Columbia, Georgetown, Harvard, Yale, Carnegie Mellon, UC Berkeley, Vanderbilt and Northwestern.
Elisabeth Cawthon, dean of the College of Liberal Arts, said the University is stronger because of contributions from faculty members such as Garrigus.
"John's love of Caribbean history shows in his research and in the classes he teaches," Cawthon said. "And now the Carnegie Corporation of New York has chosen to select John's work to reward. What an honor. Being singled out by the Carnegie Corporation of New York is no small feat."
The overall objective of the Andrew Carnegie Fellows Program is to offer fresh perspectives on the humanities and solutions to the urgent issues of today.
The award is for a period of up to two years and its anticipated result is a book or major study. The program is the most generous initiative of its kind, providing $32 million in grants to more than 160 fellows since 2015, according to the Carnegie Corporation of New York.
"Andrew Carnegie believed in education and understood its influence on the progress of society and mankind. The Andrew Carnegie Fellows Program is an integral part of carrying out the mission he set for our organization," said Vartan Gregorian, president of Carnegie Corporation of New York and president emeritus of Brown University. "Over the past five years, we at Carnegie have been very impressed by the quality, range and reach of our fellows' work. This year is no exception. We salute this year's class and all of the applicants for demonstrating the vitality of American higher education and scholarship."
For 2019, the Carnegie Corporation of New York received a total of 273 nominations. Each underwent a preliminary anonymous evaluation by national experts from relevant fields. The top proposals were forwarded to a distinguished panel of 16 jurors, who chose the fellows based on the quality, originality and potential impact of their proposals, as well as each scholar's capacity to communicate the findings to a broad audience. The jurors are all scholars and intellectual leaders from some of the world's leading educational institutions, foundations and scholarly societies, and six are either current or former university presidents.
The Andrew Carnegie Fellows Program is a continuation of the corporation's more than 100- year history of promoting the advancement and diffusion of knowledge and understanding by supporting the work of a host of institutions, causes, organizations and individual scholars. Each year as part of the nominating process, the heads of more than 600 institutions, representing universities, think tanks, publishers and nonprofit organizations nationwide, are invited to nominate up to two individuals each for the fellowships.
Garrigus, who came to UTA in 2006, was awarded the 2007 Gilbert Chinard Prize sponsored by the Society for French Historical Studies. He previously served as a professor at Jacksonville University and as a visiting Fulbright professor at the State University of Haiti.  He earned a Bachelor of Arts in history from DePauw University and both a Master of Arts and Doctor of Philosophy in history from The Johns Hopkins University.