UTA bioengineering student receives NIH fellowship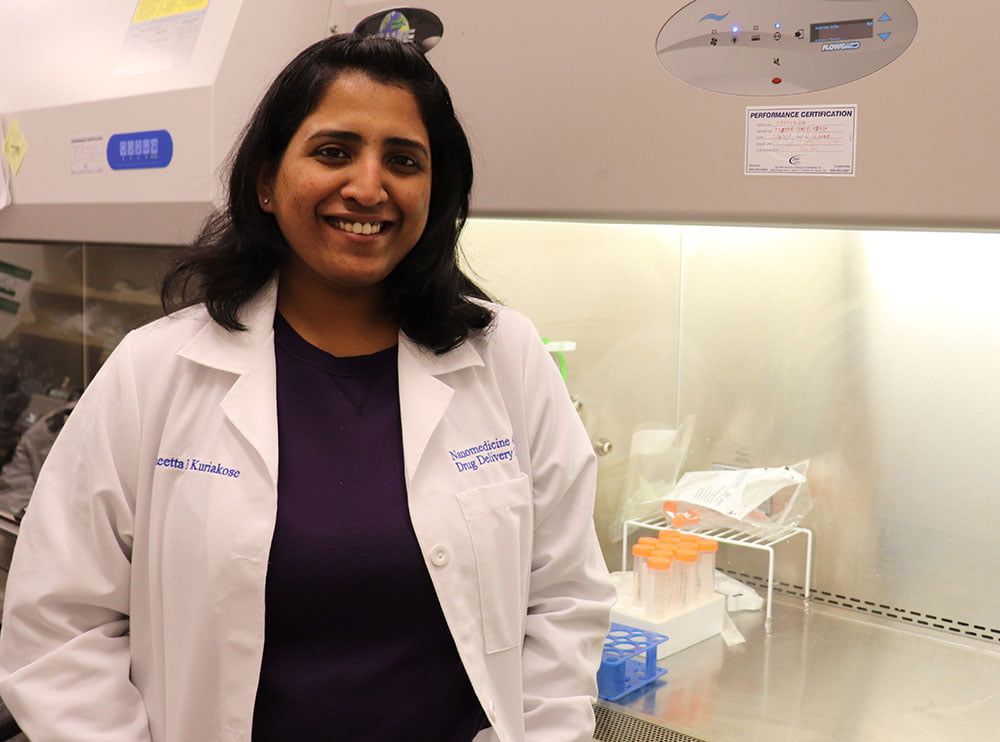 A bioengineering doctoral student is representing The University of Texas at Arlington's excellence in research that advances health and the human condition on a national stage.
Aneetta Kuriakose of the College of Engineering was awarded a pre-doctoral fellowship by the National Institutes of Health that will support her research into a new minimally invasive treatment for peripheral artery disease. She is the first UTA student to receive this prestigious award.
"This award gives me my first taste of independent success as a researcher," Kuriakose said. "Being able to work with my own funding gives me confidence and a sense of what it will be like to act as a principal investigator throughout my career."
Kuriakose is a research assistant for Kytai Nguyen, professor of bioengineering, whose lab is investigating a new method for treating peripheral artery disease, a circulatory condition in which narrowed blood vessels reduce blood flow to the limbs, causing chronic pain, numbness or weakness.
The method involves combining the balloon devices used during angioplasty procedures with therapeutic nanomedicine to treat the blood vessels without leaving behind foreign objects, such as a stent. Such objects can lead to thrombosis and other complications.
Kuriakose said she hopes her work will expand currently limited treatment options for patients with peripheral artery disease and that the method will someday have applications for other cardiovascular diseases and injuries.
"Not many people are given the opportunity I've received with this fellowship," Kuriakose said. "I am grateful to Dr. Nguyen for encouraging me and her other students to write our own proposals and pursue our own grant funding. She spent a great deal of time with me throughout this process to ensure I had what I needed to be successful."
It was Nguyen's research portfolio in tissue engineering and hands-on, supportive method of mentorship that interested Kuriakose when she first had the opportunity to work with the professor while completing the dual Biology/Biomedical Engineering Degree Program at UTA.
"Aneetta is a hard-working doctoral student who attends to her studies while remaining persistent in achieving her career goals," Nguyen said. "She demonstrated remarkable independence and tenacity as she wrote this fellowship proposal. After a few rounds of rejection, she continued to pursue this NIH award, whereas many researchers might have given up.
"I have told my students they should look up to Aneetta as a role model in our department. She is a great scientist and student, while balancing being a mother to a young son. Aneetta shows us all that we should not let challenges or distractions deter us from reaching our higher education and career goals."
While Nguyen praises Kuriakose for her independence, Kuriakose insists the support of the Department of Bioengineering faculty and staff was essential.
"Dr. Nguyen and the faculty and staff in the Bioengineering Department are incredibly supportive," Kuriakose said. "This department is very strong and continues to improve. The faculty have incorporated tools that give students hands-on experience while helping them discover what interests them within the field."
Michael Cho, professor and chair of the UTA Department of Bioengineering, praised Kuriakose for her strong work ethic and said her accomplishment shows that UTA's bioengineering students are highly competitive within the national research and bioengineering communities.
"It shows her fellow graduate students that, with great commitment and work ethic, it is possible to achieve and win major awards that will lay the foundation for future career success," he said.
Cho added that it was a goal of his to elevate bioengineering students to succeed on a national level when he became department chair in 2015. Additionally, he encouraged the department's faculty to compete for grants that would fund the studies of graduate students.
As another example, Kristofor Pas, undergraduate biomedical engineering major, was one of just 16 students in the nation selected for the NIH-sponsored Biomedical Engineering Summer Internship Program.
The Department of Bioengineering has 54 doctoral candidates, including Kuriakose, all of whom are financially supported by various funding mechanisms, including research grant awards. The joint biomedical engineering program with UT Southwestern Medical Center has served North Texas for more than 40 years, with research strengths in bioinstrumentation, biomaterials and tissue engineering, biomechanics, medical imaging and nanomedicine/nanotechnology.
In 2017, the department won a NIH T-32 grant to subsidize and train doctoral students in health care applications for nanotechnology, specifically to develop tools to battle cardiovascular and pulmonary ailments.