Lady Movin' Mavs players help USA win world championship
Current and former Lady Movin' Mavs helped Team USA claim the 2019 International Wheelchair Basketball Federation's U25 World Championship in Thailand.
Nina Welfle, Rose Hollermann, Abby Dunkin, Josie Aslakson and Elizabeth Becker, all current and former Lady Movin' Mavs, played for Team USA. Annabelle Lindsay, a current Lady Movin' Mav, played for Team Australia, who came in second place.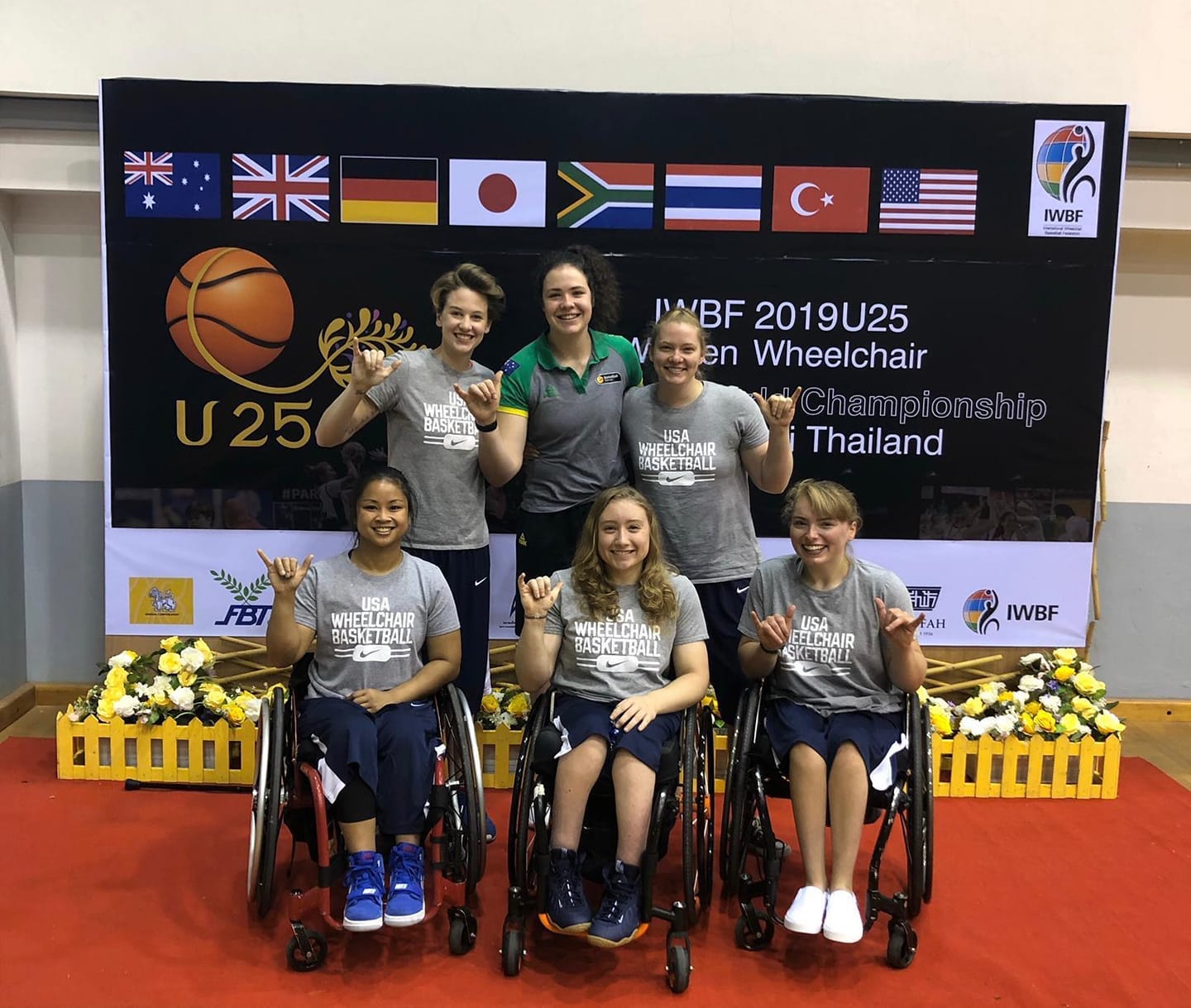 The players next will head off to Lima, Peru, for August's ParaPan American Games. Eventually, many will compete in the 2020 Paralympics in Tokyo.
Doug Garner, coach of the Movin' Mavs, said the success these Lady Movin' Mavs have had speaks volumes about The University of Texas at Arlington's dedication to wheelchair basketball. The Lady Movin' Mavs started play in 2013. Since then, the team has earned two national championships.
"Team USA does a great job at identifying talent, and that talent falls squarely here at UTA," Garner said. "Tournaments like this and the Paralympics provide a next step for these world-class athletes and on their journeys."
Team USA was dominant in the tournament. Australia was its closest competitor earlier in the competition, losing to Team USA by 25 points. Team USA defeated Australia in the championship game 62-25.
"The team is feeling pretty awesome right now," Dunkin said. "Huge accolades to Australia and Great Britain and all the other teams that have been here. They really put up a fight and it's been really awesome to see all the girls coming together all round the sport."
She said the tournament highlighted more than basketball.
"For some of the girls it is their first time meeting other athletes from different countries and cultures," Dunkin said. "It gave us a chance to all get together, take pictures and develop friendships, which has been a really cool aspect to the tournament."
Dunkin and Hollermann made the tournament's All-Star Five. So did Lindsay, who also was the tournament's top scorer with 110 points. Hollermann was named Most Valuable Player.
Apart from its status as a destination university for adaptive athletes, UTA is one of the nation's leading institutions providing students with disabilities access to high quality educational opportunities. UTA was the first university in the nation to offer full-ride scholarships for athletes in adapted sports. UTA's disability studies minor was the first such program in the south and is one of only about 30 in the nation.
Wheelchair basketball became a sport at UTA in 1976 as a recreational event for students with disabilities. On the men's side, it became a recognized intercollegiate athletic program in 1988, with intercollegiate play beginning the following year. The Movin' Mavs have won eight collegiate championships.
In 2019, the Lady Movin' Mavs fell just short of back-to-back national championships, losing 82-76 in overtime to Alabama in March.