College of Education named one of the top teacher prep programs in the country
The University of Texas at Arlington has been named one the nation's top teacher prep programs in the first edition of Start Here to Become a Teacher, a new book from the National Council on Teacher Quality.
Of the 872 undergraduate programs reviewed, UTA's College of Education was recognized as a leader in the field. Based on the rankings, UTA ranks in the 97th percentile, making it one of the top programs in Texas. The council, or NCTQ, also gave UTA an A+ grade.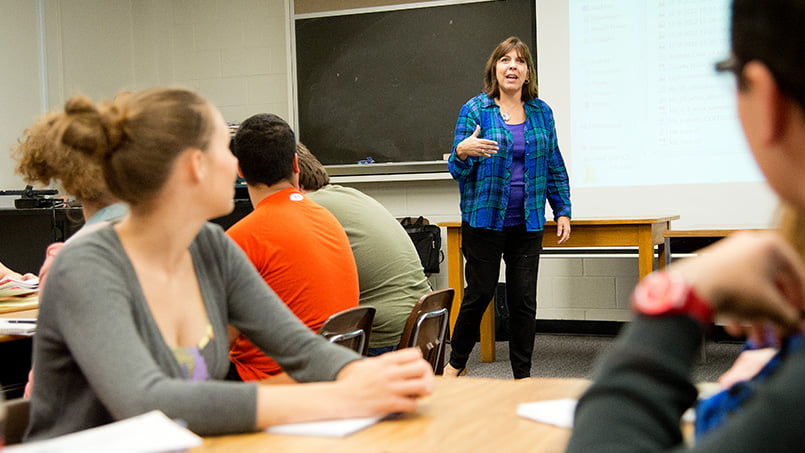 NCTQ, a national nonprofit based in Washington, D.C., recognized 120 undergraduate programs that excel in preparing teacher candidates to meet the demands of their future classrooms. Using nearly two decades of extensive research in teacher preparation, NCTQ assessed programs on critical, evidence-based measures, including:
Rigorous admissions processes.
Emphasis on research-based approaches to teaching reading and math for elementary candidates.
Content knowledge for secondary candidates.
Training in classroom management strategies that work for all students.
Quality student teaching experiences.
"I'm pleased to see continued and growing recognition of the excellence of the programs offered by our renowned faculty in the College of Education, who are focused on ensuring that our programs are at the highest levels of quality," UTA President Vistasp Karbhari said. "This recognition, coming on the heels of other national rankings and plaudits for our graduates from school districts, reflects well on the dedication and commitment of our renowned faculty in enabling access and excellence, ensuring that we address our state's and nation's critical shortage through innovative and forward-thinking programs that are ranked among the best nationally."

Teresa Taber Doughty, dean of the College of Education, said the ranking includes tangible metrics that are representative indicators of high-quality educator preparation programs.

"UTA offers well-established and high-quality preparation for pre-service and veteran teachers, as well as school administrators, to enter the workforce," Doughty said. "The quality of our on-campus programs extends to our online programs, allowing us to meet the needs of traditional and non-traditional students and working professionals. We are able to offer exceptional experiences and preparation in both formats without sacrificing excellence."
The College of Education's undergraduate and graduate students are the backbone of public education in North Texas, serving as principals, superintendents and administrators and highly effective teachers in schools and districts. This acknowledgement of excellence follows on other national rankings and recognitions received by the college, including:
UTA has also partnered with area school districts, including Arlington Independent School District and Grand Prairie Independent School District, on an innovative Teaching Academy program to encourage high school students to pursue careers in teaching and provide them clear paths to success. The Teacher Academy provides high school juniors and seniors from Arlington and Grand Prairie the opportunity to earn both university semester credit hours and high school course credit, giving students primed for a teaching career an advantage as they become college and workforce ready.
"At the Arlington ISD, we seek to hire the best teachers," said AISD Superintendent Dr. Marcelo Cavazos. "Many of our teachers receive their education from UTA and then join the district. We know when we hire teachers from the UTA program, they are well-trained to take on the everyday challenges of leading our students to success."
Students pursue one of four study pathways: bilingual education, English as a second language, early childhood through sixth grade and special education. Students sign a degree plan with UTA as high school juniors and, through dual-credit offerings, are able to complete their college degree within three years of graduating from high school. Once they complete the program and earn teaching certifications, they become preferred candidates for teaching positions.
In addition to preparing teachers, UTA offers coursework and internships leading to certification for principals and superintendents through the Department of Educational Leadership and Policy Studies.