UTA Athletics named a finalist for national community service award
On the strength of its Operation Global Impact service initiative, the Athletics Department at The University of Texas at Arlington has been named one of three finalists by the National Association of Collegiate Directors of Athletics for the 2019 Community Service Award, presented by the Fiesta Bowl.
The finalists for the third-annual award—UTA, Boston College and East Carolina University—were announced June 10 at the 54th Annual NACDA Convention in Orlando.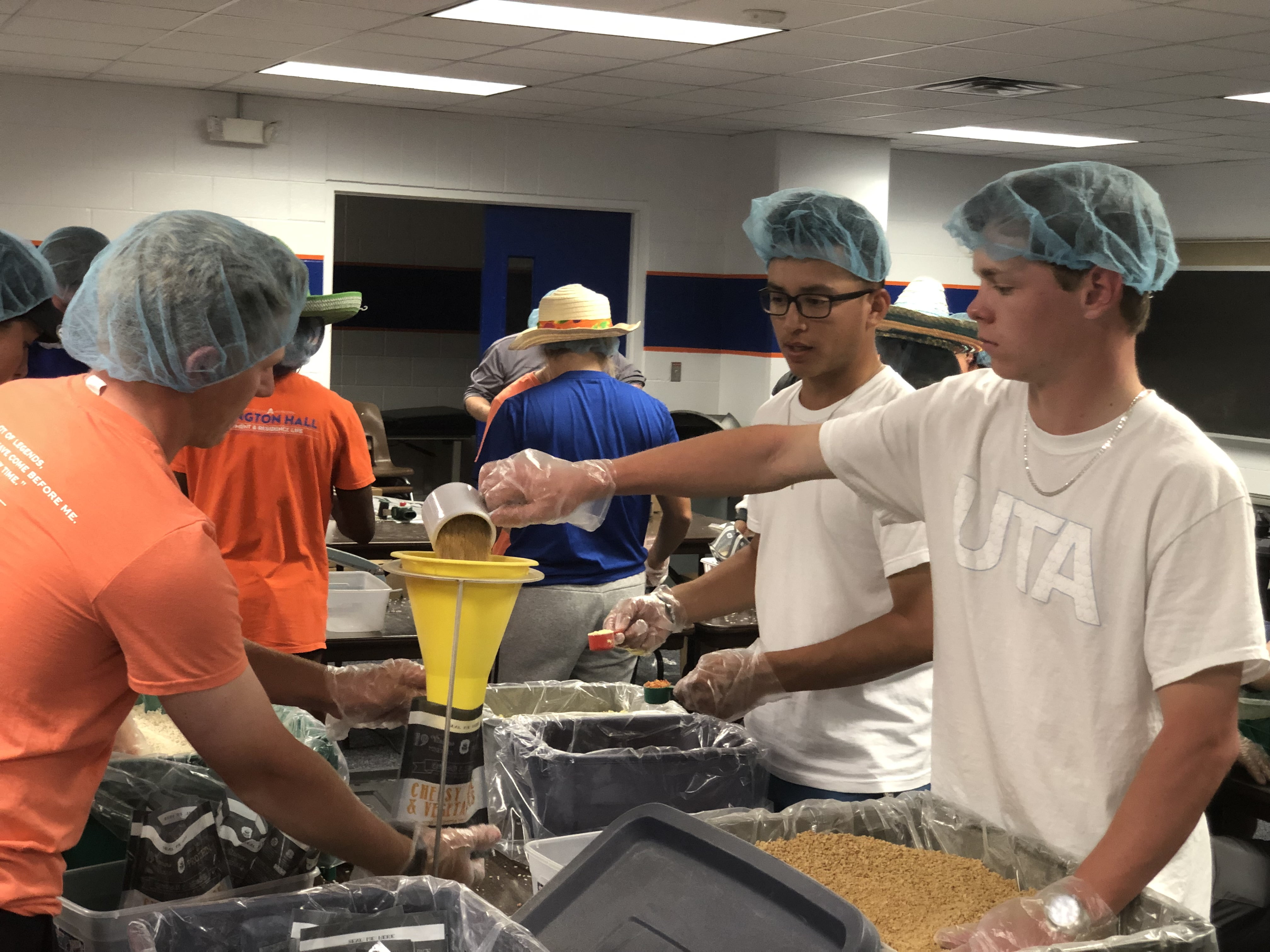 The Community Service Award recognizes NACDA member institutions in Division I and honors exceptional athletics departments that make volunteerism and community service a way of life. A five-person committee consisting of athletics directors across the country and representatives from the Fiesta Bowl and NACDA will help choose this year's award winner.
"We are extremely honored to be recognized for this award," said UTA Director of Athletics Jim Baker. "A huge credit goes to our great Student-Athlete Advisory Committee leaders and Tim Kennedy, student development specialist and life skills coordinator, who oversaw our community service initiatives. While maintaining our dedication to volunteerism in the Arlington and surrounding DFW area, our student-athletes wanted to expand their reach and make an impact worldwide. The results of those efforts were truly tremendous, and I could not be more proud of them."
The winning institution—to be announced later this summer—will receive a trophy for permanent display and $10,000 for its chosen charity. The two runners-up will be awarded a trophy and $5,000 each for their respective chosen charities. The Community Service Award will be presented in the fall, at an on-campus event hosted by the winning institution.
The athletics department previously has been recognized for excellence in service. UTA has won the Sun Belt Conference Community Service Initiative Award each of the last three years and the SBC Community Service Impact Award in 2018.
UTA's Student-Athlete Advisory Committee, or SAAC, wanted to do something different this year when it came to the geographic location of the Athletics Department's community service. Its members aspired to stretch their boundaries and reach out to new locations, focusing on serving people overseas, as well as throughout DFW.
SAAC members derived the idea of sending out teams of student-athletes to different countries around the world, a plan known as Operation Global Impact. They ultimately settled on five locations outside of DFW: Uganda, Honduras, Ethiopia, South Africa and Alaska.
Closer to home, UTA student-athletes volunteered in numerous local community service projects during the 2018-19 academic year, including Super Drive, Beat Cancer, Special Olympics Sports Camp and Mav-Move-In.
All 214 UTA student-athletes participated in five service events: Stomp Out Hunger, Super Drive, Beat Cancer, Mav-Move-In and collecting athletic apparel for children in South Africa.
In the classroom, UTA's student-athletes also exceled, posting a cumulative grade-point average of at least 3.0 for 11 consecutive semesters, including a 3.08 in spring 2019. One hundred and fifty-eight student-athletes made the Honor Roll with at least a 3.0 GPA when registered for a minimum of 12 undergraduate credit hours or nine graduate credit hours. Forty-two student-athletes received recognition as Super Scholar Athletes, earning a 4.0 for a semester or maintaining a cumulative GPA of at least 3.6 for two consecutive semesters.
UTA also enjoyed a successful year on the playing fields. In 2018-19, men's cross country, women's basketball and men's indoor track and field won Sun Belt Conference championships, and John Sauerhage (men's cross country and men's indoor track and field), Krista Gerlich (women's basketball) and Chris Ogden (men's basketball) were named Sun Belt Conference Coach of the Year for their respective sports.
In addition, Alexus Henry became the most decorated female track and field athlete in UTA history as a four-time All-American, owning school records in the indoor high jump, outdoor high jump, indoor pentathlon and outdoor heptathlon. And softball player Whitney Walton was named to the 2019 Google Cloud Academic All-America Division I team, announced by the College Sports Information Directors of America (CoSIDA) on Thursday.
Global service projects
Team Uganda: During two weeks in Uganda, UTA student-athletes volunteered at Musana Community Development Organization, or MCDO. They landscaped, taught, tutored and played sports with students at primary and secondary schools.
Team Honduras: UTA student-athletes led a week-long basketball camp for Honduran children who couldn't afford the cost of attendance. The team taught the children basketball skills in a supportive environment that encouraged them to pursue their dreams on and off the court.
Team South Africa: UTA student-athletes collected more than 300 new and slightly used UTA athletics apparel and sent it to Gear 'Em Up, a nonprofit organization that provides athletic apparel to athletes in developing countries.
Team Alaska: UTA student-athletes led a three-day basketball camp on an American Indian reservation and donated basketball gear to the attendees.
Team Ethiopia: Student-athletes on a faith-based trip to Ethiopia shared their faith and encouraged people in a number of villages throughout the poverty-stricken country.
DFW service projects
Stomp Out Hunger: UTA student-athletes collected more than 3,000 canned goods and teamed up with The Pack Shack organization to make more than 8,000 meals, which were donated to Mission Arlington.
Super Drive: Student-athletes collected shoes, clothes, toys, toiletries, coats and other items for donation to Soles4Soles, Salvation Army, MCDO and Mission Arlington. Throughout the school year, more than 1,000 clothing items, 250 pairs of shoes, 50 coats and 500 toiletry items were collected and delivered to families in need.
Beat Cancer: Student-athletes raised $7,394 by selling pink T-shirts at men's and women's basketball and volleyball games and the student center.
Special Olympics Sports Camp: Student-athletes hosted a camp for Special Olympics athletes and volunteered with Miracle League DFW.
Mav-Move-In: Student-athletes helped UTA students move into their dorms during welcome back week.
***
About NACDA
NACDA, now in its 54th year, is the professional and educational Association for more than 15,700 college athletics administrators at more than 1,700 institutions throughout the United States, Canada and Mexico. More than 6,500 athletics administrators annually attend NACDA & Affiliates Convention Week. Additionally, NACDA manages 17 professional associations and three foundations. For more information on NACDA, visit www.nacda.com.
About the Fiesta Bowl
The Fiesta Bowl's vision is to be a world-class community organization that executes innovative experiences, drives economic growth and champions charitable causes, inspiring pride in all Arizonans. As a nonprofit organization, it believes in the importance of community outreach and service. Through charitable giving, the organization strives to enhance Arizona nonprofit organizations that contribute to the success of communities through youth, sports and education. Since 1971, the Fiesta Bowl has worked to increase its footprint across the state and work to benefit Arizonans year-round, during and outside of bowl season. For more information about its local impact and how to get involved, visit FiestaBowl.org.