UTA collaborating on study of disease that's devastating coral reef communities
The University of Texas at Arlington is one of five institutions collaborating on how to address the outbreak of a disease that is devastating coral reef communities in the U.S. Virgin Islands.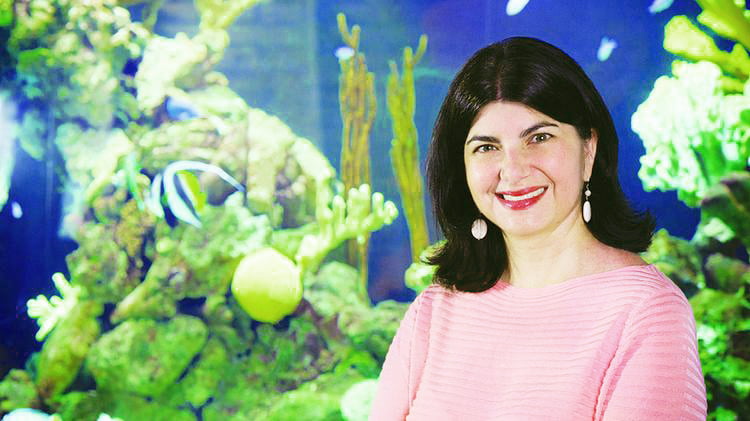 Laura Mydlarz, UTA professor of biology, is a co-investigator for the project, titled "Predicting the Spread of Multi-Species Coral Disease Using Species Immune Traits." Its main goal is to produce a model that can predict the impact of multi-species disease spread on reefs based on coral species groups.
The study is being funded by a $200,000 grant from the National Science Foundation's Division of Ocean Sciences.
Coral disease is a significant and increasing threat to reef systems in the Caribbean. In early 2019, a multi-species rapid tissue loss disease matching the description of stony coral tissue loss disease was discovered severely affecting a reef off the southwest coast of St. Thomas in the U.S. Virgin Islands.
The disease has been devastating coral reef communities off the southeast coast of Florida since 2014 and was recently reported in other areas of the Caribbean, including Mexico, St. Martin and Jamaica. Scientists believe it will likely spread across the U.S. Virgin Islands, British Virgin Islands and Puerto Rico.
"My lab will assess immunity and disease resistance in coral based on a unique combination of immune phenotypes including expressed genes and protein activity," Mydlarz said. "This approach of full transcriptome sequencing, paired with analysis models that include organismal phenotypes, will allow us to build pathways and turn groups of genes into immune traits."
Stony coral tissue loss disease differs from the "bleaching" that is damaging coral reefs around the world. Bleaching is caused by thermal stress and begins by killing symbiotic algae that live on corals. There is a possibility that bleached corals can recover over time. Stony coral tissue loss disease appears to be a spreading pathogen and is capable of killing an entire coral in five weeks, according to Marilyn Brandt, University of the Virgin Islands research associate professor of marine and environmental science and lead investigator of the project.
Researchers will perform experiments to discover how this disease affects coral species' immune traits and compare the microbiology and physiology of disease samples in the Virgin Islands to samples from Florida. They will also examine how changing the species composition of a coral community affects the spread and impact of the disease.
"The onset of this [outbreak] in the USVI offers an unprecedented opportunity to test hypotheses about the impact of coral resistance, tolerance and immune traits on disease spread during the early stages of an outbreak that could profoundly change the diversity of Caribbean reefs," the researchers wrote in their abstract for the project.
Mydlarz and her colleagues hope that the study will provide a better understanding of how the abundance of highly susceptible host species impacts the spread of disease during the early onset of a multi-species outbreak over a wide geographic area.
In addition to UTA, the project includes researchers from the University of the Virgin Islands, Woods Hole Oceanographic Institution of Massachusetts, Rice University, Louisiana State University and Mote Marine Laboratory of Florida.
Clay Clark, professor and chair of the UTA Department of Biology, said the project can provide important information for the battle against coral disease and reef loss, and noted that it expands UTA's footprint in the area of global environmental impact.
"The team that Dr. Mydlarz is a part of is doing critical work in the fight against coral disease and coral reef loss," Clark said. "If they're able to create a model to help predict what effect the spread of disease has on coral reefs, it would be a significant step forward in helping scientists devise the best way to fight these diseases."