Professor refuses to let deteriorating vision slow his search for better cranial injury treatments
Inside his lab at The University of Texas at Arlington, Venu Varanasi has his computer monitor set to negative colors for better contrast. He triple taps the screen of his cellphone to magnify every interface. And he relies on a team of UTA students to handle the micro-level, precise movements his research requires.
All these adaptations help ensure that Varanasi's progressive vision loss, caused by a genetic retinal disorder, doesn't inhibit research that could revolutionize bone treatments for severe cranial injuries. His projects in the College of Nursing and Health Innovation's Bone-Muscle Research Center, he says, are too important to let declining vision hamper his work.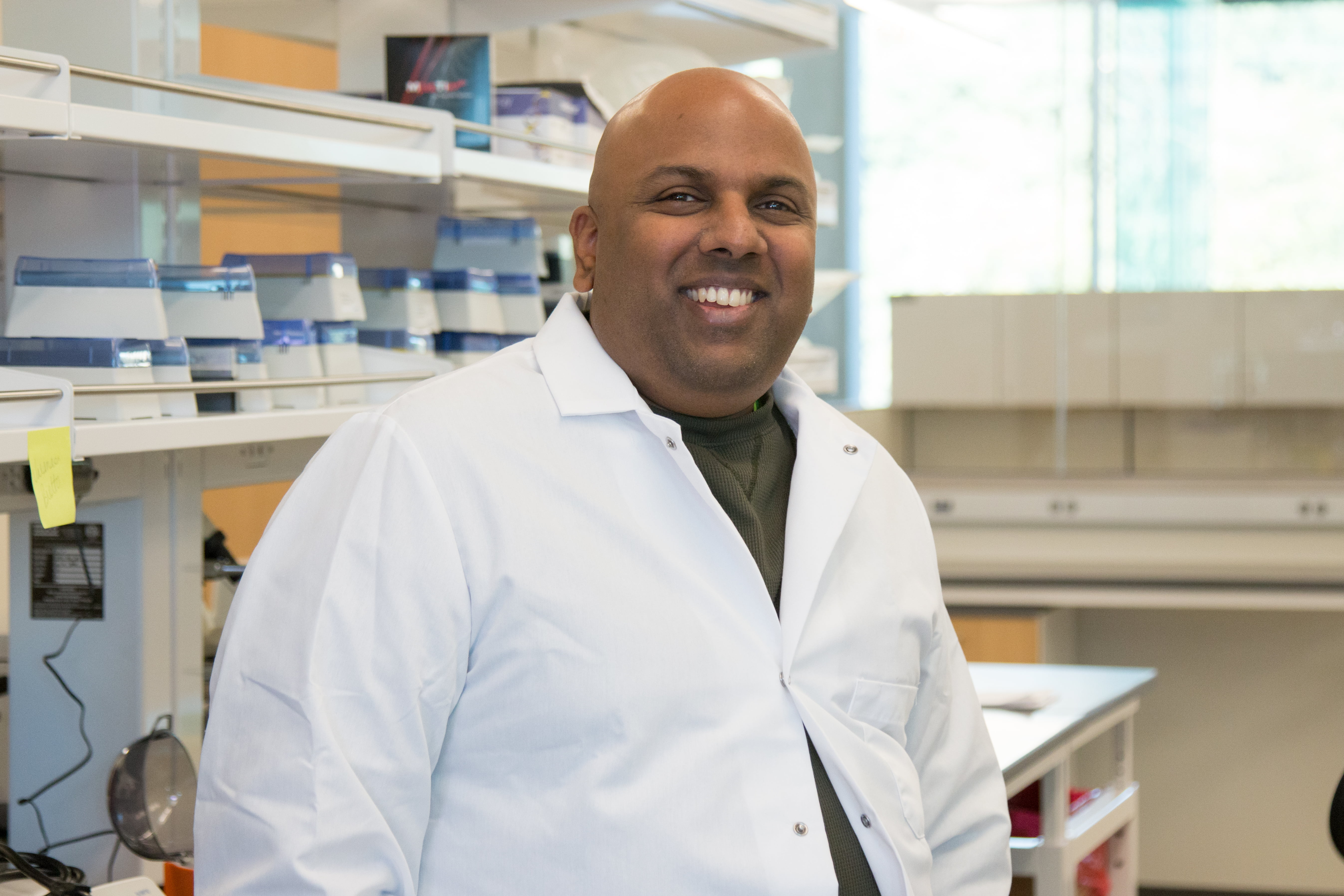 "We have the potential to change the way we deliver health care," Varanasi said. "We're moving past current methods of cutting and patching patients and building a transformative method that will heal them without invasive techniques.
"Health care is on the cusp of a new era driven by innovations, affordability and accessibility, and our research can put UTA at the forefront of that movement."
Severe cranium injuries often have difficulty healing, in part due to the large size of the missing bone. Metal or plastic implants, meanwhile, can take a long time to be tailored to fit and support bone fixation. That can lead to more surgeries, if the injury does not heal properly.
Varanasi has developed a method for live 3D printing of bone-forming scaffolds in the cranium that are grafted to bone defects in real-time. This non-invasive approach would lead to shorter healing times and be more in tune with the body's natural healing process.
Marco Brotto, the George W. and Hazel M. Jay Professor in CONHI, said Varanasi's work marks a bold, new approach to the treatment of musculoskeletal maladies, which cost the health care systems worldwide about $1 trillion annually.
"Venu's work captures the meaning of translational research and has tremendous commercialization potential," said Brotto, who leads the Bone-Muscle Research Center. "Implants for cranial defects require continued care and medical attention, which leads to high costs for the patient. Venu's research could bring about a new family of devices that promote self-healing, which not only is the best way for a patient to heal, but also leads to increased accessibility of treatment.
"Venu's challenges have pushed him to pursue work that helps and heals people, and we are fortunate he brought that passion to our university."
With Varanasi's method, nurses and physical therapists could act as "tissue engineers" within clinical settings, providing UTA nursing students with a new, marketable skillset that positions them on the leading edge of health care technology.
"Our college name includes 'Health Innovation' for a reason, and our students deserve to be seen in the same light as the standard-bearers of the medical field," Varanasi said. "This new technique would give patients the help they need without feeling like they have to seek out top surgeons."
Accessibility has been a focus of Varanasi's life since he was a child, when the effects of a genetic retinal disorder called Stargardt disease slowly robbed him of his vision. The condition has left him almost completely unable to read anything on paper, Varanasi said, although he has a fighting chance if something is printed in bold and greater than 32-point font size. In addition, blind spots in his central vision skew his perception of objects and colors around him.
His eyesight first began to affect his career as a postdoctoral fellow at the University of California at San Francisco, when he received a prestigious National Institutes of Health Early Career Development Program grant on his first attempt. It was a pivotal moment in Varanasi's budding career, but poor vision left him unable to perform the precise microscopic measurements that his work demanded.
While he could have chosen a different path, he said he was inspired by his mentors at UCSF and chose to adapt. Instead of giving up on his research, he mentored students to continue the work he could no longer do on his own, a strategy he brought to UTA.
"There is an inherently collaborative atmosphere in Dr. Varanasi's lab," said Neelam Ahuja, a doctoral student who works as Varanasi's faculty associate. "He empowers us to be equal players in the research."
With his vision continually deteriorating, Varanasi said he had concerns about being able to remain in academia. Those concerns dissipated when he came to UTA in 2018 and met with the University's leaders.
"UTA is poised to be a scientific anchor in the Dallas-Fort Worth Metroplex as a significant university with comprehensive opportunities for undergraduate through postdoctoral students," Varanasi said. "We can be that both because of our location and our dedication to be accessible to everybody. Leaders at UTA recognize that the more accessible we are to people with disabilities or physical limitations, the better opportunity we'll have to wholly educate the next generation of scientists and workforce leaders."