Shah named National Academy of Inventors fellow
UTA has most National Academy of Inventors fellows of any university in Texas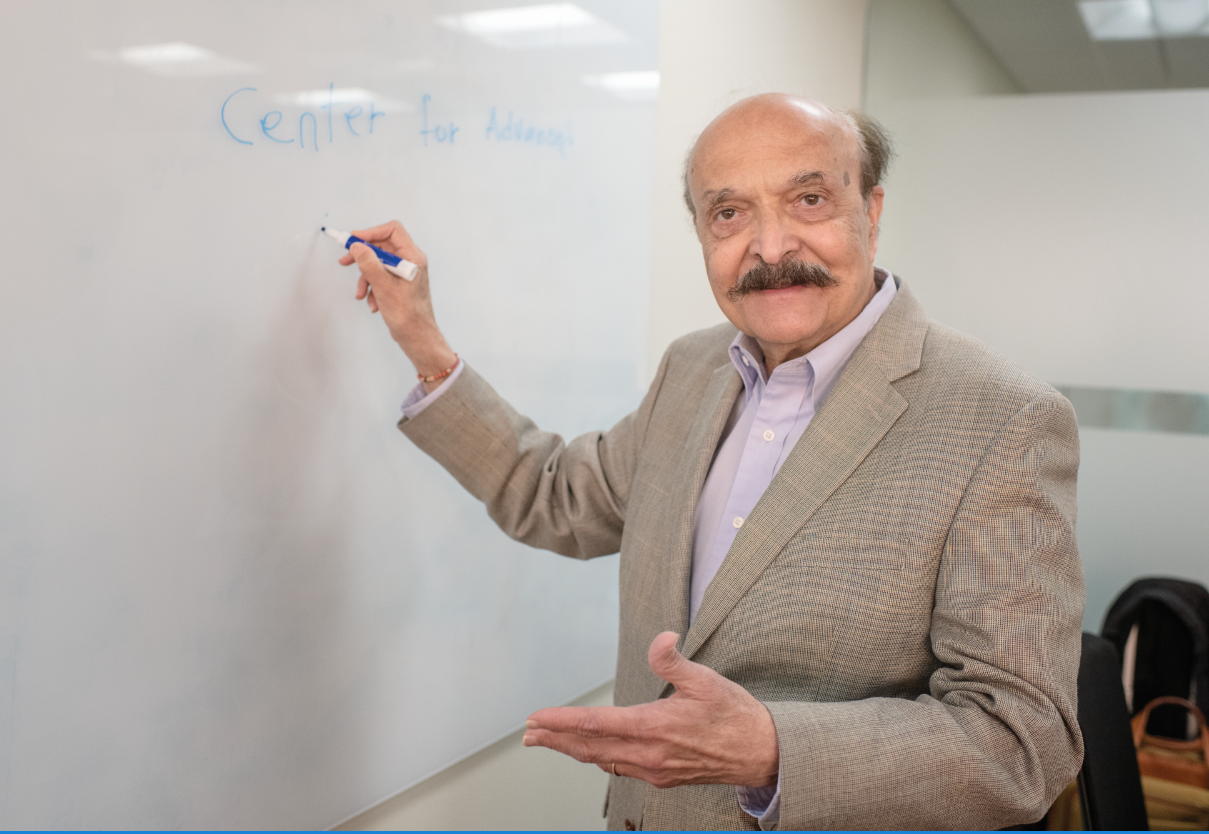 A preeminent civil engineering and materials science expert has become the latest University of Texas at Arlington faculty member to be named a fellow of the National Academy of Inventors (NAI).
Surendra Shah, a UTA Presidential Distinguished Professor whose work focuses on advanced cementitious materials and promoting interdisciplinary research and education to make concrete materials more energy-efficient and environmentally sustainable, has become the 17th UTA faculty member named a fellow of the NAI.
Election as an NAI fellow is the highest professional distinction accorded solely to academic inventors. It is reserved for those who have demonstrated a prolific spirit of innovation in creating or facilitating outstanding inventions that have made a tangible impact on quality of life, economic development and the welfare of society.
"It's a wonderful recognition of the tremendous research Professor Shah has conducted in advanced cementitious materials and emphasizes the immense innovation he has brought to this field as well as the impact of his research on advances in practice," UTA President Vistasp Karbhari said. "There is no doubt Professor Shah's research has changed the nature of cementitious materials, making possible applications that would have been impossible 20 years ago. I'm extremely proud of him as he joins the distinguished list of UTA faculty elected fellows of the NAI, all of whom add significantly to the innovation and entrepreneurism that continues to help define ever higher levels of excellence at UTA"
Shah has dual faculty appointments in UTA's Civil Engineering and Materials Science and Engineering departments. He arrived at UTA earlier this year, establishing the Center for Advanced Construction Materials to continue his research on fiber-reinforced composites, nondestructive evaluation, transport properties, processing, rheology, nanotechnology and the use of solid waste materials.
"It is an honor to be elevated among this 2019 class of distinguished academic inventors," Shah said. "Membership in organizations like the NAI enhances our scholarship across the nation and at our respective institutions because of the valuable interactions it promotes and diverse perspectives introduced by its members."
Shah will officially be inducted into the 2019 class of NAI fellows in April 2020 as part of the Ninth Annual NAI Meeting.
A member of the prestigious National Academy of Engineering, Shah was recently inducted into the Academy of Athens in Greece. He also is a foreign member of the Indian Academy of Engineering and the Chinese Academy of Engineering, as well as a full member of the Russian Academy of Engineering. He has published more than 500 journal articles and has co-authored several books He is currently leading a revolution in nano-material applications to concrete.
"Surendra Shah has long been a cornerstone of innovative, inventive solutions in materials science and has brought his spirit of excellence and rigorous pursuit of discovery to UTA in full force," Interim Vice President for Research James Grover said. "His work and that of our entire community of faculty continues to elevate UTA as a powerhouse institution for academic inquiry and a catalyst for the welfare of society."
The world-renowned researcher said he is proud to be a part of the engineering community at UTA because of the vital role engineers play in society.
"As more people migrate to urban areas, we need reliable infrastructure while also being mindful of the environment and sustainability. That's what I strive to do in my work," Shah said. "The administration at UTA is supportive of that vision and is allowing me to combine disciplines to achieve it."
UTA has the most NAI fellows of any university in Texas. Other NAI fellows from UTA include:
2012 – Khosrow Behbehani, bioengineering; George Kondraske, electrical engineering and bioengineering; Robert Magnusson, electrical engineering
2013 – Carolyn Cason, nursing; Vistasp Karbhari, civil engineering, mechanical and aerospace engineering; Frank Lewis, electrical engineering
2014 – Daniel Armstrong, chemistry and biochemistry; Richard Timmons, chemistry and biochemistry; James Coleman, electrical engineering
2015 – Duane Dimos, materials science and engineering; David Nygren, physics; Ken Reifsnider, mechanical and aerospace engineering; Florence Haseltine, nursing
2017 – Dereje Agonafer, mechanical and aerospace engineering
2018 – Teik C. Lim, mechanical engineering; L.K. Mestha, electrical engineering