UTA chemist honored for lifetime achievements
Armstrong to receive Lifetime Achievement in Chromatography Award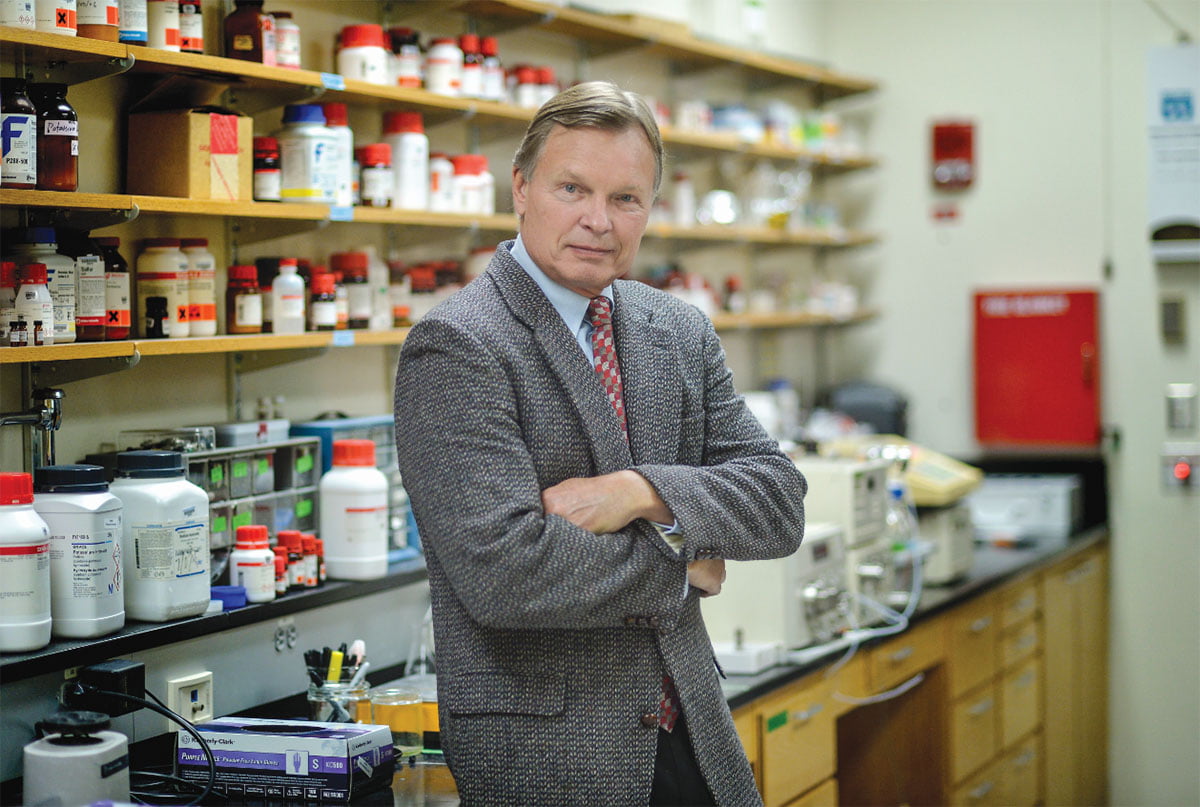 A decorated chemist and professor at The University of Texas at Arlington is being honored for his seminal contributions to his field.
Daniel Armstrong, Robert A. Welch Distinguished Professor at UTA, is receiving the 2020 Lifetime Achievement in Chromatography Award by LC GC, the largest multimedia platform of peer-reviewed technical information in the field of chromatography and the separation sciences.
The award honors an outstanding professional for a lifetime of contributions to the advancement of chromatographic techniques, used to separate substances into their components for analysis and application.
"I have focused my life on science and family, both of which I am deeply passionate about," Armstrong said. "I am honored my peers consider me worthy of this honor, which would not be possible without the talented, intelligent colleagues and friends who have collaborated with and supported me along the way."
In a release announcing Armstrong's honor, LC GC highlighted his work in enantiomeric separations—involving nonsuperimposable, mirror-image molecules—as one of his greatest contributions to the field. Prior to Armstrong's research, the separations were traditionally considered one of the more difficult problems in separation science.
That work was at the center of a 1986 publication that indicated the necessity of enantiomeric separations for pharmaceuticals and provided an impetus for the U.S. Food and Drug Administration to issue new guidelines in 1992 for the development of stereoisomeric drugs, which require specialized techniques for their correct identification, characterization, separation and measurement.
LC GC said Armstrong's impact in chromatography goes beyond his research, and includes the training he gave to over 185 former graduate students, postdoctoral fellows and visiting scientists, who then went on to influence academia in six countries and throughout pharmaceutical companies worldwide.
"Dan's work has had a profound impact on science, but his dedication to mentorship and his craft has had a ripple effect that cements his legacy of excellence," Interim Vice President for Research Jim Grover said. "He has selflessly shared his time and expertise with students and colleagues at UTA, and the University has been enriched because of it. I believe I speak for the entire science community on campus when I say this award is a tremendous, deserved honor."
Armstrong has authored nearly 700 publications, including 33 book chapters and 35 patents. The Scientific Citation Index named him as one of the world's most highly cited scientists. He was inducted to the National Academy of Inventors in 2014, was named a Fellow of the American Chemical Society (ACS) in 2013 and was admitted as a Fellow of The Royal Society of Chemistry in 2009.
Just recently, Armstrong was ranked No. 8 on The Analytical Scientist magazine's top 100 scientists in the world.
Among his many awards are:
Wilfred T. Doherty Research & Service Award from the DFW Section of the ACS
ACS Award for Separation Science & Technology
UTA Academy of Distinguished Scholars
UTA Distinguished Record of Research or Creative Activity Award
International Chirality Medal
Dal Nogare Award for Separation Science
ACS Award in Chromatography
The latest award from LC GC will be presented to Armstrong at the Pittcon 2020 conference in Chicago in March 2020.
***
LC GC® is the largest global chromatography multimedia platform dedicated to the separation sciences. LC GC® delivers practical information that can help lab professionals become more proficient in the use of chromatographic techniques and instrumentation, thereby making laboratories more productive and businesses around the world more successful. LC GC® is a brand of MJH Life Sciences™, the largest privately held, independent, full-service medical media company in North America.