Four from UTA named to National Academy of Inventors
Three engineers and a physicist join National Academy of Inventors as Senior Members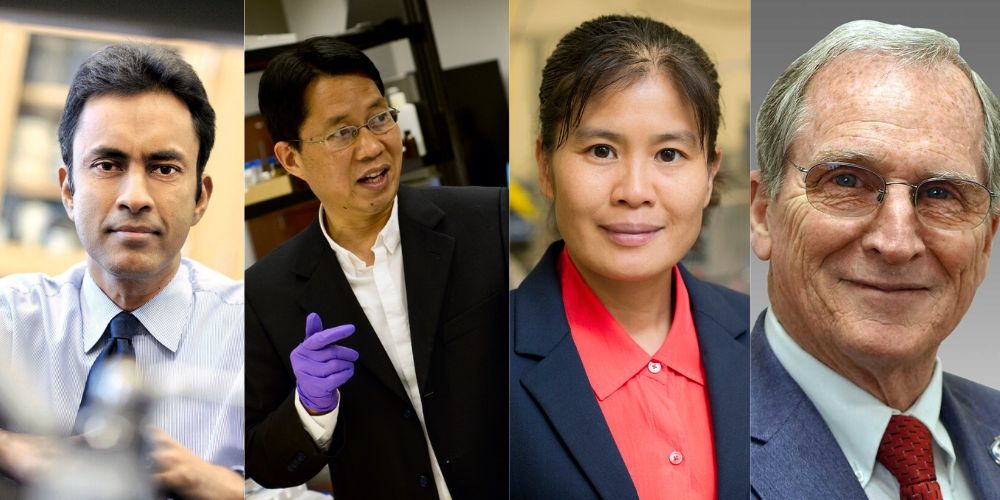 The 2020 class of National Academy of Inventors Senior Members includes four faculty members from The University of Texas at Arlington.
NAI Senior Members are active faculty, scientists and administrators who have demonstrated remarkable innovation producing technologies that have the potential for a significant impact on the welfare of society.
The four new members from UTA are Pranesh Aswath, professor of materials science and engineering; Wei Chen, professor of physics; Haiying Huang, professor of mechanical engineering; and Robert L. Woods, professor of mechanical engineering.
Aswath, Chen, Huang and Woods bring UTA's total number of NAI Senior Members to five. Jon Weidanz, associate vice president for research, was elected to the inaugural class of Senior Members in 2019.
The achievements of these four faculty members fortifies the University's already-strong relationship with the NAI, a U.S. nonprofit organization dedicated to encouraging inventors in academia. UTA has 17 NAI Fellows—a distinction separate from that of Senior Member—which is the most of any university in Texas.
"The representation of UTA throughout the NAI showcases our University and faculty as catalysts for discovery that leads directly to positive impacts on our national and global communities," Interim Vice President for Research James Grover said. "The ability to translate research to patented, solution-based technologies is no easy feat, but our faculty are among the best to do it. Congratulations Pranesh, Wei, Haiying and Bob on this deserved recognition."
Pranesh Aswath has over 25 years' experience in developing and processing materials for advanced engineering applications. In 2018, he was awarded a patent for a lubricant composition that can be used as a universal grease for aircraft.
While he holds a dual appointment in the departments of Materials Science and Engineering and Mechanical and Aerospace Engineering, Aswath's work has been tapped for health-related applications as well. Presently, he is part of a UTA team researching a groundbreaking treatment to accelerate the healing of cranial injuries that has received significant funding from the National Institutes of Health.
Wei Chen is a preeminent scholar in the study of cancer treatments powered by nanoparticles. In 2018, he was awarded U.S. and international patents on a nanoparticle material that can be activated by light, microwaves, X-ray or ultrasound to kill multiple kinds of cancer. In 2019, Chen had papers published in Proceedings of National Academy of Sciences and Nanomedicine that detailed promising new approaches for eradicating cancer cells without damaging the healthy cells around them.
Haiying Huang is an expert in monitoring and fortifying the health of both structures and humans, particularly through the unique use of ultrasound waves. Recently, she earned a pair of grants worth nearly $900,000 to monitor structural health and detect when and where damage happens on the hulls of ships.
Robert L. Woods founded one of UTA's most innovative and high-profile experiential learning programs: the annual FSAE Race Car project. Born from Woods' belief that true learning can only come from first-hand experience, the project consists of an interdisciplinary group of select students who design, build and race a car in competition with other colleges and universities. In 2017, a gift from entrepreneur and businessman Paul E. Andrews Jr. established the Dr. Bob Woods Chair in Automotive Engineering to honor the longtime UTA professor.