Maverick heroes of COVID-19
UTA community makes a difference through the pandemic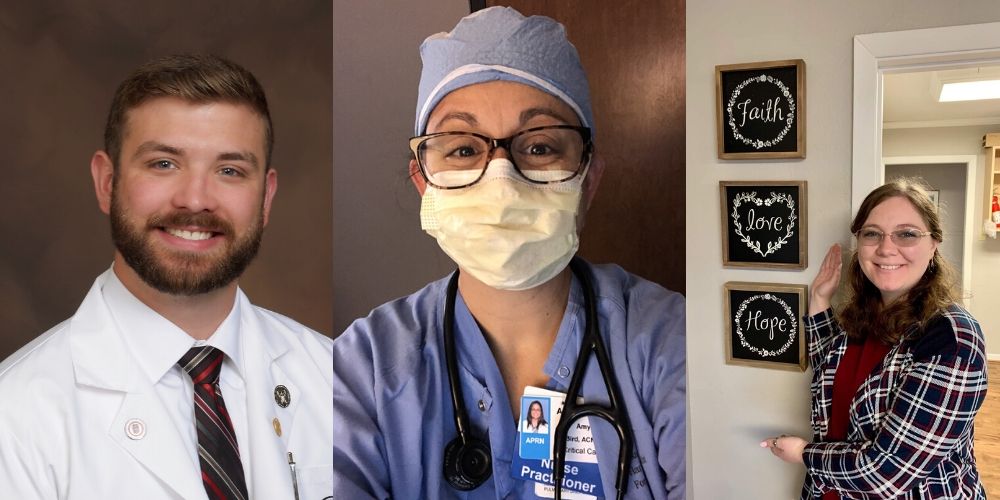 Across Texas and beyond, thousands of Maverick heroes are providing essential support and care during the COVID-19 pandemic— and proving how The University of Texas at Arlington community is a force for good.
Here are three more stories: an emergency medicine physician, a gatekeeper for COVID-19 testing and a social work student caring for the homeless, each showing how Mavericks are making a difference.
Dr. Colten Philpott, emergency medicine resident
For Dr. Philpott, his sister and their mother—all alumni of The University of Texas at Arlington—the COVID-19 pandemic isn't their first brush with a deadly viral outbreak.
Dr. Philpott's mother, Tamara Holt ('96 MSN), a nurse practitioner, and his sister, Twila Green ('13 BSN), an ICU nurse, were both working at Texas Health Presbyterian in Dallas in 2014 when the hospital had a patient with Ebola. They both still work there, while Dr. Philpott works as a first-year emergency resident at JPS Health Network in Fort Worth.
"This isn't our first rodeo when it comes to crazy viruses that make the world catch on fire," he said.
At JPS, Dr. Philpott ('16 MBA; '15 MHA; '14 BS, Biology) credits the medical staff for being nimble and adjusting to new challenges as Tarrant County's largest safety-net hospital and one of the area's primary testing sites for COVID-19. From reshaping the emergency room to providing enhanced training for using respirators, JPS physicians have helped train Dr. Philpott to provide care for affected patients in a safe environment.
"It's been an incredible medical education," he said. "It's the best of both worlds in that first-year residents are getting to see and help COVID patients, but under the care and supervision of our attending physicians."
Dr. Philpott grew up in Jospehine, Texas, a town of fewer than 1,000 residents about 60 miles northwest of Arlington. Influenced by his mom and sister, he decided to attend the University on an academic scholarship.
He remembers playing a lot of rec league basketball and softball at UTA, and fondly recalls the snow and ice storms of 2011 that shut down campus.
"It was two weeks off with all the crazy snow," he said. "My roommates spent an entire week out playing in the snow, building snowmen and being dumb college kids. It was a great time."
UTA was also a great place, he said, for a pre-med student.
"It's everything you want academically," he said. "UTA has a strong biology program and is well-respected in Texas during the medical school application cycle. Our med school dean at Texas Tech says he gets three or four Mavericks every year that he is really proud of."
Amy Bird, nurse practitioner
As a nurse practitioner at Texas Pulmonary and Critical Consultants, Bird ('03 BSN, '09 MSN) is used to treating patients with severe breathing difficulties. But COVID-19 has added complexity to her daily life, both personally and professionally.
"We're the gatekeepers of COVID testing—we identify who gets tested and who doesn't," she said. "Because of that, the hospital staff nurses and respiratory therapists are relying on us to keep them safe by identifying COVID-positive patients quickly. It's a lot of pressure."
On the home front, the longtime nurse's husband and children moved out six weeks ago to mitigate the risks of her job. They're keeping in touch through phone calls and video chats, but she's more than ready to bring them back home.
In the meantime, Bird is finding light in the steady improvement of patients in her care.
"When you have a patient who has beaten the odds, when they're definitely on their way home, that makes everything worth it," she said. "One life is worth everything."
Elizabeth Anderson, senior, School of Social Work
When Anderson, a senior in the School of Social Work, learned she'd been placed with Arlington Urban Ministries (AUM) for her student internship, she was beyond thrilled with the match. AUM is an organization that helps provide food and utilities for Arlington residents, including thousands of sack lunches each year for homeless clients.
"When I found out I was placed with AUM, I was so happy that I cried," she said. "The mission of AUM is very near and dear to my heart."
Since COVID-19 hit the area, the organization is seeing a major uptick in need.
"The sudden income loss we're seeing right now is almost 100% due to the shutdowns caused by COVID," she said.
Typically, Anderson would find herself greeting clients, giving out sack lunches and connecting people with resources and assistance to help them through rough patches. On mobile food pantry days, she would go to AUM's mobile station to give food to approximately 150 people each month.
Social distancing requirements mean that Anderson no longer goes into the office or the mobile station. Instead, her internship duties have shifted to handling intake interviews over the phone.
"Helping provide and direct people to vital resources always feels rewarding, pandemic or no pandemic," she said. "Walking with individuals in hard situations is our norm, not the exception. It's the reason we exist."
- Written by Jeff Carlton and Amber Scott