Record-setting year for UTA graduate programs
In 2019-20, UTA establishes new standard for conferral of doctoral and master's degrees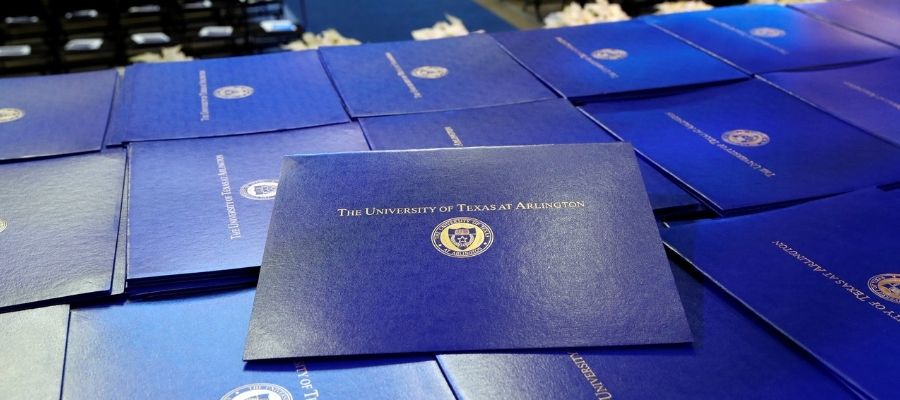 Faculty and students at The University of Texas at Arlington have set UTA records for total doctoral and master's degrees awarded in an academic year.
UTA conferred 280 doctoral degrees in the 2019-20 academic year; 228 of those were Ph.D.s, topping UTA's previous record of 207 from 2016-17 and representing a growth rate of 78% over the past decade.
UTA also conferred a record-setting 4,970 master's degrees in 2019-20, making the University one of the state's largest contributors to a high-quality workforce.
"This achievement is exemplary of the momentum of growth and excellence at UTA," said James Grover, interim vice president for research and dean of the Graduate School. "We strive to create a scholastic environment that fosters and feeds the curiosities of the next generation of scholars, so they are empowered to pursue solutions to major challenges."
The growth in Ph.D. conferrals is a key benchmark in UTA's pursuit of Texas Tier One designation and funding from the state's National Research University Fund.
UTA officially achieved all criteria required to receive the designation in 2019. Awarding more than 200 Ph.D.s each year, which UTA has done for six years now, is a critical piece of this criteria as the University tracks toward making the designation official, Grover said.
In addition to the benchmark for Ph.D.s, UTA is on track to maintain the following benchmarks to cement its Tier One status for the state's next funding cycle in 2021:
surpassing $45 million in restricted research expenditures, which UTA first did in 2018
being designated a member of the Phi Kappa Phi Honor Society
demonstrating the ability to recruit a freshman class of high academic achievement, a criterion for which UTA consistently ranks the highest among universities in the running for the NRUF designation
having high-quality faculty, illustrated by UTA's seven National Academy members
By sustaining these milestones, UTA would become just the fourth emerging research university in the state to receive Texas Tier One designation.
"Our doctoral graduates are among the best and brightest," Grover said. "It is our hope that the continued growth in this area will lead to stronger and healthier communities."