AAAS names two UTA professors as fellows
Hu and Karbhari elected as fellows to American Association for the Advancement of Science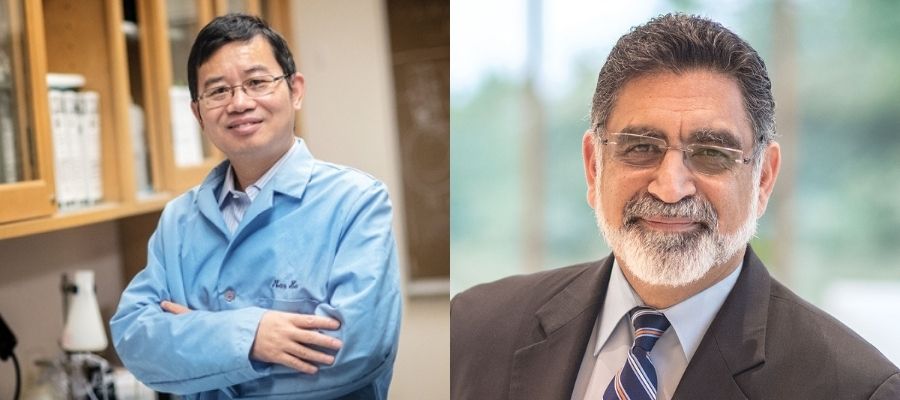 The American Association for the Advancement of Science (AAAS) has selected two professors from The University of Texas at Arlington as fellows, an honor bestowed upon AAAS members by their peers.
In the section on geology and geography, Qinhong Hu was elected for outstanding and sustained contributions in the research field of nano-petrophysics within the context of energy geosciences, teaching and mentorship, and service to professional society.
As part of the section of engineering, Vistasp Karbhari was elected for his "distinguished contributions to the field of composites in civil infrastructure, particularly in low-cost processing, durability and damage tolerance, rehabilitation and multi-threat mitigation."
Hu, a professor in the Department of Earth and Environmental Sciences, focuses his research on nano-petrophysics, hydrogeology, fracture-matrix interaction, pore structure and connectivity, fluid distribution and flow physics in confined nanopore spaces, geological controls on pore structure and rock fracability, fracture growth modeling, and associated fluid migration.
He was named a fellow of the Geological Society of America in 2013 and has published approximately 180 articles in peer-reviewed journals, with 93 over the past five years. He received the American Association of Petroleum Geologists' Distinguished Educator Award in 2018. He came to UTA in 2008 after working for more than a decade as a geological scientist at the Berkeley and Livermore National Laboratories.
College of Science Dean Morteza Khaledi extended his congratulations and noted that Hu was commended by the AAAS for multiple facets of his work as a faculty member.
"Dr. Hu has excelled in all of the different aspects that come with being a professor: teaching, research, mentorship and service," Khaledi said. "It is very fitting that he be recognized by the American Association for the Advancement of Science with this prestigious honor. He is a wonderful example of the faculty excellence that we strive for in the College of Science."
Karbhari, a professor with appointments in the Civil and Mechanical and Aerospace Engineering departments, is an expert in composite materials, with interests in processing and mechanics of composites, deterioration science of polymers and composites, biomaterials, infrastructure renewal, multi-threat mitigation, sustainability, impact/damage/crash energy management, nondestructive assessment, wireless sensing, damage prognosis and structural health monitoring.
Karbhari, who was president of UTA from 2013-20, is also a fellow of the National Academy of Inventors, ASM International, the American Society of Civil Engineers (ASCE), the Structural Engineering Institute of ASCE, the International Institute for Fiber-Reinforced Polymers in Construction and the International Society for Structural Health Monitoring of Intelligent Infrastructure. In 2019, he was elected a member of the European Academy of Sciences and Arts.
Karbhari's honor is well-deserved and shows the quality of research and professionalism of UTA's faculty, said Dean of Engineering Peter Crouch.
"The College of Engineering has steadily increased its research reputation in recent years, in large part due to the work of faculty like Dr. Karbhari," Crouch said. "The American Association for the Advancement of Science is one of the world's most respected organizations, and it is a feather in our cap as a college that several of our faculty have reached the pinnacle of the organization."
This year, 489 members received this honor from AAAS for their scientifically or socially distinguished efforts to advance science or its applications. The new fellows will be formally announced in the AAAS News & Notes section of the journal Science on November 27. A virtual Fellows Forum—an induction ceremony for the new fellows—will be held in February 2021.
The AAAS is the world's largest general scientific society and publisher of the journal Science, as well as Science Translational Medicine, Science Signaling, Science Advances, Science Immunology and Science Robotics.
- Written by Jeremy Agor and Greg Pederson