'Advancing the dream is about advancing the community'
Mr. UTA wins city's scholarship essay contest, honoring Dr. Martin Luther King Jr.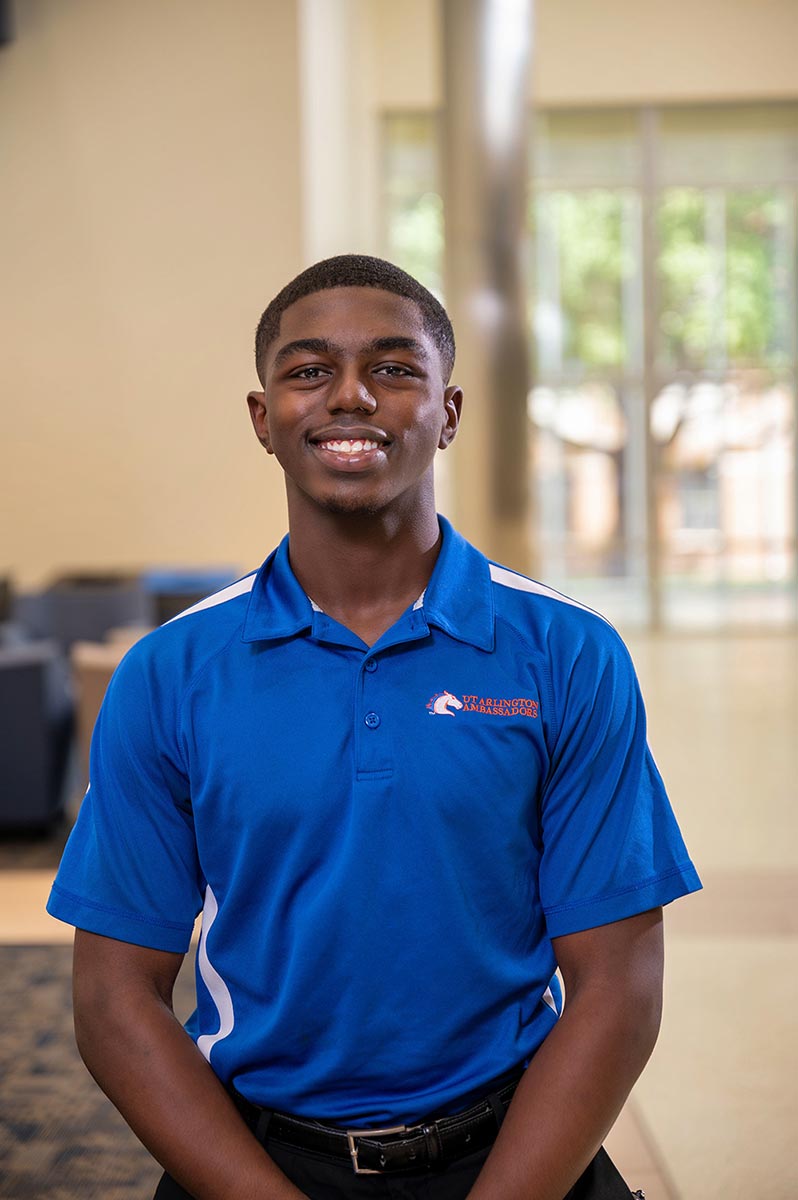 Xavien Johns says he "can't ignore the person on the side of the road who needs help" and estimates he has completed more than 1,000 hours of community service since high school, when he first started volunteering in neighborhoods around Dallas.
"I have a passion for helping the homeless," said Johns, a junior business marketing major at The University of Texas at Arlington. "Growing up in Oak Cliff, my family taught me that we are blessed, even if we don't have much. And if you are able to bless somebody else with a little act of kindness or an hour of your time, that can mean the world to somebody."
Johns received a $2,000 scholarship from the Arlington Dr. Martin Luther King Jr. Celebration Committee for winning its 2021 Collegiate Essay Contest. The committee, which includes a coalition of community members and organizations, has a mission to unite Arlington in celebrating King's life and legacy, reflecting on his ideals and sharing his dream for the future.
Johns' ongoing commitment to volunteer projects and the power of his essay on this year's theme, "Advancing the Dream: Unifying Our Nation," demonstrated his belief that community service supports the ideals of the civil rights leader.
"Advancing the dream is about advancing the community," Johns said. "You have to take the steps to develop your own community and be accountable by working and putting in effort through activities like community service."
Johns also holds the title of Mr. UTA for the 2020-21 academic year, making him a co-president of UTA Ambassadors, the official student hosts of UT Arlington.
"Being a leader means being able to learn from other people and listening to their different stories and experiences," Johns said. "Everyone can do a little bit to make the world a better place, whether it's holding a coat and blanket drive because it's getting cold outside or picking up trash to clean up Arlington."
Observed each year on the third Monday in January as "a day on, not a day off," Martin Luther King Jr. Day is the only federal holiday designated as a national day of service to encourage all Americans to volunteer to improve their communities. The students, faculty and staff of UT Arlington are committed to positively affecting their community through volunteer activities that show dedication to public service.
Melanie Johnson, director of UTA Multicultural Affairs, said Johns is a frequent volunteer at UTA service events.
"We as Mavericks pride ourselves on community involvement, and we're honored that our own Mr. UTA, Xavien Johns, is being recognized for his commitment to service and social justice," Johnson said. "He is constantly volunteering for service events with Men of Distinction and engaging the student body in socially conscious conversations as a social justice peer educator. He is so deserving of this scholarship and recognition.
"UT Arlington has many initiatives and opportunities that allow our campus community to make an impact, set positive examples and honor Dr. King's legacy through service projects and programs focused on creating a more equitable and inclusive campus."
Johns said he will never forget one service project where he handed out hand sanitizer and other necessities to the homeless in downtown Dallas. During the event, he met a woman who had grown up a street away from his own childhood home.
"Advancing the dream may not change the entire world, but you can definitely affect your own neighborhood and community," he said. "We can have love for our neighbors even though we may not know them. That's how you show you care about your community."