Robots that help train UTA nursing students remotely
UTA using grant funds for new equipment to train rural and remote nursing students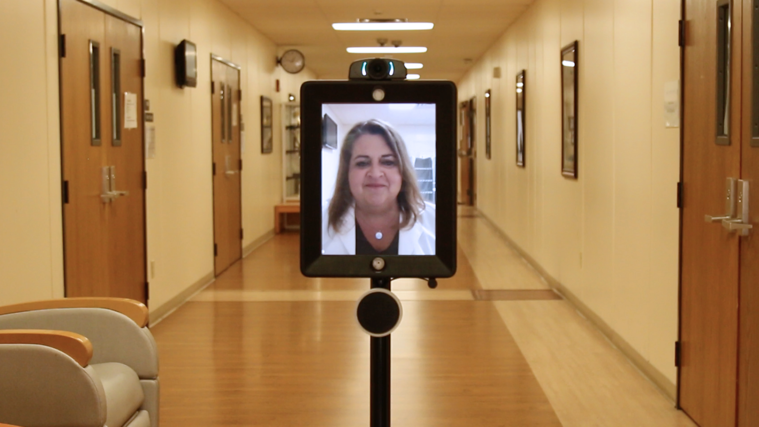 A new grant will help The University of Texas at Arlington triple its fleet of telepresence robots and bring onboard new training devices to assist rural and remote nursing students during the COVID-19 pandemic and beyond.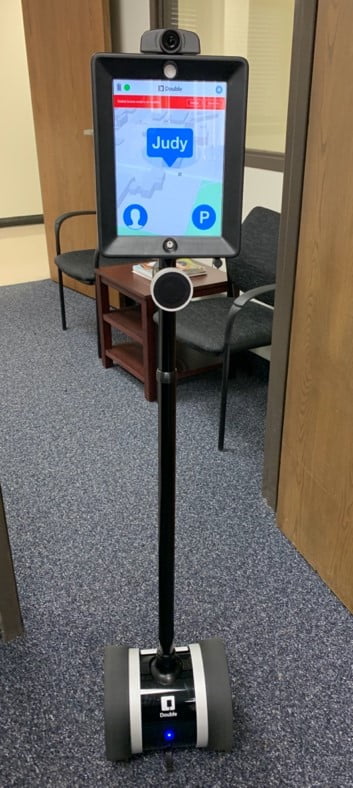 The grant from the Texas Higher Education Coordinating Board's Nursing Innovation Grant Program (NIGP) will help ensure UTA's College of Nursing and Health Innovation (CONHI) students continue to be trained in clinical experiences.
Telepresence robots, which resemble computer tablets on wheels, enable two-way audio and video communication. Using such a robot, a UTA nursing faculty member or student can move about a clinical space in another location and interact with patients and other caregivers. Additionally, up to five individuals can log onto a telepresence robot during each session.
"We're excited to have new robots coming to our college and putting students in the driver's seat," said Jennifer Roye, assistant dean for simulation and technology and project co-director. "At CONHI, we've seen that these robots are a helpful and creative solution to training students safely during the COVID-19 pandemic, one that will also help us increase educational access for our students in remote locations in the long term."
UTA will also be able to obtain more task trainers, which are portable devices that allow nursing students to practice their skills remotely when social distancing and COVID-19 precautions prevent them from attending a traditional skills lab. The trainers have simulated anatomy that allow students to practice, for example, nasogastric tube insertion or oxygen administration. These trainers enable CONHI to improve its instruction to distance sites that previously had no comparable practice equipment. They are estimated to help more than 200 students each semester.
"One additional benefit from this grant will be the increased access to training that our rural students will receive with the new skills trainers," said Meagan Rogers, clinical assistant professor and project co-director. "Many students in rural communities lack robust health care training equipment, and we will now have additional tools at our disposal to help them long after the pandemic ends."
-Written by Sarah McBride, College of Nursing and Health Innovation