A 'champion for people with disabilities'
UTA's Garner receives inaugural Leaders in Diversity Award from Dallas Business Journal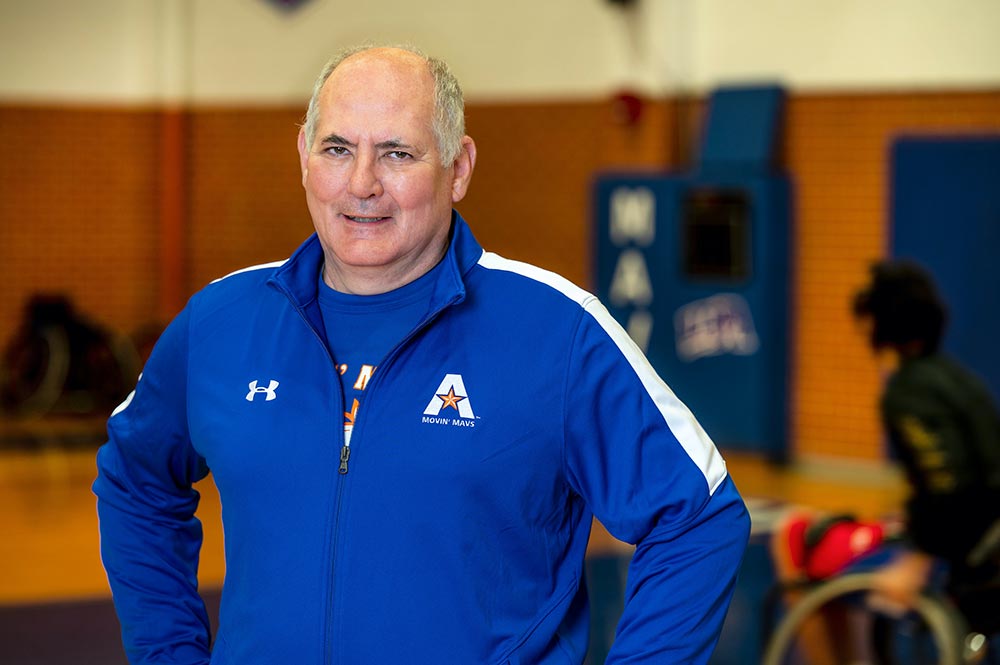 After his son was born with spina bifida in 1986, Doug Garner quickly set out to rectify what he viewed as an alarming lack of sports opportunities for children with disabilities.
This personal mission launched a 30-year career as an advocate for students with disabilities, most recently as assistant director for adaptive sports and recreation at The University of Texas at Arlington.
For his efforts to level the playing field for this underserved demographic, the Dallas Business Journal has named Garner a recipient of its 2021 Leaders in Diversity Award in the "Champion for People with Disabilities" category. He is one of 13 individuals being honored as Leaders in Diversity, along with Myrtle Bell, associate dean for diversity, racial equity and inclusion in the College of Business, professor of management and holder of the Thomas McMahon Professorship in Business Ethics.
The honor recognizes an individual who initiates and leads action to remove barriers and improve the working experience and engagement levels for people with disabilities in the workplace and community.
"Education is the key to securing a seat at the table for people with disabilities," said Garner, who serves as head coach of UT Arlington's Movin' Mavs wheelchair basketball team and started the Lady Movin' Mavs program. "At UTA, we develop students who will change the world as they represent people with disabilities in the athletic arena, in the boardroom, at national and international conferences and in all other endeavors."
Garner's impact on disabled populations extends far beyond the UT Arlington campus. The Adaptive Sports and Recreation program reaches about 4,400 people annually through numerous initiatives that include camps, clinics, conferences and tournaments.
"Doug's unwavering passion for bringing sports to the disability community has made UTA a worldwide leader in adaptive athletics," said Lisa Nagy, vice president for student affairs. "Student-athletes come from across the globe to learn from him."
UTA's adaptive sports program has produced 32 athletes who have competed in the Wheelchair Basketball World Championships and Paralympic Games, including five who won gold medals at the 2016 Paralympics.
By promoting sports as a vehicle to education and independence, Garner has helped hundreds of students with disabilities gain the skills and confidence to succeed in their personal, academic, athletic and professional lives. The list includes his son, Tyler Garner, who received three UTA degrees and is a clinical assistant professor in UT Arlington's Kinesiology Department, as well as former Movin' Mavs player John Watson.
"Coach Garner motivated me to go back to school," said Watson, who earned bachelor's and master's degrees at UTA and is now a doctoral candidate at the University of Kansas. "I'm eternally grateful to him, to the Movin' Mavs program and to The University of Texas at Arlington for setting me on the path to success."
Garner was inducted into the National Wheelchair Basketball Association Hall of Fame in 2019 and was one of nine people named a "Champion of Change: Disability Advocate" by the White House in 2015 for his work to increase sport and recreation opportunities for students with disabilities.
- Written by Mark Permenter