For UTA students, free, on-demand rides on new RAPID shuttle service
UTA partners with city of Arlington on first-of-its-kind, self-driving transportation service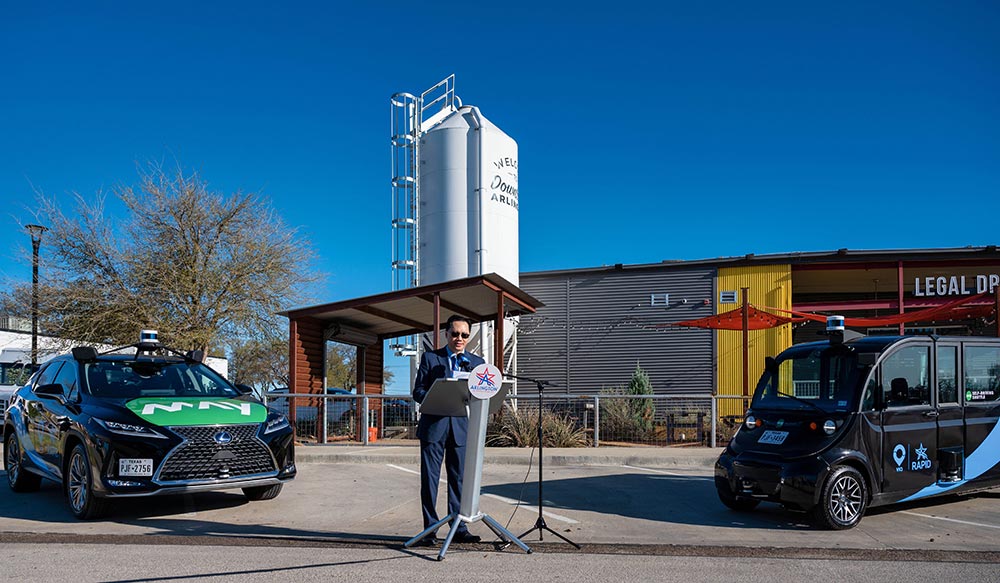 Officials from The University of Texas at Arlington and the city of Arlington were among the first to ride in a unique, on-demand, self-driving shuttle service known as RAPID, which will provide free rides to UTA students for the next year.
The city is operating RAPID (Rideshare, Automation, and Payment Integration Demonstration) in partnership with the University, Via Rideshare and May Mobility, a leader in autonomous technology and fleet services, through a grant provided by the Federal Transit Administration (FTA).
UT Arlington Interim President Teik C. Lim congratulated all the partners at a kickoff event at Arlington's Urban Union on March 23.
"I am certainly very proud of UTA's role in this program, which combines autonomous vehicles with mobility-on-demand technology to provide an urban public transit alternative," Lim said. "UT Arlington's participation in the development and launch of this pilot program with the city of Arlington is especially gratifying because our students are the focus of all that we do, and RAPID benefits students significantly by providing free rides in the downtown area."
He said that with about 10,000 students normally residing on or near campus, RAPID will be a key supplement to the University's existing transportation solutions.
"Combining RAPID with our campus shuttle system, an on-demand safe-ride program, and off-campus Via rides will make our University transportation capabilities more effective, efficient and accessible—and, of course, safer for our students," Lim said.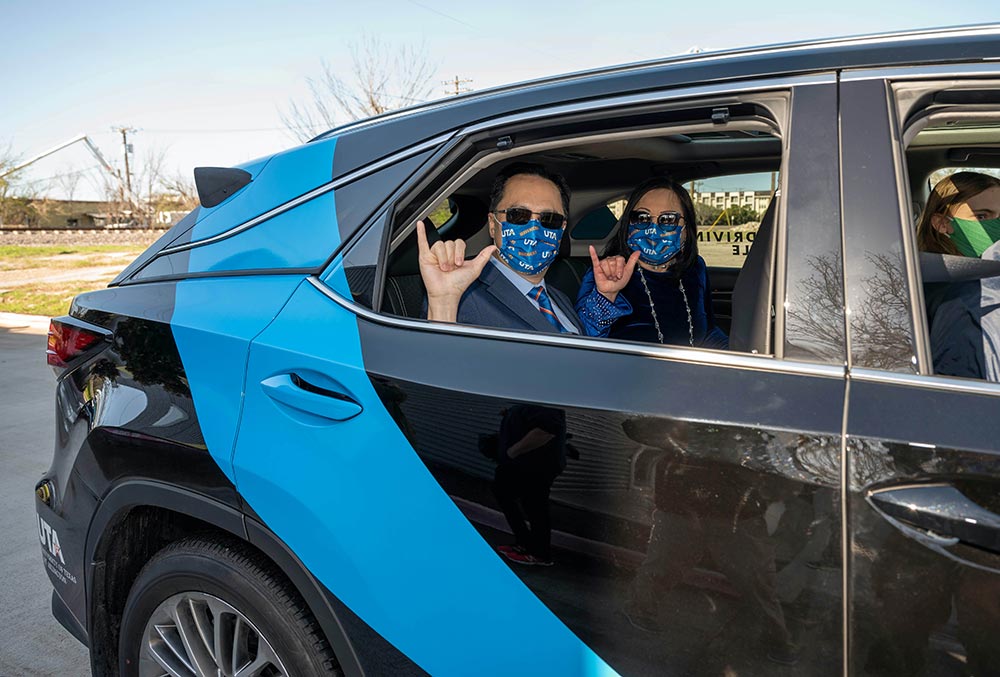 A fleet of five self-driving vehicles, including one that is wheelchair-accessible, is available to book from 7 a.m. to 7 p.m. Monday through Friday for destinations within the RAPID service area, which includes the Downtown Library, City Hall, UT Arlington and numerous restaurants, offices and businesses in the downtown area. While the vehicles are self-driving, a trained fleet attendant will be in the driver's seat at all times to ensure safe operations and to provide customer service for riders.
The RAPID service area runs from by Division Street to the north, Mary Street to the east, Mitchell Street to the south and Davis Drive to the west. Riders traveling to and from destinations in this service area can book and pay for rides through the Via app or by calling Via's customer service line at 817-784-7382.
Via's standard fares apply for the general public. UTA students can ride for free.
Arlington Mayor Jeff Williams said the city has developed a reputation around the country as one of the most innovative cities for "exploring technology-based mobility solutions and the testing of autonomous vehicles."
"We're excited to take the next step in this process with our partners May Mobility, Via and UT Arlington, as we explore the latest self-driving vehicle technology on our roads in the Downtown area," Williams said.
Via's technology will manage booking, routing, passenger and vehicle assignment and identification, customer experience, and fleet management in coordination with May Mobility's expertise in autonomous vehicle technology.
As part of the pilot program, UT Arlington is involved in data collection and research that will contribute to transportation blueprints for the city and the campus. Lim commended Sherri Kermanshachi and Jay Rosenberger from the College of Engineering; Amir Shahmoradi from the College of Science; John Hall, vice president of administration and campus operations; and Greg Hladik, director of Parking and Transportation Services, for their roles in the program.
"We are always excited and proud to direct some of our intellectual capital toward real-world challenges like this RAPID public transit project," Lim said. "Participating in this project also provides research opportunities for some of our students and creates out-of-the-classroom practical experiences."
May Mobility is providing the fleet of five autonomous vehicles, which comprises four hybrid electric Lexus RX 450h vehicles that can carry up to three passengers and one Polaris GEM fully electric vehicle that can carry one wheelchair passenger.
"This opportunity will play a crucial role in advancing our technology development and our overall mission to transform cities with safe, clean and accessible self-driving shuttles," said Edwin Olson, co-founder and CEO of May Mobility.
Via and RAPID riders are required to wear facemasks because of the coronavirus pandemic, per FTA orders. A number of health safety features are present in the RAPID vehicles, including a partition between the attendant and passenger areas, daily deep cleaning, and mask requirements consistent with Centers for Disease Control and Prevention and FTA regulations. The number of passengers in the vehicles at one time can also be limited to allow social distancing, consistent with the current approach on the city's Via service.