UTA Movin' Mavs National Champions Day
City of Arlington honors UTA wheelchair basketball team's latest championship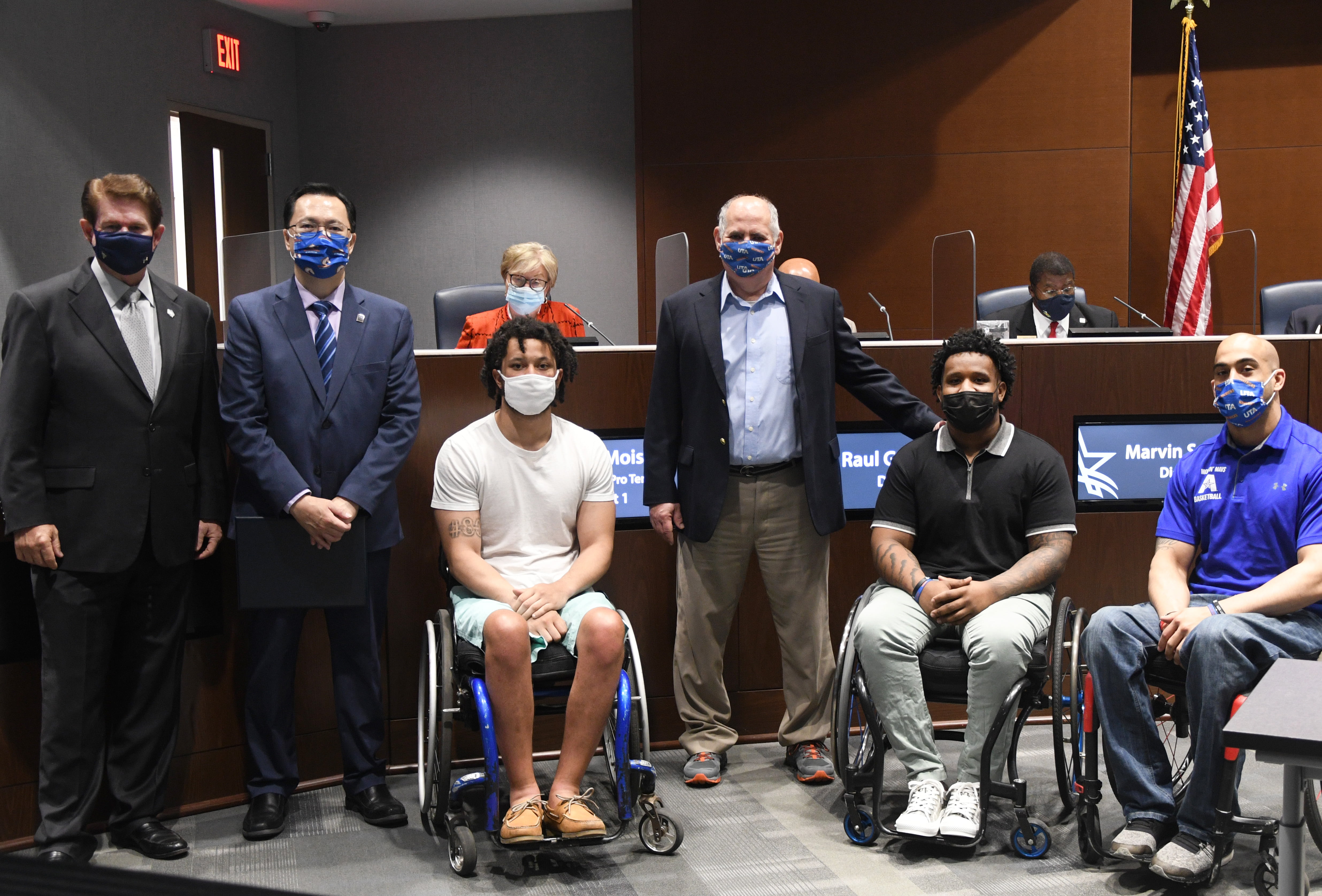 The City of Arlington officially declared March 30, 2021, as UTA Movin' Mavs National Champions Day in the city of Arlington.
Arlington Mayor Jeff Williams made the proclamation on behalf of the Arlington City Council during its first in-person meeting since the COVID-19 pandemic began.
The University of Texas at Arlington Movin' Mavs recently won their ninth National Wheelchair Basketball Association (NWBA) championship in program history, defeating Alabama 66-51 two weeks ago. UTA finished 8-0 on the season, despite losing four starters from the previous year's top-ranked squad. The Movin' Mavs entered this season with an inexperienced starting lineup that included three freshmen and a sophomore.
Mayor Williams described the win over the Crimson Tide as exciting and recognized how the team had to overcome a season cut short, not only by the COVID-19 pandemic, but also the winter storms and power outages in February.
"We have a new champion here in a city that is used to crowning a lot of champions," Williams said. "This is an official proclamation of congratulations and a very big deal. I'm so honored to present this on behalf of Arlington City Council. We are so proud of UT Arlington, and we know the accomplishments will continue to come."
Interim President Teik C. Lim described his admiration for the heart, skill and grit of the Movin' Mavs and the Lady Movin' Mavs, who also reached the championship game.
"We are proud of our comprehensive environment where sports, scholarly pursuits and a long history of accessibility merge," Lim said. "After the big win, Coach Doug Garner remarked that his players came together as a team. Indeed, we achieve so much more together: in basketball, on campus and throughout our city. With teamwork, we win by focusing on the power of combined effort and collective results."
UT Arlington began its wheelchair basketball program in 1976 as an adaptive recreational sport. The team became the Movin' Mavs in 1988, when it began intercollegiate competition.
The Movin' Mavs have a proud legacy, including an invitation to the White House, nine national MVPs and 36 players who have gone on to play in the Paralympics.
Garner has been a dedicated coach and supporter for more than 25 years and has helped mentor dozens of teams and athletes in the sport. He is a member of the National Wheelchair Basketball Hall of Fame.
"Thank you to the city of Arlington for the recognition and for supporting us through the years," said Garner. "That's how we continue to grow as a program, with support like this, representing out in the community and representing UT Arlington."