Texas universities to compete at drone showcase at UTA
Student-built drones will fly, avoid obstacles, land on school logos at Maverick Stadium
Students from The University of Texas at Arlington, UT Dallas and UT El Paso will demonstrate their own autonomously flying unmanned aerial systems at a drone showcase April 29-May 1 at UTA's Maverick Stadium.
The teams will compete in three events during the showcase:
• The first event will verify that the drone works as it is supposed to.
• The second will require the drone to lift off, ascend to a prescribed altitude and autonomously find and land on a 2-foot-by-2-foot school logo.
• The third will require the drone to lift off, negotiate and avoid obstacles and land on the school logo.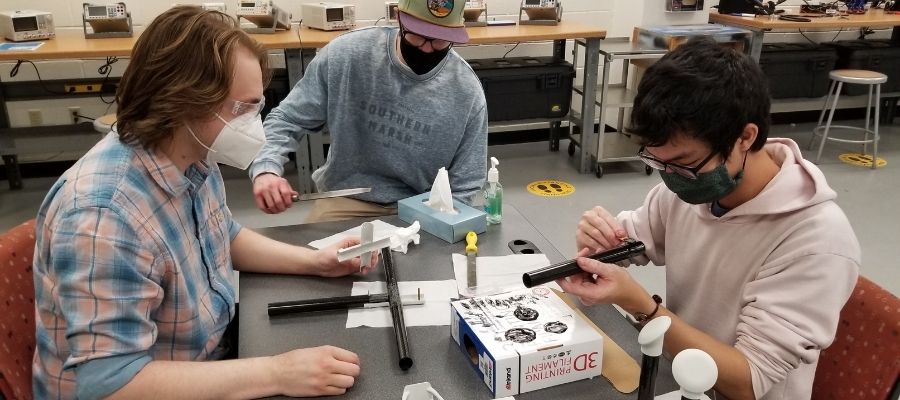 UTA's student team is building its drone here. Pictured are (from left) Robert Ross, Thomas Sampognaro and Francois Nguyen.
UTA's team comprises students from the Electrical Engineering (EE), Computer Science and Engineering (CSE), and Mechanical and Aerospace Engineering (MAE) departments. Faculty advisers are David Wetz, EE professor; Greg Turner, EE associate professor of practice; Robert Woods, MAE professor; and Chris McMurrough, CSE associate professor of instruction.
"While we could have limited the project to more of a programming exercise using commercially available drones, we were ambitious and created a multi-disciplinary team to build the entire thing from scratch," Wetz said. "MAE students are building the frame, EE students are working on the electronics and CSE students are programming the flight controls.
The team-oriented effort allows students to engage and put into practice their project-management and problem-solving skills on open-ended problems. It also gives them the opportunity to work in an environment like industry professionals.
"This is a fun event, but it's really beneficial for our students to learn how to work in teams from multiple engineering disciplines to create something that can successfully perform a set of tasks," Wetz said." This experience will give them a leg up when it comes to entering the workforce and becoming a working engineer."
The UTA students competing are:
• From EE: Bryce Humphrey, Pace Honeycutt, Jeremiah Tate, Kevin Truong and Alejandro Zapata
• From CSE: Anfal Chaid, Archit Kalpeshkumar Jaiswal, Michael Rao, Thomas Royal and Alvin Poudel Sharma
• From MAE: Edmund Travis Forest, Francois Nguyen, Taylani Oneal, Robert Ross and Thomas Sampognaro
Raytheon Technologies is sponsoring the project, which began during the fall 2020 semester and will culminate with the showcase. For Raytheon, it is an opportunity to evaluate and assess top graduates and promote corporate branding in addition to assessing the latest technologies.
- Written by Jeremy Agor, College of Engineering