UTA student selected for coveted Tesla internship
Graduate student in computer science goes from FabLab to Tesla
A University of Texas at Arlington graduate student in computer science who also works as a research assistant in the UTA FabLab has landed a coveted internship at Tesla, the electric vehicle company.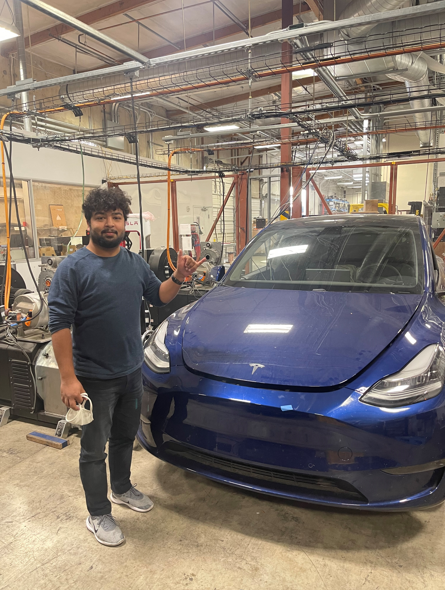 Vikram Gupta's internship is taking place at Tesla's headquarters in Palo Alto, Calif., and lasts for at least the spring 2021 semester, with the possibility of extending beyond that.
"Our student workers make us proud day in and day out," said Rebecca Bichel, dean of UTA Libraries. "We have had students leave our employ for internships at the Smithsonian, Getty, and now Tesla—all just in the last year. But no matter where they go when they graduate, we are grateful for the opportunity to work with them as they pursue their Maverick educations."
Eric Olson, FabLab technician and Gupta's direct supervisor, said the work experience students like Gupta receive in the FabLab prepares them for similar high-level internships.
"Student workers in the FabLab should expect to learn a lot of critical-thinking, design-process, problem-solving, and computer-aided design skills," Olson said. "Our student workers also become very skilled at effectively educating others. Most of their day-to-day job is to break down complicated ideas and processes into basic concepts and discrete steps and orient those pieces into information someone new to the entire concept can successfully digest and apply. These are all important skills that qualify them for the work that top-tier internships will ask them to do."
Gupta says his specialized training in the FabLab was crucial to his Tesla application.
"My main purpose with this job is to keep all the machines working and have minimum downtime for our learners," Gupta said. "All of the things I learned to do this job at least indirectly helped me get this internship."
For Gupta, working at UTA Libraries was more than just a job—it was part of his college experience.
"Working here makes me feel more like I'm part of the University than just a normal student going to school here," Gupta said. "This job not only helps me monetarily, but also helps provide me with a sense of contribution, purpose, and belonging. I'm proud and grateful to have such a nice University experience."
- Written by Alexandra Pirkle, UTA Libraries