Mavericks line up for COVID vaccine at UTA site
UTA location will be open to public on first-come, first-served basis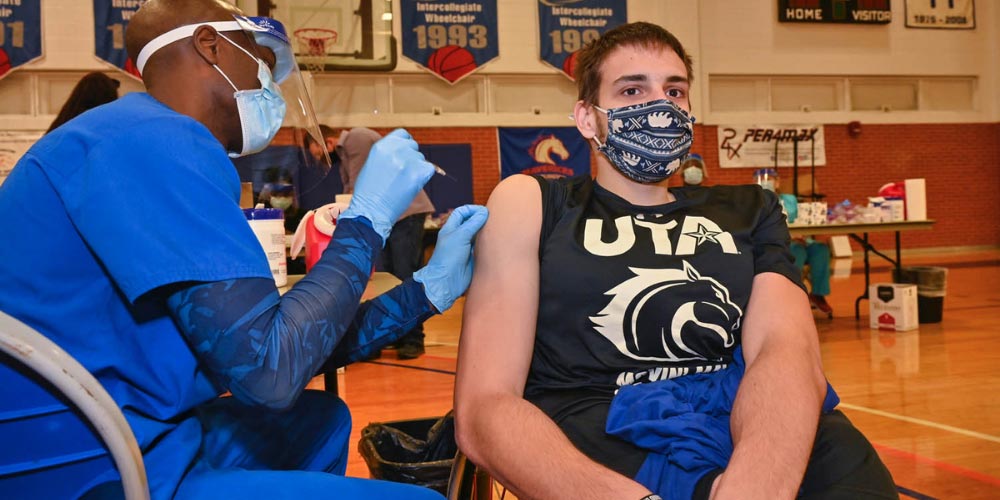 When a vaccination site opened on The University of Texas at Arlington campus, UTA freshman and Movin' Mavs team captain Vincent Dallaire was among the first in line.
"It's so convenient to stay on campus and receive the vaccine for free," Dallaire said. "I'm trying to set a good example for my teammates. I hope they will show up to get their shots, too."
The new public vaccination site opened Wednesday, May 5, in UTA's Physical Education Building at 801 W. Greek Row Dr. People can walk in to receive a dose or choose the day and time of their appointment through the registration portal, tarrantcountystrong.com, which is operated through a partnership with the University of North Texas Health Science Center at Fort Worth (HSC) and Tarrant County.
UTA's Interim President Teik C. Lim said he is encouraging everyone in the Maverick community to get vaccinated to help the University provide the safest environment possible when UTA resumes on-campus, in-person instruction in the fall.
"Having this site on UTA's campus makes it even more convenient and accessible for our Maverick community to get a COVID-19 vaccine and helps us be of service to the Arlington community," Lim said.
The vaccine site opened with a "soft launch" Wednesday and will transition to full volume on Thursday and Friday with an estimated 630 Pfizer vaccines doses per day from 9 a.m. until 5 p.m. For the next two weeks, this site will maintain that capacity while delivering first doses. Then staff will shift to delivering second doses for three weeks.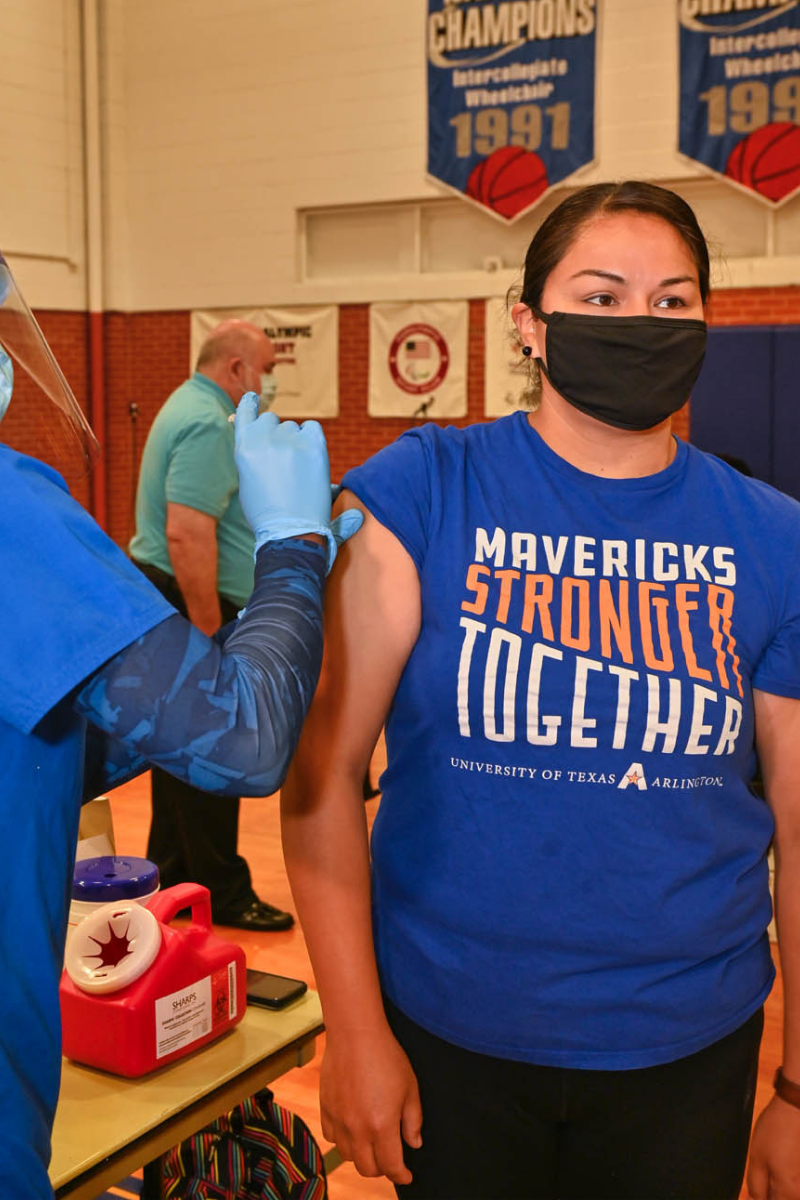 Catherine Soto, box office manager for special events at UTA, said she had registered elsewhere to receive a vaccine, but was still waiting on an appointment when she discovered the clinic opening at UTA. She was the location's first patient of the day.
"I am very happy to be their 'Patient Zero,'" Soto said. "And once my daughter finishes her final exams, I will be sending her here to get vaccinated as well."
Dallaire mentioned that he was relieved to be vaccinated before he returns home to Quebec City, Canada, after final exams.
"The process to be vaccinated is a lot more complicated at home," Dallaire said. "I'm thankful for the opportunity to get my first shot at the university."
UTA students and employees are strongly encouraged to participate in COVID-19 vaccinations if they are able. Individuals who are interested can visit UTA's COVID-19 Vaccination Information and Resources page to access registration links and instructions for the vaccine opportunities available for the campus community.