'The gold standard for clinical diagnostic labs'
North Texas Genome Center receives accreditation from College of American Pathologists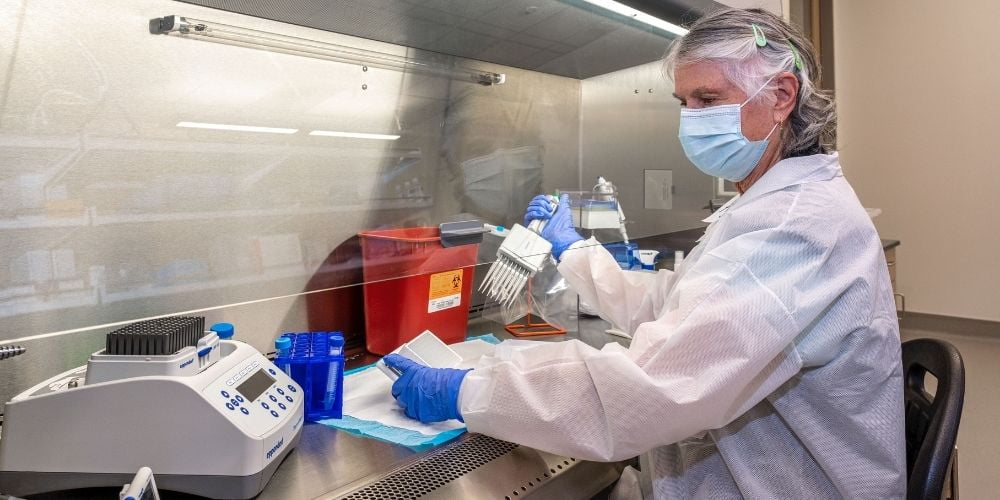 The clinical laboratory at The University of Texas at Arlington's North Texas Genome Center has received accreditation from the College of American Pathologists (CAP), the world's largest organization of board-certified pathologists and a leading provider of laboratory accreditation and proficiency testing programs.
In collaboration with the Texas Genomics Alliance and UT Southwestern, the North Texas Genome Center offers high-speed and low-cost library preparation, sequencing and bioinformatic services to enhance the biotechnology and biomedical research communities.
The accreditation certifies the laboratory's capacity to conduct high-quality research and testing on human specimens for health assessments or to diagnose, prevent or treat disease.
"Having this accreditation is a mark of quality to academic colleagues, researchers and funding organizations," said Anajane Smith, clinical laboratory manager. "It demonstrates the excellence of the data we produce, that our findings will most likely be publishable and that the information we discover could potentially impact our understanding of the human condition."
Florence Haseltine, the center's medical director and UTA's executive director of health research, recommended Smith to lead the accreditation process. Smith is a veteran of clinical lab management with more than 30 years of experience at Fred Hutchinson Cancer Research Center in Seattle.
"Anajane is a powerhouse," Haseltine said. "Her extensive experience as a lab manager and clinical lab consultant made her the right person for the job."
CAP regulations ensure the highest standard of care for all laboratory patients. Inspectors examine the laboratory's records and quality control of procedures for the preceding two years, as well as its staff qualifications, equipment, facilities, safety program and record, and overall management.
Due to Smith's initiative, when the COVID-19 pandemic struck, the laboratory was in an enviable position to begin testing patients for the virus.
"We never intended to conduct viral testing, but because Anajane had started our certification processes with CLIA and CAP, we were able to provide COVID-19 testing to the student body," Haseltine said. "Universities all over the United States have the capacity to perform coronavirus testing, but without CLIA approval they were not legally allowed to test patients and report results."
The achievement occurred on the center's third anniversary. Jon Weidanz, founding director of the North Texas Genome Center and associate vice president for research, set a goal to attain CAP accreditation upon the center's opening in March 2018.
"From the beginning, one of the areas where we have wanted to excel is sequencing of clinical samples," Weidanz said. "CAP regulations are the gold standard for clinical diagnostic labs. Its certification confirms that the workflow process, documentation and data generated are reproducible and of high quality."
Weidanz said CAP's accreditation of the laboratory's clinical testing is the foothold that will lead to certification of additional services the center plans to offer in the future.
"This accreditation will help us build relationships with other institutions and catalyze larger and more complex projects than we currently perform," Weidanz said.