Alumnus teams up with engineering students to improve invention
UTA senior engineering students help alumnus improve device that dispenses hand sanitizer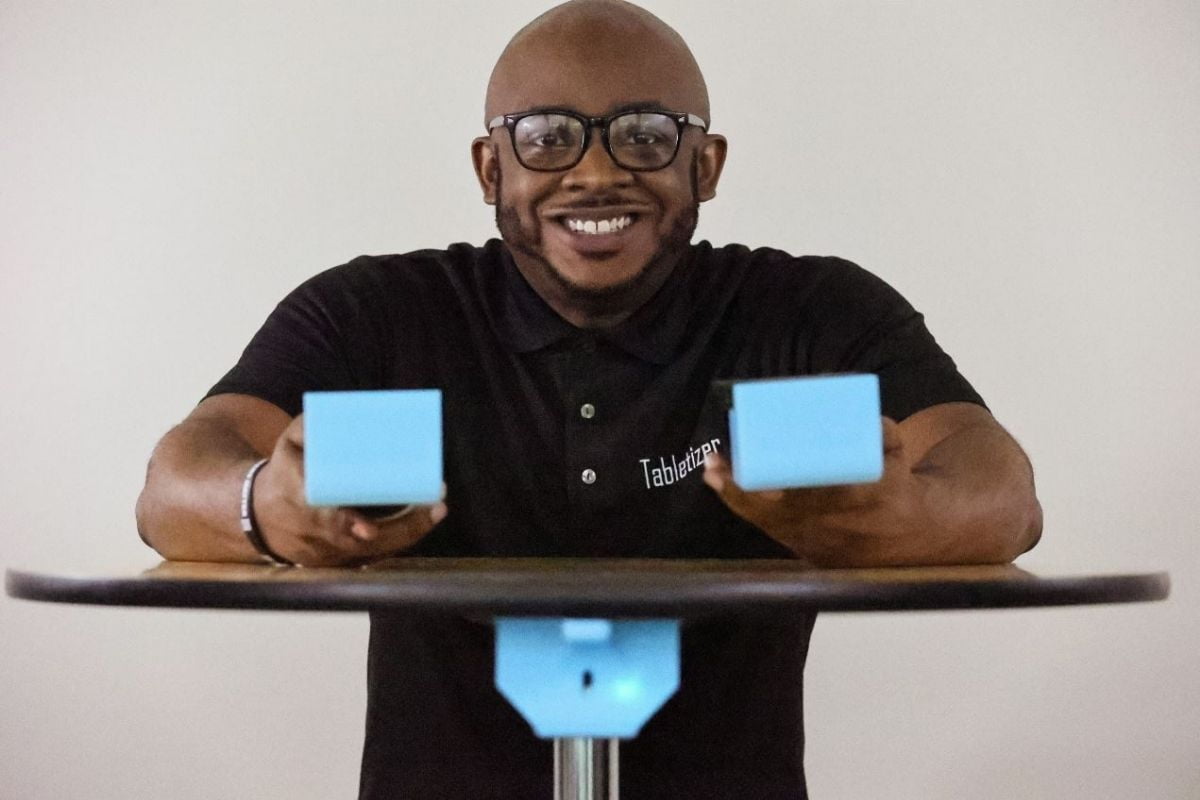 A University of Texas at Arlington alumnus leaned on his alma mater to help him perfect an invention that he recently patented.
Mel Jackson, who earned his bachelor's degree in psychology from UT Arlington in 2010, invented the Tabletizer, a device that attaches to the underside of a table, counter, bar or desk to provide a convenient way to sanitize a person's hands.
"I wanted to create a more convenient way for a person to sanitize their hands instead of going to the restroom or using a distanced sanitizer location," said Jackson, whose wife, brother and grandmother also all graduated from UTA. "Now users of the Tabletizer can remain seated or standing and be closer in proximity to the device's location. With COVID-19 affecting the globe, hygiene awareness, practices and products like Tabletizer have become even more relevant and vital for businesses."
Jackson collaborated with students on a senior design team in the College of Engineering to enhance the prototype through multiple designs.
"I am thankful UTA assisted me with this product," said Jackson, who is part of a team of safety professionals at Straightway Solutions LLC and is an authorized Occupational Safety and Health Administration trainer.
Austin Harvey, who graduated with a bachelor's degree in mechanical engineering in May, led the student team that helped modify the Tabletizer. Fellow UT Arlington students John Wortham, Jennifer Okpala and Rocky Vera Cruz also were on the team.
"It was great that we got paired up with Mr. Jackson," Harvey said. "Our job was to make the Tabletizer more compact, more usable. We inserted infrared sensors to make it an automated, hands-off pump. We also designed it to use less materials but to keep the dispensed volume the same."
Raul Fernandez, professor in practice in the Mechanical and Aerospace Engineering Department, said the collaboration between old and new Mavericks was great to see.
"The partnership really shows students what the real world is about," Fernandez said. "It gives them something concrete, taking what they've learned in the classroom and using it for real-world solutions."