UTA named inaugural winner of national racial justice, equity award
Coalition of Urban Serving Universities honors UTA's Latino health literacy campaign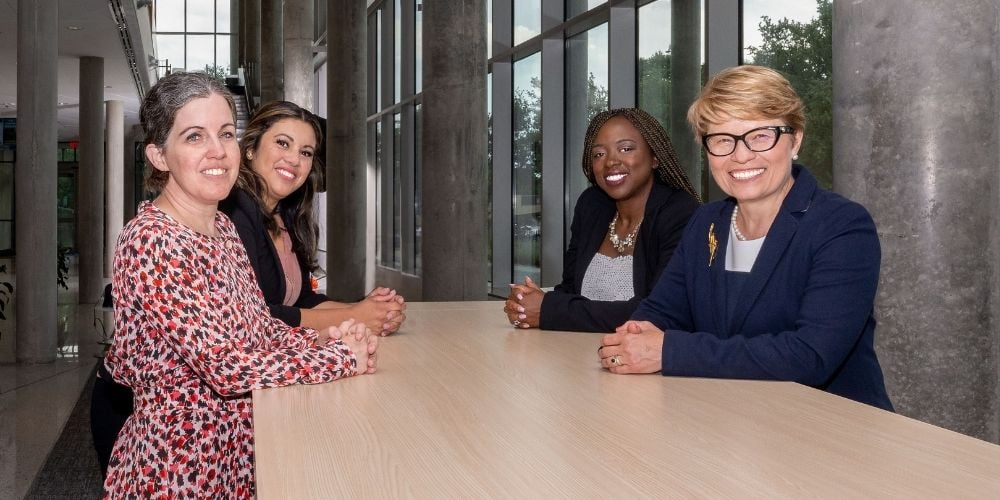 Aiming to address racial injustice and inequity through university-city partnerships, the Coalition of Urban Serving Universities (USU) has named The University of Texas at Arlington as its inaugural Racial Justice and Equity Program Award Winner.
UT Arlington has worked to accelerate health literacy for pre-K-12 grade-level students through an easy-to-use COVID-19 navigator that presents educational health information about the virus and ways to stay safe and healthy. A diverse team of multilingual researchers, educators and students built the resource navigator, delivering curated content in English and Spanish to inform students and their families. These resources include public health practices and support to address students' mental health, as well as resources on cases, strains and vaccinations.
As a USU Racial Justice and Equity Program scholar, UT Arlington will build on its work and advance a community partnership model of outreach to Latino youth that empowers communities through participatory discussion. The University will build on findings from the Centers for Disease Control and Prevention's Racial and Ethnic Approaches to Community Health (REACH) program.
"UT Arlington is proud to be recognized as a model for public urban research universities that aim to address racial disparities in health care," said Teik C. Lim, UT Arlington's interim president. "By enhancing access to accurate health literature for the Latino community, our researchers will provide a critical service to an underrepresented population in North Texas and demonstrate effective health literacy strategies that can be utilized across the nation."
The programming also will incorporate vaccine information while working with youth Community Health Workers in Dallas high schools to understand and allay students' concerns and share resources. The effort will be a collaboration between UT Arlington, Dallas Fort Worth Community Health Worker Association, Health Literacy Texas, and La Alianza DFW.
"We're thrilled to select UT Arlington as our inaugural Racial Justice and Equity Award Winner," said Christel Perkins, deputy executive director at USU and assistant vice president at the Association of Public and Land-grant Universities. "The pandemic has magnified gaping health inequities that still plague our country, and this leading-edge work will help tackle the structural drivers of these disparities."
The UT Arlington researchers recognized by this award are:
Gabriela Wilson, professor of kinesiology and co-director of the Multi-Interprofessional Center for Health Informatics (MICHI)
Peace Ossom-Williamson, director of research data services at UTA Libraries
Peggy Semingson, associate professor of linguistics and TESOL
Denise Hernandez, assistant professor of kinesiology
"The challenges we have experienced during the pandemic have given us the opportunity to leverage activities that encourage necessary changes to public health behavior," said Wilson, the project's principal investigator. "We are honored to be selected as the inaugural USU Racial Justice and Equity Scholar project and look forward to working together to serve better our community members from disadvantaged backgrounds, including marginalized racial and ethnic groups."
The competition was open to USU's entire membership of 39 public urban universities. USU's Racial Justice and Equity Scholars Program supports urban university efforts in three thematic areas—thriving students, thriving universities and thriving communities—to explicitly address policies that produce equity gaps. Award winners must directly partner with external organizations to advance their work. Each award winner works closely with USU over the course of 12 months to collect data, monitor progress, evaluate outcomes and disseminate project findings.