The head and the heart
Psychology professor publishes book advocating for balance between reason, emotion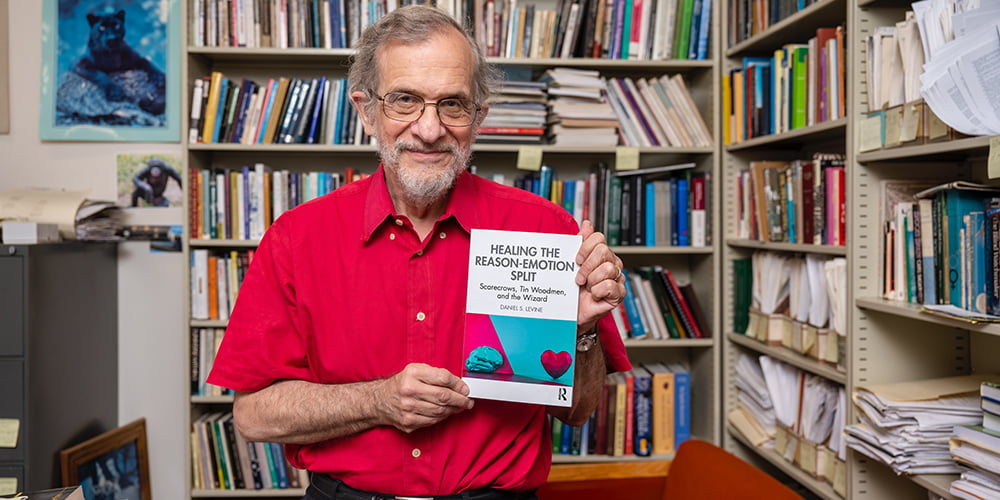 A professor of psychology at The University of Texas at Arlington has published a new book that examines the need to balance cognitive and emotional processes and to place equal importance on emotion and reason.
Daniel Levine is author of the general audience book, titled Healing the Reason-Emotion Split: Scarecrows, Tin Woodmen, and the Wizard.
The book has three main themes:
The first is that recent study results from neuroscience and experimental psychology are inconsistent with the beliefs that reason and emotion are opposites and that reason is superior to emotion.
Second, the split between reason and emotion is harmful to society.
Third, science can help heal that split, to the benefit of society.
"This book argues that emotion and reason should be treated as partners," Levine said. "Moreover, it argues that recent advances in neuroscience, experimental psychology and computational modeling of neural systems support the existence of, and the need to encourage, partnership between emotion and reason."
Levine argues that reason and emotion mutually benefit people's decision-making abilities. The book explores the belief that understanding this relationship could have long-term advantages for managing many of the biggest problems facing society. He examines how reason and emotion were utilized in movements throughout history, including the Enlightenment, Romanticism and the counterculture of the 1960s. The book integrates discussion on classic and contemporary neurological studies and uses allegory to make the case for societal change through compassion.
"We need emotion to feel the importance of doing something, and we need reason to carry it out effectively," Levine said. "Asking 'Should I act on reason or emotion?' makes no more sense than asking 'Should I drive with my hands or with my feet?'"
Levine has extensive experience studying neural networks, decision making, and cognitive-emotional interactions. His laboratory deals with both experimental and theoretical studies of these areas. He is a fellow and former president of the International Neural Network Society.
- Written by Greg Pederson, College of Science