In memoriam: Dr. Maxwell Scarlett, distinguished alum of UTA
Dr. Scarlett, first Black graduate of UTA, was 'beloved' friend to his alma mater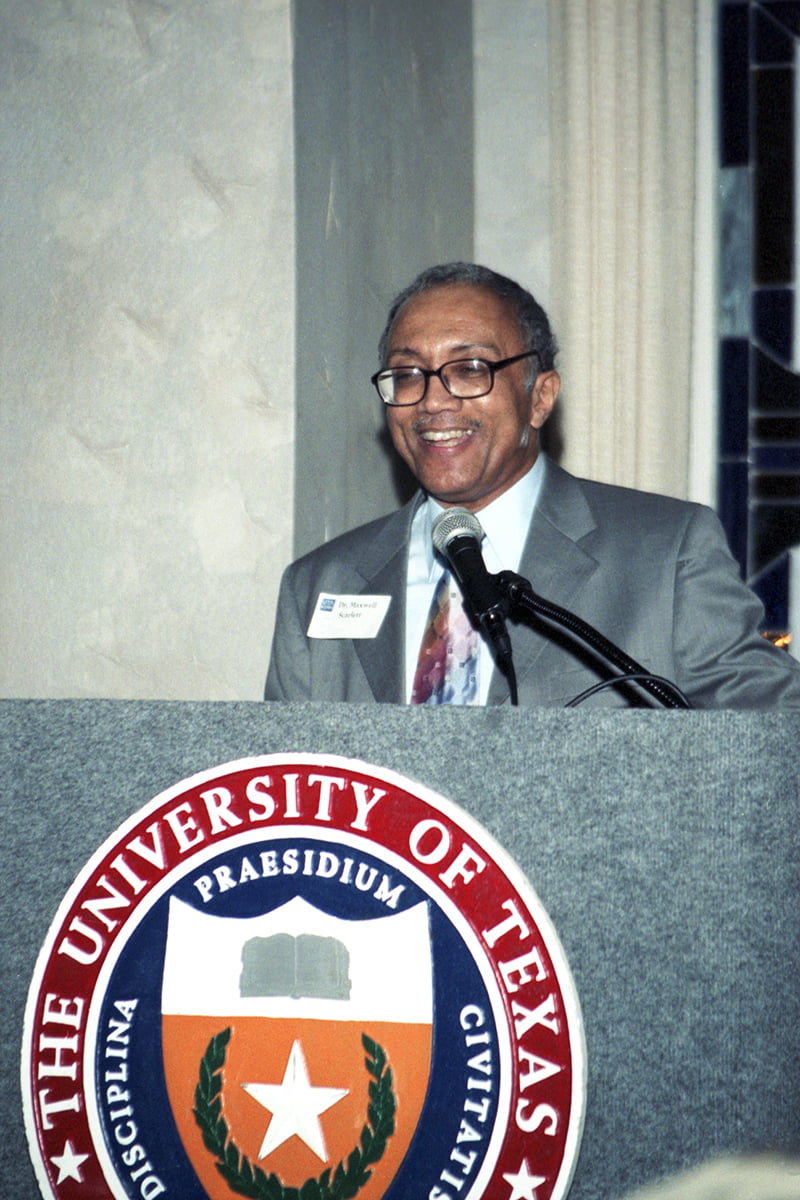 Maxwell Scarlett, the first Black graduate of The University of Texas at Arlington and a distinguished Fort Worth physician who specialized in emergency medicine, died July 31 in Fort Worth. He was 76 years old.
Scarlett said he didn't set out to be a trailblazer when he enrolled at UTA, then named Arlington State College (ASC), in September 1965. Nor was he the first Black student to enroll in ASC; he transferred to Arlington as a senior three years after the student body was first integrated.
But Scarlett was the first to earn a degree, receiving a B.S. in biology in the spring of 1966. He went on to earn a medical degree from Howard University College of Medicine and began a long and distinguished career in emergency medicine. He said he was extremely proud of being an alumnus of UTA and stayed closely connected to the University through the years.
"The University of Texas at Arlington community is mourning the passing of a distinguished alumnus and beloved friend," said Teik C. Lim, interim president of UTA. "Dr. Scarlett was a loyal Maverick and respected community leader. He will be deeply missed."
Scarlett was passionate about higher education and about serving his alma mater. Scarlett had served as a member of the UTA President's Advisory Board and the UTA College of Science Advisory Board. He was a founding member of the UTA African American Alumni Chapter and a life member of the UTA Alumni Association. He was always willing to speak with student groups and share his gratitude for the support he received from the University. As he once remarked, "Not a day goes by that I don't appreciate the priceless foundation in life that I received at UT Arlington."
College of Science Dean Morteza Khaledi said Scarlett "exemplified everything that is great about UTA."
"He said he never set out to lead the way and break racial barriers, but he did exactly that," Khaledi said. "His hard work and the example he set helped to open the door for so many others who had been denied and excluded before. We are extremely proud that Dr. Scarlett was a College of Science alumnus, and we are forever grateful for everything he has done to make UTA a better and more equitable institution."
Scarlett received UTA's Distinguished Alumni Award in 2005. He also received the Outstanding African American Alumni Award and Multicultural Services Trailblazer Award.
Scarlett was born in Fort Worth and grew up in the Stop Six neighborhood in a family of educators. His mother was a teacher, as were both of her grandparents. His maternal great-grandfather was a professor of chemistry and physics at Prairie View A&M University in the 1890s. While growing up, Scarlett considered it a given that he would attend college.
After graduating from Dunbar High School, Scarlett chose to attend North Texas State University (NTSU), where his mother had received her master's degree a few years before. He was one of the first three Black male students to live in a dorm at NTSU. Later, he integrated Beta Beta Beta, the school's biology honor society. He also became the first Black student to grade papers in the Science Department and, later, the first to teach there as well.
Scarlett transferred to ASC for his senior year. He had taken some summer courses there the year before and liked his professors.
At ASC, Scarlett was often the only Black student in his classes, and he saw few others on campus. Despite this, he said he never felt isolated or ostracized.
"I never had any negative experiences at UTA," Scarlett said in 2004. "I can truthfully say that. It was nothing but a positive experience from the first day I came here until I finished, so my hat's off to UTA."
At his commencement ceremony in Texas Hall in June 1966, Scarlett looked around and realized he didn't see any other Black students. He wondered if he was the only one graduating, but once he received his diploma, he said he didn't think about it again for decades.
In 1997, he was interviewed for a Fort Worth Star-Telegram story on the 35th anniversary of desegregation at the University. No one knew specifically who the first Black graduate was. Scarlett knew he was among the first and became curious. He asked the University to do some research, and the result came back: Though he wasn't the first Black student to attend UTA, he was the first to graduate.
"It was just sort of an accident of fate or providence," he said in 2004. "I guess I was just in the right place at the right time, so to speak. I'm proud of it personally, I'm proud for African Americans, I'm proud for UTA. I'm proud for our society in general."
Scarlett began his medical practice in Fort Worth in 1977. From 1994-2009, he was president and director of Lekar Emergency Medical Associates in Killeen. He continued seeing emergency medicine patients even after retiring from his Fort Worth practice in 2014.
Scarlett was the guest speaker at the College of Science commencement ceremony in May 2009. He told the graduating students that UTA had provided a permanent academic, social and cultural foundation.
"Let's not forget it," he said. "Let's always remember this is our home."
- Written by Greg Pederson, College of Science