A UTA trailblazer, ready for her graduation
At summer commencement, UTA to graduate first African American doctoral student in chemistry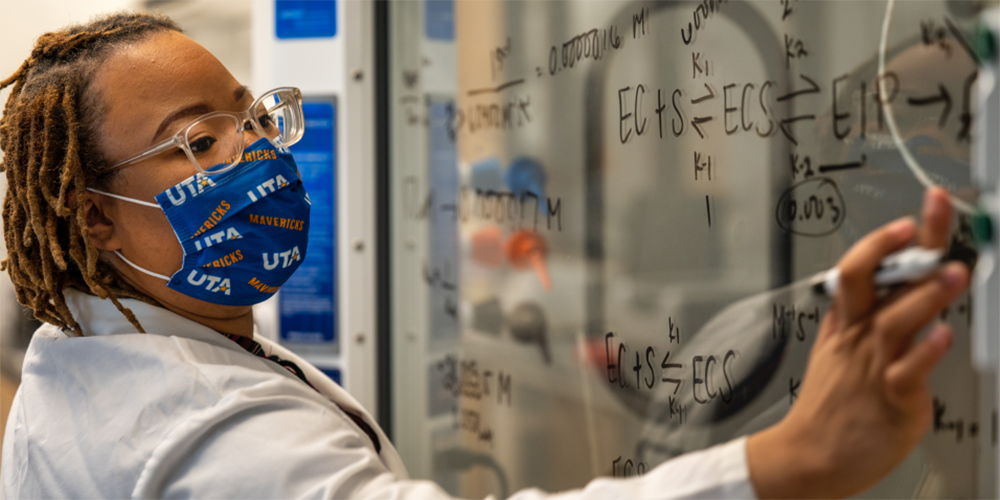 A graduate researcher at The University of Texas at Arlington is poised to become the University's first African American student to earn a Ph.D. in chemistry.
Lindsay Davis, who graduates on Aug. 19, represents the growing number of women and minority researchers who are radically changing the demographics of science, technology, engineering and mathematics (STEM) careers.
"It feels good to be a trailblazer," Davis said. "I am proud to set an example for underrepresented minorities who dream of using their STEM talents to make the world a better place."
Davis is one of more than 3,000 commencement candidates set to graduate from UTA this week during ceremonies scheduled for Aug. 18-19 at College Park Center. A virtual ceremony is scheduled for Aug. 21. The graduates will join more than 240,000 Maverick alumni across Texas and beyond.
"Our graduating students truly have earned the name Mavericks," said Teik C. Lim, interim president of UTA. "They have shown true grit and determination in dealing with changing circumstances during their academic journeys. Business leaders will see that these UT Arlington graduates possess valuable attributes that will serve them well in their careers."
Davis has a job in research and academia awaiting her. Upon graduation, she will return as an assistant professor to her alma mater, Langston University, a historically Black university in Oklahoma, where she will assist with the expansion of its STEM curriculum.
"Life comes full circle," Davis said. "My experiences at UTA have equipped me to encourage other students like me to become the next generation of scientists, mathematicians and engineers. Thankfully, my mentors at UTA are brilliant female scientists. Their research accomplishments inspire me to keep going."
In the laboratory, Davis investigates an enzyme known as FGD, which is important for the treatment of tuberculosis (TB). A leading cause of death worldwide, TB affects an estimated 10 million people annually. It is curable and preventable, but its epidemic transmission has allowed the disease to become increasingly drug-resistant.
"We want to understand on a molecular level how FGD operates, since it is the target for further drug development for multiple drug-resistant forms of TB," Davis said. "Once we discover the mode of action of FGD, researchers can create treatments that more effectively target the enzyme and cure patients with drug-resistant strains of TB."
As a woman of color in a STEM field, Davis has been a rare role model for students from underrepresented backgrounds.
"Lindsay's research project has provided mentorship and training for several students from diverse backgrounds," said Kayunta Johnson-Winters, associate professor of chemistry and Davis' faculty advisor. "Two of her mentees, both women of color, have moved on to advanced degree programs at other institutions."
Commencement schedule and speakers
Wednesday, Aug. 18, 2021
7 p.m.: College of Business and School of Social Work.
The speaker is the Honorable Arlington Council Member Raul Gonzales, a UTA alumnus.
Thursday, Aug. 19, 2021
3 p.m. – College of Nursing and Health Innovation.
The speaker is Steve Love, president and chief executive officer of the Dallas-Fort Worth Hospital Council.
7 p.m. – College of Architecture, Planning and Public Affairs; College of Education; College of Engineering; College of Liberal Arts; College of Science; Division of Student Success (University Studies) and Honors College (Interdisciplinary Studies).
The speaker is Harrison Keller, commissioner of higher education for the state of Texas.
Saturday, Aug. 21, 2021