Paralympians learn, train in Maverick Country
At least 14 athletes with UTA ties will compete in the Paralympics in Tokyo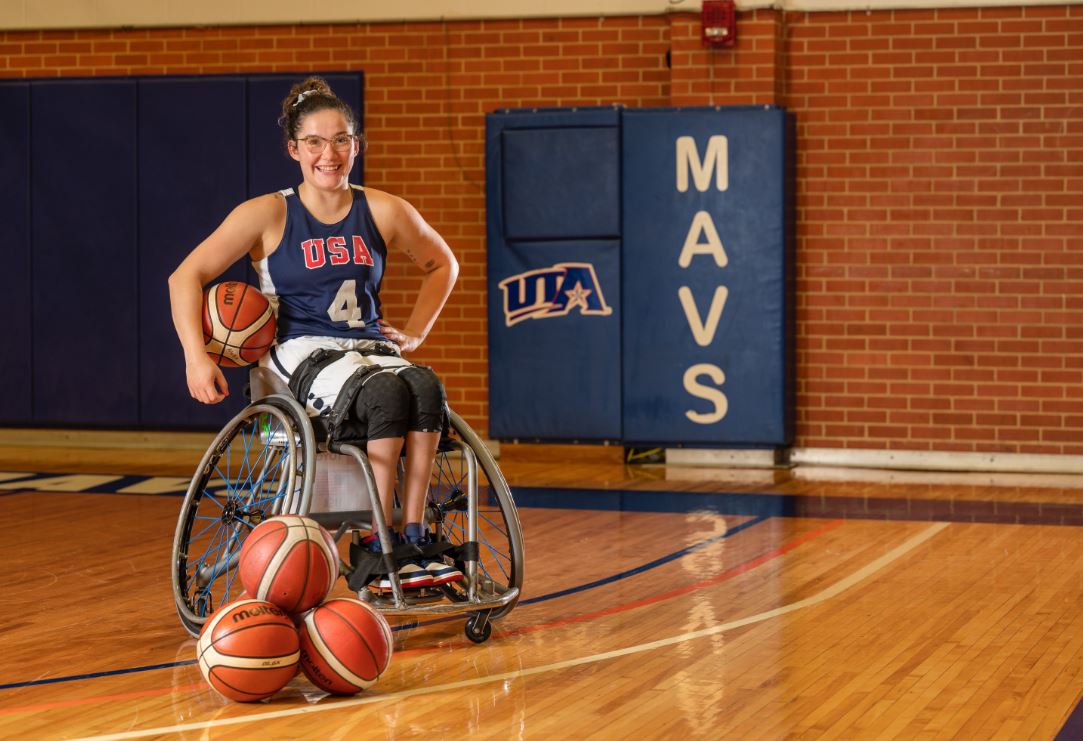 Zoe Voris has been playing wheelchair basketball since she was 9 years old.
"I love getting my story out there so the younger generation of girls coming up can see that if I can do it, they can do it, too," she said.
The University of Texas at Arlington sophomore will play for the United States' women's wheelchair basketball team at the Paralympics in Tokyo, which begin Tuesday. This will be her second national team, after making her debut during the 2017 America's Cup.
"I was extremely hesitant to try out for Tokyo," said Voris, who is studying photography at UTA. "I just moved to Texas and was starting here at the University. Eventually I said 'yes' because I'm dedicated to bettering myself, and I want to be successful at the highest level possible."
The Chicago native is one of many Paralympic athletes with UTA ties expected to compete this summer. They include alumni, as well as current and past students:
Team USA Men's Wheelchair Basketball
Mike Paye ('09 BA, Criminal Justice)
Fabian Romo ('20 BS, Exercise Science)
Jorge Sanchez ('14 BA, Communication)
Team USA Women's Wheelchair Basketball
Josie Aslakson
Rose Hollermann ('19 BA, Interdisciplinary Studies)
Darlene Hunter ('06 MSW, '20 MPH)
Zoe Voris (College of Liberal Arts, sophomore)
Team USA Wheelchair Rugby
Ray Hennigar
Team USA Adapted Track and Field
Claudius 'Tobi' Oluwatobi Fawehinmi ('17 BS, Exercise Science)
Team Canada Men's Wheelchair Basketball
Vincent Dallaire
Team Canada Women's Wheelchair Basketball
Elodie Tessier
Team Canada Adapted Track and Field
Brent Lakatos ('04 BS, Software Engineering)
Team Australia Men's Wheelchair Basketball
Clarence McCarthy Grogan
John McPhail ('15 BS, University Studies)
"It thrills us as coaches to see our UTA athletes rewarded and recognized for all of their hard work, commitment and dedication," said Doug Garner, head coach of the UT Arlington Movin' Mavs wheelchair basketball team. "We see it as our job to develop student-athletes to the top of their potential and capacity. That can be in the classroom as future working members of our communities or, in the case of our Paralympic athletes, on the courts and fields of international competition."
Voris will be joined by UT Arlington and Lady Movin' Mavs alumni Josie Aslakson, Rose Hollermann and Darlene Hunter—making Team USA's 12-person squad one-third Maverick. The U.S. won the women's wheelchair basketball gold in 2016, and players are aiming for a repeat.
"When I'm training with my teammates, I think about how, at one point, they were in the same place that I'm in now as a student at UTA and playing for the Lady Movin' Mavs," Voris said. "They're the ones I've been in awe of, and now they are my teammates. I'm so excited to experience this with them. It will be a memory that we'll share forever."
After Tokyo, Voris is looking forward to the upcoming Lady Movin' Mavs season and some hands-on learning in her photography classes on UTA's campus.
"The support system at UTA is why I love being here," she said. "It is unmatched from anywhere else. UT Arlington is the only option I ever considered to play and to come to school because I feel so at home here."