Top high school students choose UT Arlington
Summer road trips lead next generation of Mavericks to UTA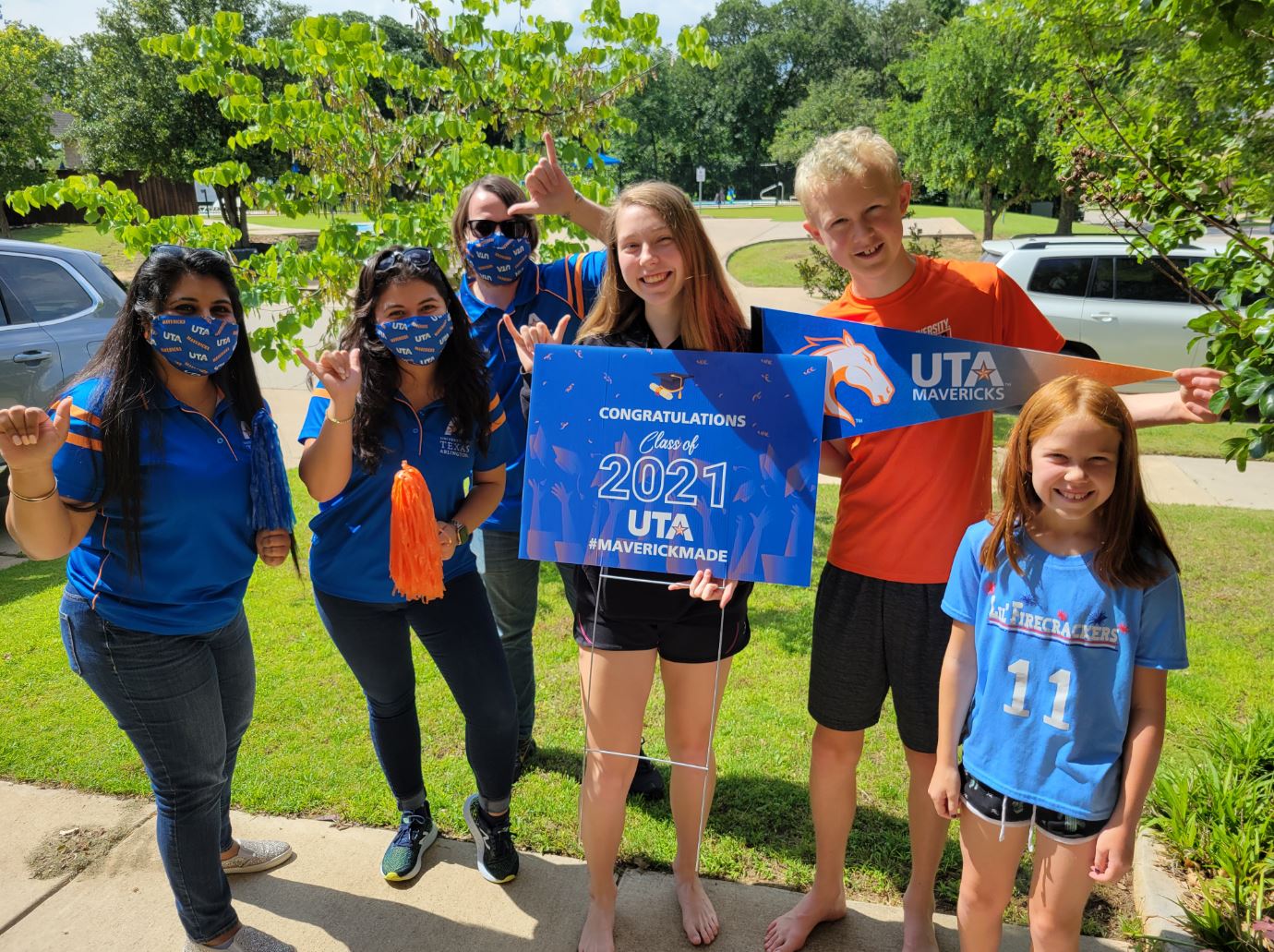 Some of North Texas' top high school students are attending The University of Texas at Arlington this fall, including a number of valedictorians, salutatorians, National Merit Scholars, National Hispanic Recognition Program scholars and top 10% students.
Earlier this summer, nearly 50 of these high-caliber students received home visits from UTA's Office of Admissions, a personalized touch for some of the best students in the Dallas-Fort Worth area.
"These academically impressive students who are choosing UTA know that we have absolutely outstanding academic programs," said Troy Johnson, vice president for enrollment management. "They know that their studies with us put them in a great position for gaining graduate school admission or placement into high-paying jobs. We are committed to our students, and their success after graduation is clear evidence of that."
The home visits began in 2020 in Arlington and Mansfield because high school students missed out on typical recruitment events due to the pandemic. The program expanded this summer to include students across North Texas, from Sherman in the north to Longview in the east to Hillsboro farther south.
High-achieving students come to UTA with strong academic backgrounds, including strong test scores or GPA, high class rank, selection in the National Merit Scholarship Program or membership in one of the College Board's National Recognition Programs.
"We as UTA staff pride ourselves on being energetic and caring with a student-focused attitude," said Anam Iqbal, associate director of undergraduate admissions. "The admissions team worked hard with these high-achieving students throughout the year in a virtual setting to keep them connected to UTA and let them know they would be supported in their educational journey after high school. It was rewarding to go their houses, see their enthusiasm and even get their parents and younger siblings excited about their decision to come to UT Arlington."
One stop included Bailey Samide's house. The recent valedictorian from Guyer High School in Denton is interested in studying architecture at UTA.
"I always wanted to come to UTA because that's where my high school architecture teacher graduated from," Samide said.
Even before classes started, Samide was able to chat with the admissions staff about UTA's unique qualities, from innovative research to trailblazing interdisciplinary collaborations.
"It made me feel included and already part of my new University home," she said. "Even though I hadn't started classes yet, UTA staff made time to seek me out and introduce me to aspects of the campus at a time when it was harder to plan a college visit."
UT Arlington attracts students from across Texas and beyond, and the summer road trips were just part of the year-round effort to recruit students who are diverse, academically talented and distinguished in leadership and service.
"We are thrilled to welcome these students to UTA and wanted to plan something special for them so that we could celebrate this exciting next step," said Trevor Meagher, assistant director of high-caliber recruitment. "If there is one thing the past year has taught us, it's the importance of connecting with others. This was a great opportunity do just that for students throughout the Metroplex and surrounding area. Their futures are extraordinarily bright, and we look forward to seeing the great things they accomplish in Maverick Country and beyond."