'A true passion for science'
UTA doctoral kinesiology student wins Young Investigator Award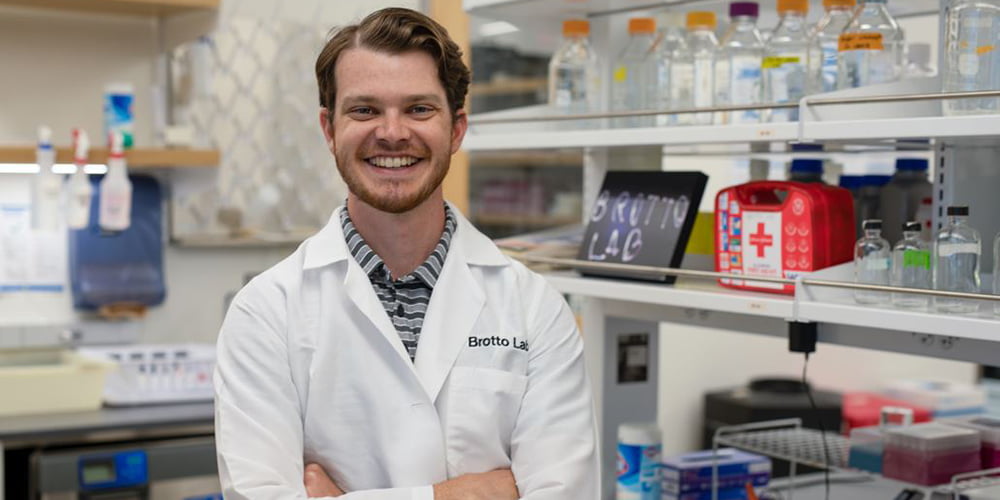 Osteoarthritis, caused by the wear and tear of joint cartilage between bones, is the most common form of arthritis, affecting more than 32 million adults in the U.S. each year, according to estimates by the Centers for Disease Control and Prevention.
Logan Moore, a doctoral kinesiology student in the College of Nursing and Health Innovation at The University of Texas at Arlington, is focused on understanding how the degenerative condition affects people and what can be done to prevent and treat it.
"I have always been interested in how the body works and moves," Moore said. "My academic career led me to recognize that there is a huge gap in osteoarthritis research. My hope is that my work will help bridge those lapses."
For his research and accomplishments as a student and graduate research assistant in the Marco Brotto Laboratory, Moore was named one of 29 recipients of the 2021 American Society for Bone and Mineral Research Young Investigator Awards.
The prize allowed him to attend the virtual masterclass for doctoral students, trainees and young investigators hosted by the European Calcified Tissue Society (ECTS) earlier this year. Moore presented some of his research to those in attendance at the virtual event.
"Participating in the masterclass was an incredibly valuable opportunity to learn and share my work with peers and other professionals in the field," Moore said.
Marco Brotto, George & Mary Hazel Jay Endowed Professor and director of the Bone-Muscle Research Center (BMRC), said Moore has "a true passion for science."
"It's another example of how great our environment is for interdisciplinary training at the Science and Engineering Innovation and Research building and the BMRC," said Brotto, who also is director of the Ph.D. in Nursing Program. "This recognition is a great honor for Logan, the Brotto Lab, the BMRC and the Department of Kinesiology."
Moore said learning more about musculoskeletal disease, specifically osteoarthritis, could lead to better preventative measures, treatments and overall health outcomes for millions of people worldwide.
"Living with a musculoskeletal disease is difficult," he said. "It's hard if you can't work. It's hard when you want to run around and play with your kids or grandkids, but you're forced to sit on the sidelines. I really love the research that I do and hope it can someday help people have happier and healthier lives."
- Written by Elizabeth Couch, University Advancement