UTA commencement ceremonies return to Globe Life Field
More than 5,000 graduates expected to earn degrees from newest Texas Tier One university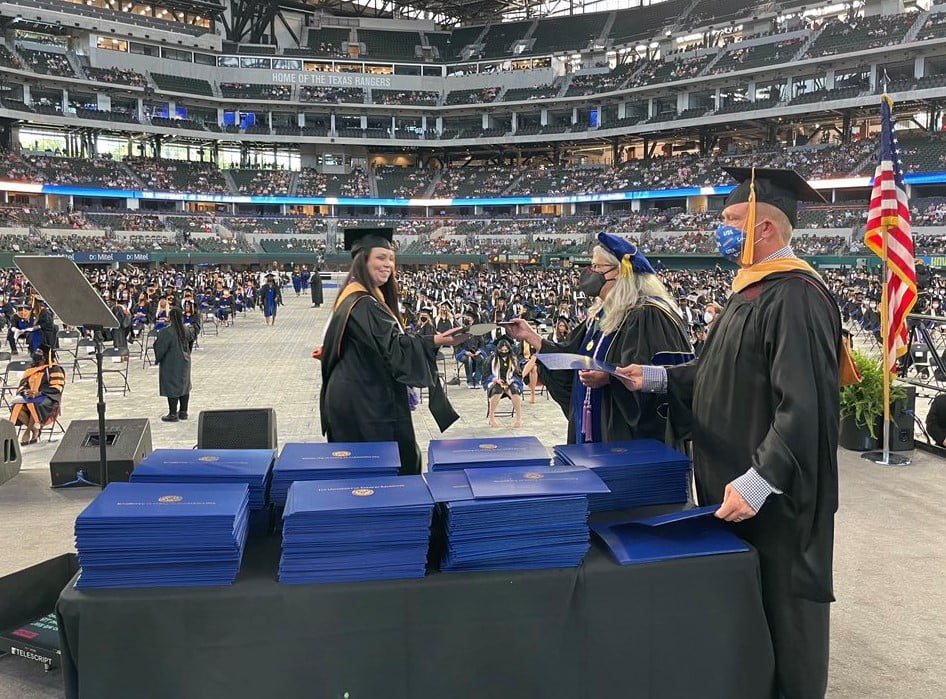 Thousands of workforce-ready graduates will cross the stage Dec. 17-18 during three in-person commencement ceremonies at Globe Life Field hosted by The University of Texas at Arlington.
UTA received nearly 5,400 graduation applications for fall 2021 commencement, which includes a virtual ceremony scheduled for Dec. 16. As graduates of just the fourth Texas Tier One institution in the state, UTA's commencement candidates will be among approximately 250,000 Maverick alumni across the state and around the globe.
"Everyone at UTA—from the faculty and staff to our community partners—commit themselves to ensuring the success of our students," said Teik C. Lim, interim president. "We always have been steadfast in our ultimate goal: graduating students to be productive members of our community and leaders in Texas and beyond. I'm so proud of our students for accomplishing their goals."
When Mavericks graduate, they gain access to jobs at 22 Fortune 500 companies headquartered in the North Texas region—the fourth most in the U.S.—and earn the highest first-year salaries of graduates from non-medical UT System institutions, according to the University of Texas System Smartbook 2020.
Ninety-one Mavericks are expected to earn their doctorates at the fall 2021 commencement ceremonies, an increase of 40% over the previous year.
Among this year's thousands of graduates are compelling individual stories of student success that reflect the Maverick spirit. Some of those include:
• Redina Marinar Sein, who is receiving her bachelor's degree in nursing. She was born in Burma (Myanmar) and spent about 10 years in a refugee camp in Thailand. Her family came to the United States in 2010 after applying for refugee status. Sein said her parents sacrificed their own health to ensure their children had enough to eat in the refugee camp. She said flooding was a constant threat and there always was a risk of Myanmar soldiers raiding their camp. Sein has a job at Medical City Plano upon graduation. When she sees pictures of the tent she lived in at the refugee camp, she says she can't believe how far she's come in earning her degree.
• Jacob Reich, a mechanical and aerospace engineering (MAE) graduate who persevered through a serious mountain biking accident in September. He broke both wrists and an arm, shattered an elbow, tore wrist ligaments and had a severe wrist dislocation. Through his hospitalization, surgeries and recovery, he kept up with homework, projects, exams and finals—thanks to MAE professors Sunand Santhanagopalan, Narges Shayesteh Moghaddam and Animesh Chakravarthy. The Student Access and Resource Center helped tailor his studies, homework and exams so he could complete them, despite having casts on both wrists. He has a full-time January start date as a manufacturing engineer at Lockheed Martin, where he's been interning for five years since he was a senior at Arlington Lamar. He's not giving up extreme biking, either. "If I weren't an engineer, I'd probably pursue a professional biking career," he said.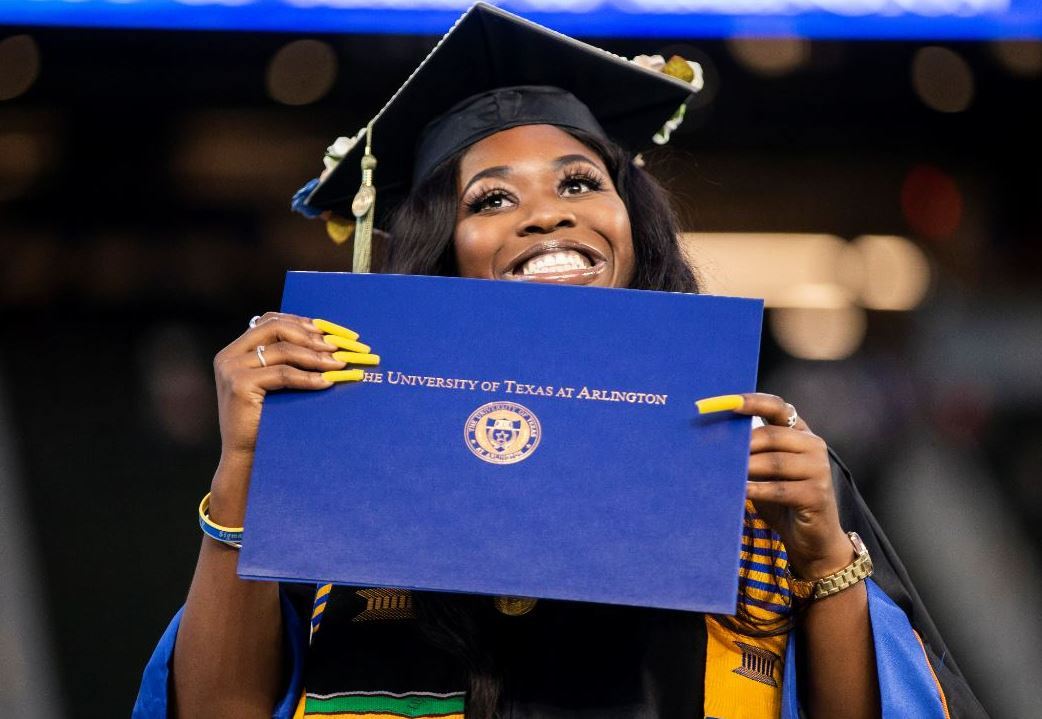 • Cheyenne Perez-Bailey, a first-generation college graduate. She has earned a bachelor's degree in English with a history minor and intends to enroll in law school with the goal of becoming a lawyer and advocate for indigenous and Chicano communities. At UTA, she spread awareness of the epidemic of violence against indigenous women by organizing a roundtable discussion during Native American Heritage Month. Her goal was to create a safe space for indigenous people to discuss missing and murdered indigenous women.
• Sally Koshy, who is earning her master's degree in health care administration and previously graduated with a bachelor's degree in nursing from UTA. She provides end-of-life care for veterans at Dallas' VA Medical Center. Koshy organized a hygiene drive as part of her capstone project for veterans who are experiencing homelessness and needed toiletries, collecting enough items to assist between 50 and 100 people.
Commencement schedule and speakers
Dec. 16, 2021
• 7 p.m.: Virtual celebration. Speaker is Trey Yelverton, Arlington city manager and a 1988 UTA alumnus.
Dec. 17, 2021
• 1 p.m.: College of Architecture, Planning and Public Affairs; College of Education; College of Engineering; College of Science; Division of Student Success; and Honors College. Speaker is Michael Thacker, executive vice president of innovation and commercial business at Bell.
• 6 p.m.: College of Nursing and Health Innovation. Speaker is Blake Kretz, FACHE, president of Texas Health Arlington Memorial Hospital.
Dec. 18, 2021
• 10 a.m.: College of Business, College of Liberal Arts and School of Social Work. Speaker is Jo Trizila, president/CEO of Trizcom Public Relations and a 1995 alumna.