Underwater archaeologist advocates for diversity in field
'It's rare to have a professor like Dr. Lemke,' student says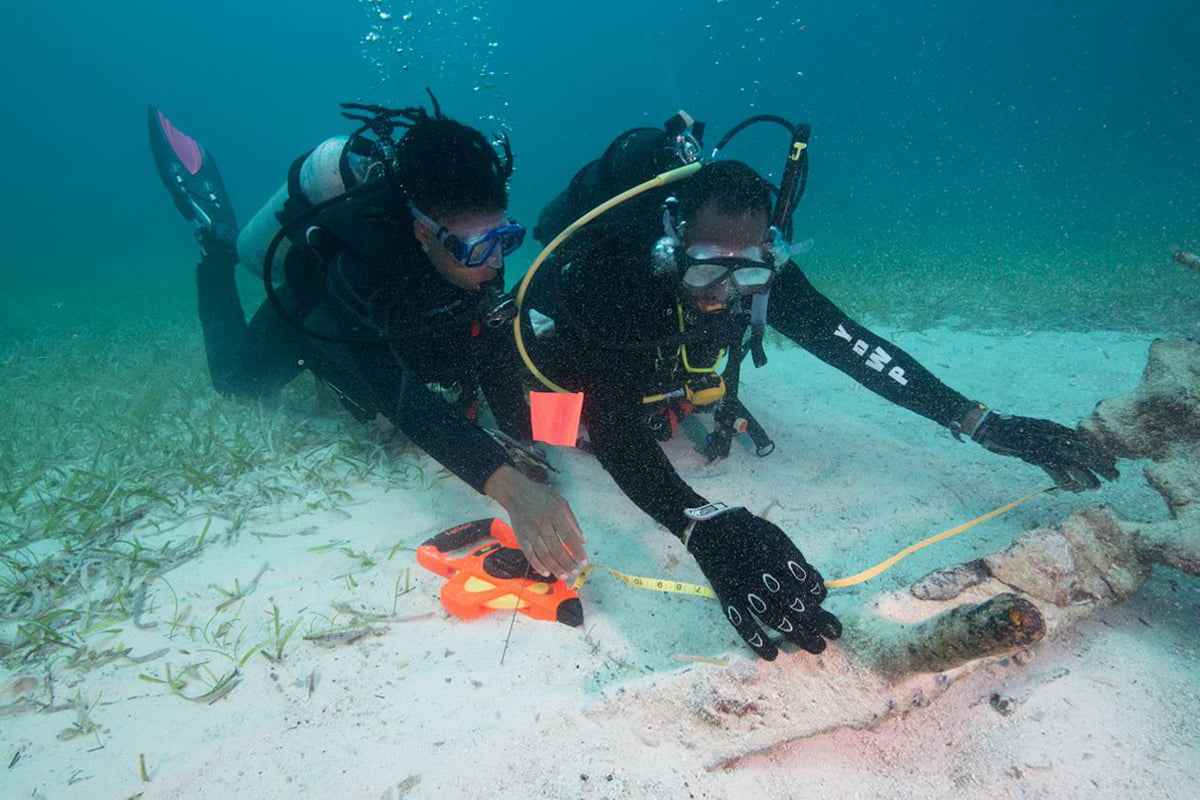 An assistant professor of sociology and anthropology from The University of Texas at Arlington, who also chairs the national Advisory Council on Underwater Archaeology, is advocating for more diversity and inclusion in her field.
Ashley Lemke—an expert on submerged ancient sites in the Americas, with experience diving to sites in the Gulf of Mexico, Great Lakes and Atlantic Ocean—is providing her colleagues with specific, practical solutions to increase diversity in underwater archeology. Her latest article, "Getting Your Feet Wet: Barriers to Inclusivity in Underwater Archaeology and How to Break Them," was recently published in the journal Advances in Archaeological Practice.
Nicole Bucchino Grinnan from the Florida Public Archaeology Network and Jay V. Haigler from Diving With a Purpose co-authored the paper. The team's goal is to get the public more engaged in archaeology.
"There is a lack of representation in archaeology generally," Lemke said. "In a specialized field such as underwater archaeology, this issue is only intensified. Whether you are researching shipwrecks or ancient underwater sites, anyone can get involved."
Lemke and her co-authors address barriers to diversity in underwater archaeology and offer solutions for ways to educate and provide support—both financially and through mentorship programs—to get more people involved in underwater science.
Lemke has put her ideas into practice, taking a diverse group of UTA students to Michigan this past summer to train them in field techniques at Thunder Bay National Marine Sanctuary. One of those students was Kelsey Deweese, a senior studying anthropology. Thanks to Lemke, she now wants to continue with underwater archaeology after graduating from UTA.
"I discovered my love for anthropology and underwater archaeology by accident," said Deweese, who is from Arlington. "It's rare to have a professor like Dr. Lemke. Learning from her has been such an amazing opportunity."
It was on the trip to Michigan that Deweese learned about other career opportunities in the field beside scuba diving, which has barriers to entry because of its expensive equipment and physical requirements.
"There is so much you can do on the shore or the boat, such as using sonar and remote-operated vehicles or learning geographic information system," Deweese said.
Sophomore and fellow anthropology major Declan Williams said the on-site training in Michigan was informative and gave a glimpse of what he may do in a future career. Williams said he is interested in anthropology because it's "the crossroads of science and history."
"It's important no matter which field of work that someone goes into that they can have someone to relate to and not feel like an outcast," Williams said. "Diversity and inclusion to me means that everyone who can help push science forward is welcome, no matter where they are from or what they believe in."