UTA joins partnership to reach students in north central Texas
Red River Promise extends transformative power of UTA education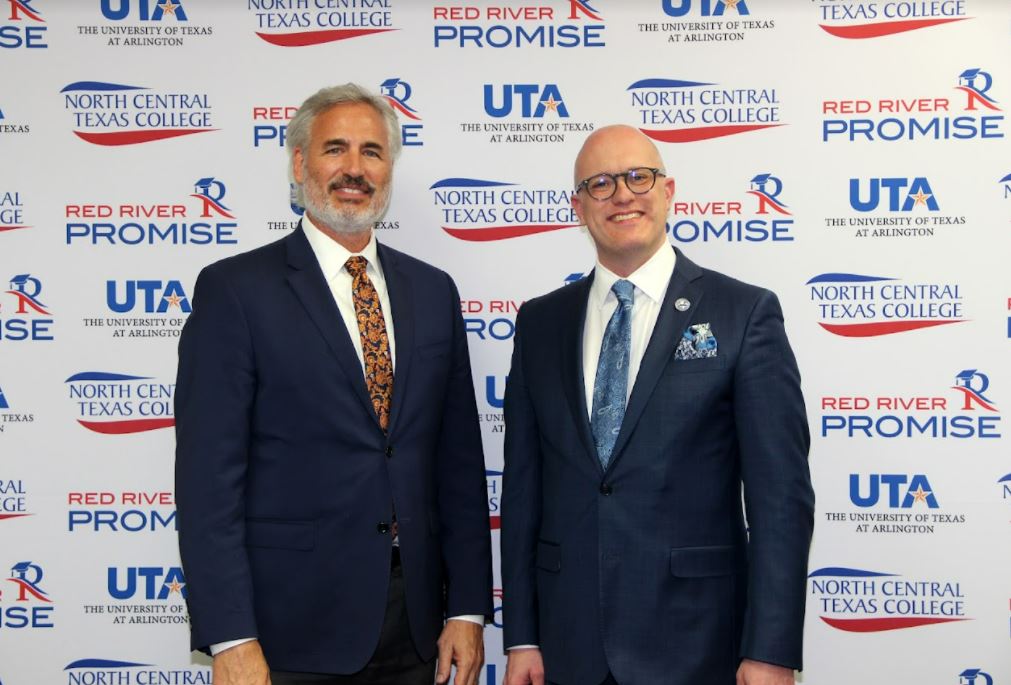 The University of Texas at Arlington is joining the Red River Promise, a collaborative effort with North Central Texas College (NCTC) and Texas communities near the Oklahoma border to educate and train graduates and strengthen the local and statewide workforce.
The Red River Promise serves graduating seniors from 13 high schools in Montague and Cooke counties, seniors from the town of Graham in nearby Young County and students attending NCTC. By choosing UTA, transfer students from NCTC or freshman students from those communities can close the financial aid gap through an annual scholarship program that provides "last dollar" tuition-only support to eligible students.
Students transferring to UTA from NCTC will receive tuition support for up to two years; students entering UTA from high school will receive tuition support for up to four years.
"UT Arlington's participation in the Red River Promise provides students from this great Texas region the opportunity to experience the depth and breadth of a UTA education and the potential that our academic experience can unlock," said Troy Johnson, vice president for enrollment management. "The Red River Promise extends the transformative power of a UTA education and will strengthen the local workforce for years to come."
G. Brent Wallace, NCTC chancellor, said a community's ability to develop its local talent to its full potential is the "cornerstone of a healthy regional economy."
"Community colleges play a central role in developing Texas talent, and we are energized to be learning with other regional initiatives as part of this grant as well as along with many other Texas talent regions," Wallace said.
UTA offers a supportive environment for transfer students from NCTC, providing seamless pathways and effective transferability. UT Arlington is first in Texas and fifth nationally among universities that enroll the most transfer students and last year earned a spot on the Phi Theta Kappa Honor Society's 2021 Transfer Honor Roll—the only university in Dallas-Fort Worth to do so.
Last month, UT Arlington again was named to the elite group of R-1: Doctoral Universities—Very High Research Activity by the Carnegie Classification of Institutions of Higher Education, the definitive list for the top doctoral research universities in the United States. In 2021, the University became just the fourth institution in the state to achieve designation as a Texas Tier One university, an attribution of excellence in academics and research that brings with it access to the state's National Research University Fund.
In addition, the University ranks No. 1 nationally in the Military Times annual "Best for Vets: Colleges" list, is designated as a Hispanic-Serving Institution and Asian American and Native American Pacific Islander-Serving Institution and has approximately 250,000 alumni making an impact across Texas and beyond.