250 e-bikes now available on campus through bikeshare program
UTA launches bikeshare program as healthy, sustainable transportation option for Mavericks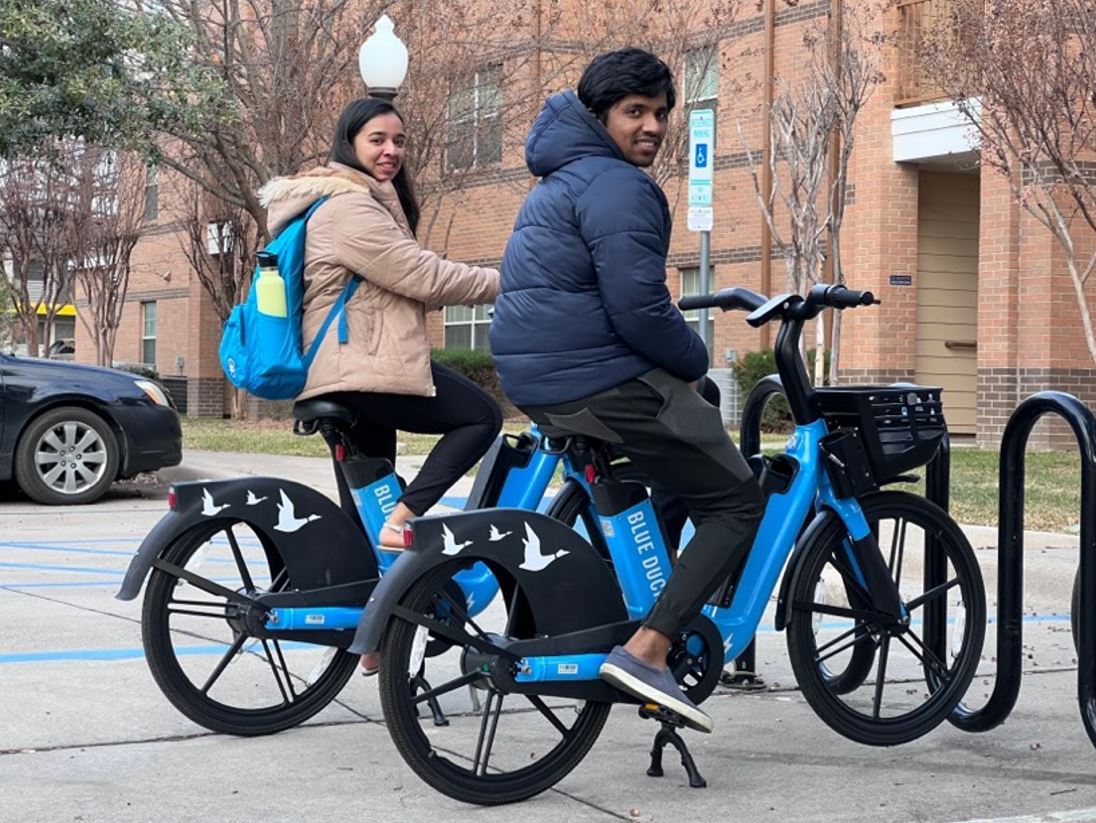 The University of Texas at Arlington has launched a new bikeshare program, featuring 250 e-bikes.
The bikes are available for rent using the Razor Micromobility app available in the iTunes or Google Play app store. More information is also available here. The program is provided through a collaboration between the Office of Sustainability and Parking & Transportation.
Meghna Tare, UT Arlington's chief sustainability officer, said the program offers students an alternative and cleaner mode of transportation than the car.
"It's all about efficiency and micromobility," Tare said. "Using the e-bikes is a better, healthier and more sustainable alternative than driving and parking."
Greg Hladik, UT Arlington executive director of Auxiliary Services, said the University wants to offer as many transportation options for students as possible.
"We have the shuttles, the Late Night Security Escort service, the Via off-campus rideshare service, the RAPID program that features Via autonomous vehicles and now e-bikes," Hladik said. "With thousands of students, faculty members and staff members, UTA needs many transportation options."
These dockless bikes will have designated pick-up and drop-off locations scattered all over campus at any existing bike rack and a few additional high-traffic areas. Maverick Place and Centennial Court, two off-campus student apartments, have opted into the program as well.
Several bike corrals are also planned for downtown Arlington.
"Although the e-bikes will be dockless, riders will have to end their trip and park at any of the 105 designated bike racks," Hladik said. "This will ensure the bikes are well-kept to maintain pedestrian pathways while also providing ultimate convenience for the riders."
Tare said that "the ability to reuse our existing bike rack infrastructure instead of purchasing additional equipment further supports the University's sustainability goals."
Riders can opt to pay per use or choose a monthly, semester or annual membership for discounted rides. All memberships and rides are purchased through the Razor Micromobility mobile app or by scanning the QR code on any e-bike. Blue Duck is the operator of the bikes.
What to know:
• First three rides are free for all "@mavs.uta.edu" email addresses the first time they register in the app
• 200 free helmets distributed annually
• Pay-per-use: $1.25 to unlock + $0.40/minute
• Memberships include 30 minutes of daily ride time
o Monthly membership: $35
o Semester membership: $29/month
o Annual membership: $23.91/month
• Low-income access: 50% discount on every ride. Apply through the app.
Blue Duck will be hiring UTA students to help manage the vehicles on campus. Look for the company's job postings on Handshake.