UT System Board, Chancellor announce details of 'Promise' to help UT Arlington students pay for college
New $300 million endowment will build on Regents' ongoing support of UT Arlington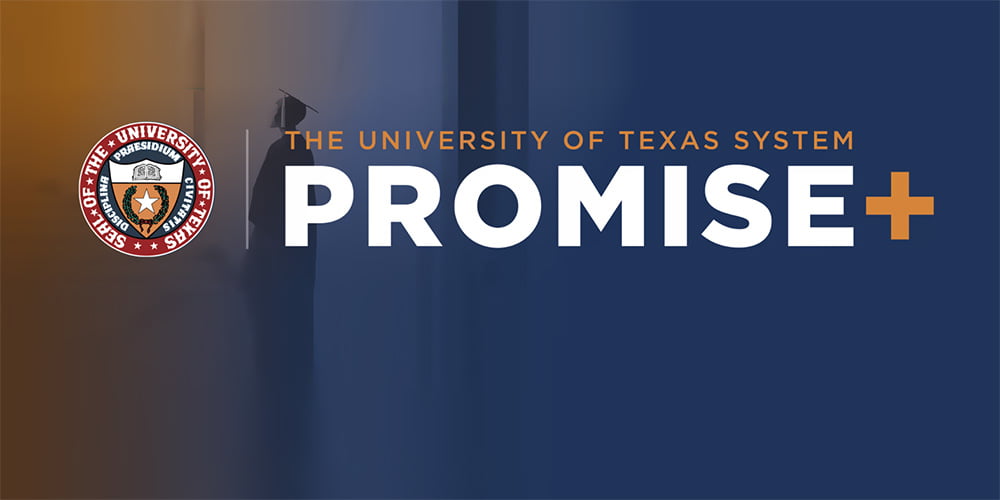 As part of its ongoing commitment to support UT Arlington and its rise as a top-tier public research university, the UT System Board of Regents has approved the creation of a new $300 million endowment to reduce the cost of higher education for undergraduate students and their families at all UT academic institutions, including UT Arlington.
UT System and UT Arlington leaders joined elected officials, civic leaders and the campus community at UTA Wednesday to share details of the Promise Plus program, which will greatly expand tuition assistance programs at seven UT institutions.
The Promise Plus endowment, which will make distributions to institutions annually, is expected to generate about $2.3 million for UT Arlington this year, making it comparable to a $50 million endowment. That will allow UT Arlington to cover tuition and mandatory fees for approximately 4,000 eligible undergraduate students whose gross adjusted family income is below $85,000 in the coming school year. As UTA's Blaze Forward program grows over time, the university estimates more than 4,600 students a year will enjoy its benefits. In the Metroplex, 57% of households have an average income below $85,000.
In 2019, the Board of Regents created a $167 million endowment to support students at UT Austin. At the time, Regents Chairman Kevin P. Eltife said he and the Board were committed to developing a similar program for all UT academic institutions.
"We take our mission to serve Texas and Texans very seriously, which means we need to do more to ensure students can afford to earn a degree and aren't burdened with debt when they graduate," Eltife said. "Promise Plus is about expanding educational opportunities by making it possible for more students to earn a degree at no cost."
The Promise Plus endowment is expected to grow in value over time, consistently increasing the allocation to UT Arlington and benefiting more students year after year.
"Financial challenges should never stand in the way of any Texan who wishes to earn a high-quality UT degree, and I'm grateful to the Board of Regents for this new and important investment in our students," said UT System Chancellor James B. Milliken. "UT Arlington graduates offer essential expertise to Texas' strong and competitive economy, and we hope the Promise Plus program makes their educational path financially easier."
Funding from the Board of Regents has played a critical role in UT Arlington's ascent, Interim President Teik Lim said.
"We want to make a UTA education even more attainable and give strong financial assurances to families and students in need," Lim said. "By devoting more of our resources toward the success of our students, we're investing in the future of our University, and in the promise and potential of thousands of talented current and future Mavericks from North Texas and beyond."
Funding from the Promise Plus endowment will add to the almost $165 million that the Board of Regents has invested in UT Arlington over the last 10 years alone to help advance the institution's aspirations to be a model for student success, foster a culture of innovation and improve the quality of life in North Texas and beyond.
In just the last decade, Regents contributed $102 million toward facilities to support education and research, including:
Construction of the School of Social Work & College of Nursing & Health Innovation's academic building to offer flexible, state-of-the-art technology classrooms, teaching and dry research labs, faculty and staff offices, student engagement space, study and support spaces, and infrastructure support space.

Construction of the Science & Engineering Innovation & Research Building to offer large multiuse collaborative spaces, large classrooms or lecture halls, and innovational research and teaching labs for the College of Engineering, the College of Science, and the College of Nursing and Health Innovation.
On top of that, Regents provided $25.6 million to fund additional major repairs and upgrades to buildings, lab equipment, and the addition of new technology and improvements to provide critical campus infrastructure.
And during this same time period, the UT System has had the full partnership of the Texas Legislature, which approved $122.4 million in capital construction assistance (formerly called Tuition Revenue Bonds) for the Science and Engineering Innovation and Research Building and renovations to the Life Science Building Renovation.
Regents have also allocated $36.8 million in the past decade to recruit and retain almost 73 notable UT Arlington faculty members through its successful STARs (Science and Technology Acquisition and Retention) program. Historically, STAR recipients have generated additional research grants and support for UT Arlington that amounts to more than 3 times the Regents' initial investment.
In August, UT Arlington became just the fourth institution in the state to achieve Texas Tier One status. This followed the prestigious recognition of the Carnegie Research 1 designation in 2016. Both achievements required UT Arlington to reach significant benchmarks of excellence in academics and research.
Funding for the Promise Plus endowment was generated from a series of prudent investments by UT System financial officers that produced higher than expected returns this past fiscal year.
Full-time, undergraduate students who are Texas residents and qualify for need-based aid will be eligible to receive Promise Plus funds, which will be used to supplement federal and state aid such as Pell grants and TEXAS grants.
The other institutions who will benefit from the UT System's new Promise Plus endowment include UT Dallas, UT El Paso, UT Permian Basin, UT Rio Grande Valley, UT San Antonio and UT Tyler.
About The University of Texas System
For more than 130 years, The University of Texas System has been committed to improving the lives of Texans and people all over the world through education, research and health care. With 13 institutions, an enrollment of more than 243,000 students and an operating budget of $23.4 billion (FY 2022), the UT System is one of the largest public university systems in the United States. UT institutions produce more than 67,000 graduates annually and award more than one-third of the state's undergraduate degrees and more than half of its medical degrees. Collectively, UT-owned and affiliated hospitals and clinics accounted for more than 8.6 million outpatient visits and almost 1.8 million hospital days in 2020. UT institutions also are among the most innovative in the world, collectively ranking No. 4 for most U.S. patents granted in 2020, and the UT System is No. 1 in Texas and No. 2 in the nation in federal research expenditures. The UT System also is one of the largest employers in Texas, with more than 21,000 faculty – including Nobel laureates and members of the National Academies – and more than 85,000 health care professionals, researchers and support staff.
About The University of Texas at Arlington
With more than 48,000 students, The University of Texas at Arlington is the fourth-largest institution in Texas and one of 131 universities nationwide to receive the R-1: Doctoral Universities—Very High Research Activity designation by the Carnegie Classification of Institutions of Higher Education. In 2021, UTA received the Texas Tier One designation reserved for the state's top institutions for academic and research excellence. The University has 19 National Academy of Inventors fellows, the most of any institution in Texas. UTA ranks No. 1 nationally in the Military Times' annual "Best for Vets: Colleges" list, is designated as a Hispanic-Serving Institution and Asian American and Native American Pacific Islander-Serving Institution and has approximately 250,000 alumni making an impact across Texas and beyond.