Commencement 'a time of celebration for thousands of Mavericks'
More than 5,000 graduates expect to earn degrees at spring 2022 commencement
Thousands of Mavericks ready to make an impact on the world will cross the stage of College Park Center May 12-14 during commencement ceremonies at the state's newest Texas Tier One institution, The University of Texas at Arlington.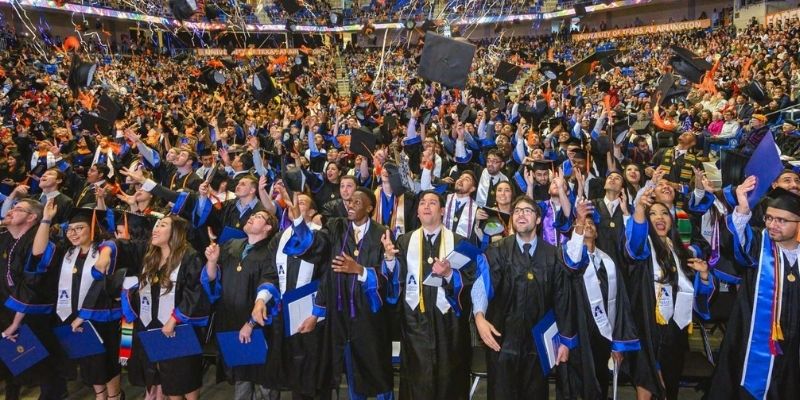 UTA received more than 5,400 graduation applications for spring 2022, including 115 doctoral candidates, a 25% increase over the previous year. Upon receiving their degrees, these students will join more than 250,000 Maverick alumni across the state and around the globe. The new graduates will include hundreds of future nurses and teachers, the first cohort to minor in medical humanities, a former Marine sergeant who is dedicating his career to youth development and a remarkable athletic training student who persevered despite numerous medical challenges.
For the first time, Jennifer Cowley will preside over the ceremonies as the new president of UTA.
"Our primary focus is to provide our students with the knowledge and skills to prepare our students for rewarding careers and extraordinary lives. It's what we owe to our students and to the state of Texas," Cowley said. "This is a time of celebration for thousands of Mavericks. It is a privilege for all of us at UTA to have helped them along in their educational journeys."
When Mavericks graduate, they gain access to jobs at 22 Fortune 500 companies headquartered in the North Texas region—the fourth most in the U.S.—and earn the highest median first-year salaries of graduates from non-medical UT System institutions, according to a 2021 University of Texas System survey on post-graduation earnings for baccalaureate graduates working in Texas.
Among this year's thousands of graduates are compelling individual stories of student success that reflect the Maverick spirit. Some of those include the following:
• Ryan Gallagher, a Fort Worth firefighter/paramedic for the last decade, is graduating with a biology degree. He is part of the first cohort from UTA to graduate with a medical humanities minor. Gallagher's next stop is medical school.
• Christine Abasi is graduating from the Honors College with a double major in psychology and communication studies. From ages 12 to 17, Abasi attended speech therapy sessions to correct a stuttering disorder. As an undergraduate researcher, she studied the psychological causes of stuttering to gain insight into effective therapies and develop methods to reduce its stigma. She plans to enter a graduate program in speech pathology.
• Carolyn Woahloe is earning a master's degree in adult-gerontology primary care. She has completed and will continue to participate in medical mission trips to Liberia. She also is the president of the Liberian Nurses Association.
• Claire Oliver-Dehaven is receiving her Master of Science degree in athletic training. She persevered through a pregnancy and COVID-19 infection. She credits her cohort colleagues and her professors with helping her keep up with her studies. She also credits the Student Access & Resource Center for helping her. Though she still does not have full control of her right leg from the COVID setback, she is graduating on time and plans to walk across the stage.
• Junichi Bomani Lockett Jr. is receiving a doctorate in Educational Leadership and Policy Studies. Known as Coach J., he is a father, husband and former Marine Corps sergeant. While deployed in Iraq in 2003, Lockett had an epiphany of wanting to commit his life to using his experience and abilities to help guide youth in developing envisioned futures to positively impact their families and communities, while equipping them to plan for their aspirations. As a youth empowerment trainer, he often uses high-intensity engagement methods, such as self-defense training, fitness and sports to strengthen the mental and physical capacity of young people.
Commencement schedule and speakers
May 12
• 3 p.m.: College of Nursing and Health Innovation (CONHI) nursing undergraduate students. Commencement speaker is Janice Walker, chief nursing officer, Baylor Scott & White Health.
• 7 p.m.: CONHI graduate and kinesiology students. Speaker is Walker.
May 13
• 11 a.m.: College of Architecture, Planning and Public Affairs; Division of Student Success; Honors College; School of Social Work. Speaker is state Rep. Jessica Gonzalez.
• 3 p.m.: College of Liberal Arts. Speaker is Victoria Farrar-Myers, Arlington City Council member, mayor pro tempore, city of Arlington; former professor, Distinguished Teaching Professor and Regents' Outstanding Teacher, UTA.
• 7 p.m.: College of Education; College of Science. Speaker is Pam Nicholson, special projects at Southern Methodist University's Simmons School of Education and Human Development.
May 14
• 11 a.m.: College of Business. Speaker is Vicky Teherani, president, More2Wealth Management.
• 3 p.m. College of Engineering. Paul Arrendell, worldwide vice president, quality and regulatory management, Jabil Healthcare.
A virtual commencement ceremony will be available on the UTA website beginning May 14.