Three-star general's path began at UT Arlington
Serving your country is 'worthy work,' UTA alumnus says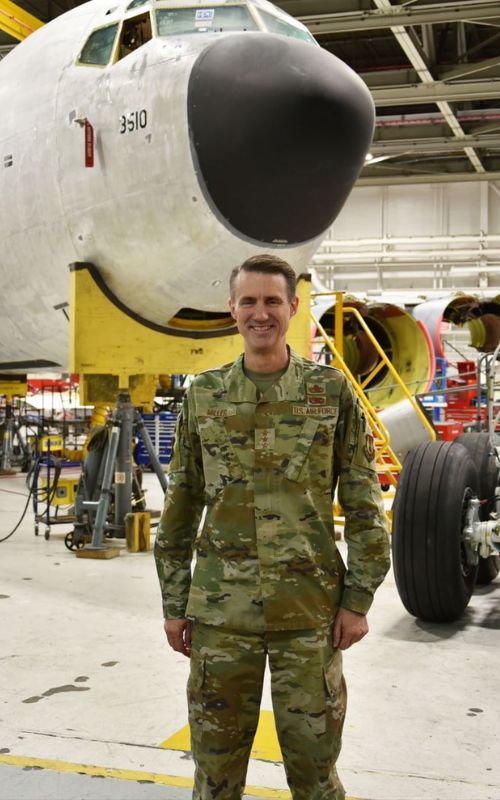 U.S. Air Force Lt. Gen. Tom Miller's ('90 BBA, Management) path to three-star general began with his time at The University of Texas at Arlington.
Currently serving as the Air Force Sustainment Center commander, Miller said he chose UTA for its combination of an excellent and affordable education. He credited the business program for providing a foundation for his future service and leadership in the Air Force.
"Business management was my degree, and I couldn't have predicted it then, but it helped me incredibly," Miller said. "In business school, you look at organizational management; large, complex, distributed organizations; and how you lead through tough economic times. Many lessons in business school help in leading large organizations."
Additionally, he said, the diversity of UTA's student body was useful as he prepared for an Air Force career.
"When you have a wide, diverse background of people you go to class with, I think that helps give you a more holistic approach toward problem-solving versus a single-channel way of thinking," he said.
Currently working in logistics and aircraft management, Miller said his Air Force career has been varied and rewarding.
"I had overseas assignments and deployments over the last three decades," Miller said. "I could not have predicted that I'd have the opportunity to serve in the Air Force this long, but I'm glad I did."
At UTA, he participated in the Air Force Reserve Officer Training Corps (AFROTC) program through a cross-town agreement with Texas Christian University. UTA continues to participate in the program to provide students the opportunity to experience AFROTC during their time at the University. This spring, two UTA students were commissioned.
Miller encourages students interested in this career path to take the leap and take advantage of the AFROTC program.
"It's worthy work, being in the military and serving your country," he said. "There's a path to do that at The University of Texas at Arlington."
- Written by Alyssa Foy, University Advancement