'UTA is one of the most important things in our city—bar none'
UTA president and Arlington mayor praise strong ties between city and university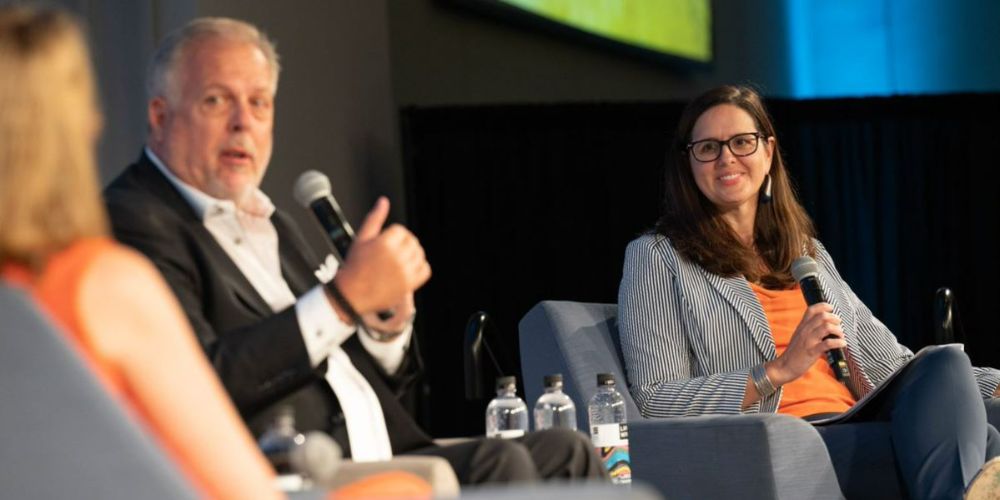 University of Texas at Arlington President Jennifer Cowley and Arlington Mayor Jim Ross say the secret to a vibrant downtown starts with a strong relationship between the city and UTA.
"When students are choosing a university, they're not just choosing UTA. They're choosing the community," Cowley said. "They want to say, 'I've got great opportunities right next door to have fun, to see a place that I might want to live in after I graduate.' That partnership is really important."
Cowley and Ross teamed up for a panel discussion July 20 during Downtown Arlington's annual meeting, held on campus at the University Center. Maggie Campbell, president and CEO of Downtown Arlington, served as moderator. The meeting's theme, "Gears of Progress," highlighted the unique power of interconnectivity found in downtown Arlington, particularly between UTA and the city it anchors.
"What makes a successful downtown is our ability to build relationships with our residents, with our business and with our university," Ross said. "Those relationships make the difference in downtown and all our other districts."
Ross added that the University is "one of the most important things in our city—bar none."
Cowley praised the rapid growth and development of downtown Arlington, citing the steady influx of new apartment complexes, restaurants and retail options. That growth has coincided with a building boom at UTA, which this year celebrated the 10th anniversary of College Park Center. In recent years, the University has revamped its University Center, opened the Commons, West Hall and the Science and Engineering Innovation and Research building. UTA's new School of Social Work/College of Nursing and Health Innovation Smart Hospital building is on track to open later this year.
"We spent more than half a billion dollars in construction projects at our university," Cowley said. "We're going to keep growing and investing. And as we grow, we're attracting more private developments."
Downtown Arlington also announced the creation of a new scholarship for UTA students, named in honor of Michael Jarrett ('72 BBA, Finance), former board chairman of Downtown Arlington, president of Worthington National Bank in Arlington and longtime civic leader. The Michael Jarrett Civic Leader Scholar will be awarded to UTA undergraduate or graduate students who have and continue to demonstrate a passion for and excellence in civic and community involvement through leadership and education.
The organization also presented its Golden Lantern Award to Walkable Arlington, a UTA-student led initiative whose research and advocacy helped lead to a public sidewalk improvement project that addresses connectivity issues between UTA and downtown. The award recognizes a nonprofit, community organization or individual for providing exemplary service to the downtown community.