'This one is going to be a lawyer'
UTA's online classes, flexible schedule helped working mother pursue her passion for the law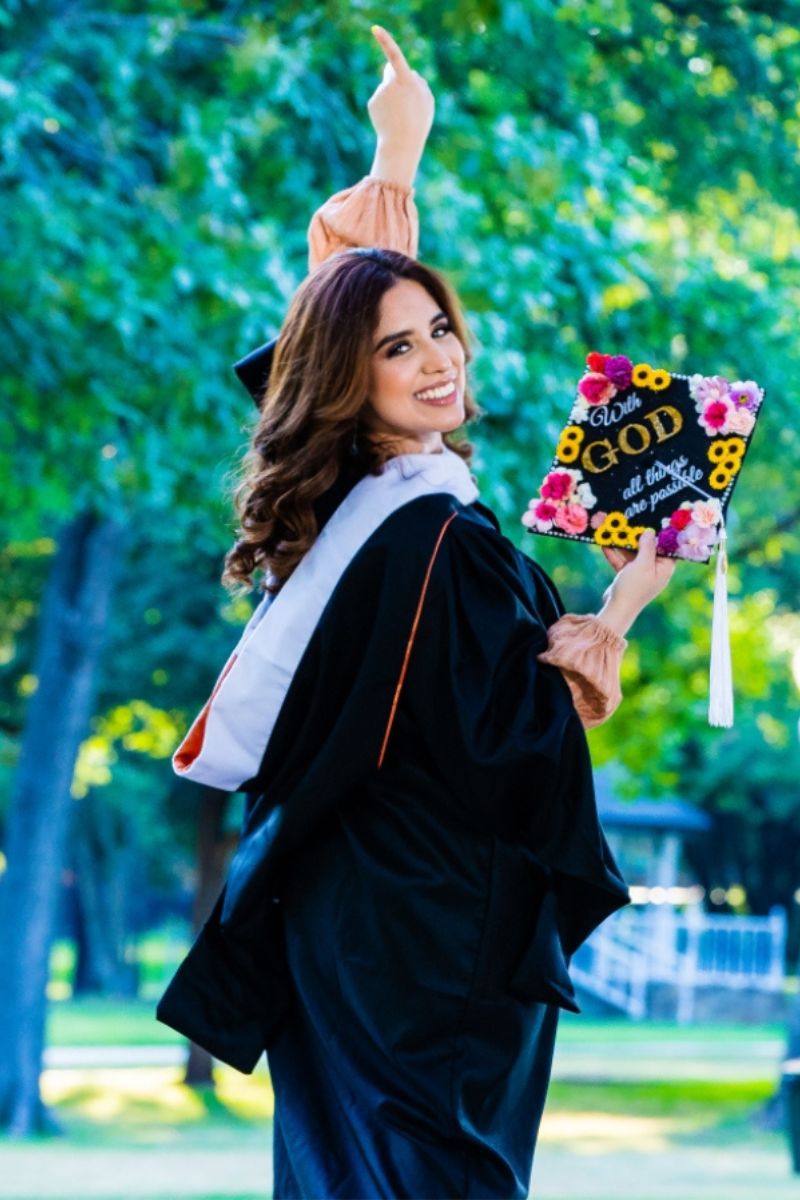 When Thelma Alanis was young, she drew pictures of herself in a courtroom. Law was her calling, and her family knew it, too.
"Esta va a ser una abogada!" her father would say in Spanish. "This one is going to be a lawyer."
That calling brought Alanis to The University of Texas at Arlington, where on Aug. 13, she will graduate with her master's in history with a concentration in public history. She said she plans to attend law school in 2023.
Alanis is one of 2,500 students expected to graduate at UTA's summer 2022 commencement ceremonies, which will take place at College Park Center on the UTA campus. The commencement speaker is Elizabeth Beck, Fort Worth City Council member, District 9.
Alanis, who also earned a bachelor's in history in 2020, originally arrived at UTA as an undergraduate business student. She was balancing her academic studies, her aspirations to be a lawyer, her role as a mother to her 7-year-old daughter and demanding full-time shifts at American Airlines, working in operations.
With such a busy life, she thought her opportunity to be a lawyer had passed. But then she met Amber White, director of UTA's Pre-Law Center, at a student activity fair. For Alanis, it affirmed that UTA was where she was supposed to be.
"Amber told me, 'You know, you could be any age and be a lawyer, right? You could major in anything and still be a lawyer,'" Alanis said. "It was the Pre-Law Center that convinced me to pursue becoming an attorney."
Alanis said UTA was an ideal university for her needs as a working parent. Her work schedule gave her time to study while her mother and husband helped at home. Meanwhile, UTA's online classes and the flexibility of her professors helped make earning her degrees possible.
"I already knew the flexibility that is offered here," she said. "There would be times during my afternoon master's class where I'd be listening to the lecture while folding laundry. It was awesome."
When Alanis crosses the stage, most of her family will be there in person. Her father, however, will be there in spirit. He died in 2015.
Alanis said her father has been with her every step of her academic journey. Her first day as a UTA undergrad was Aug. 22, the anniversary of his passing. And during her undergraduate commencement, his favorite song, "Happy" by Pharrell, played over the speakers.
"I feel like throughout my whole experience, my dad has been there with me as well, just making sure that I continue doing what I need to do," she said.