Big Tex and UTA team up for scholarships
State Fair, UTA support new students with Big Tex Scholarship Program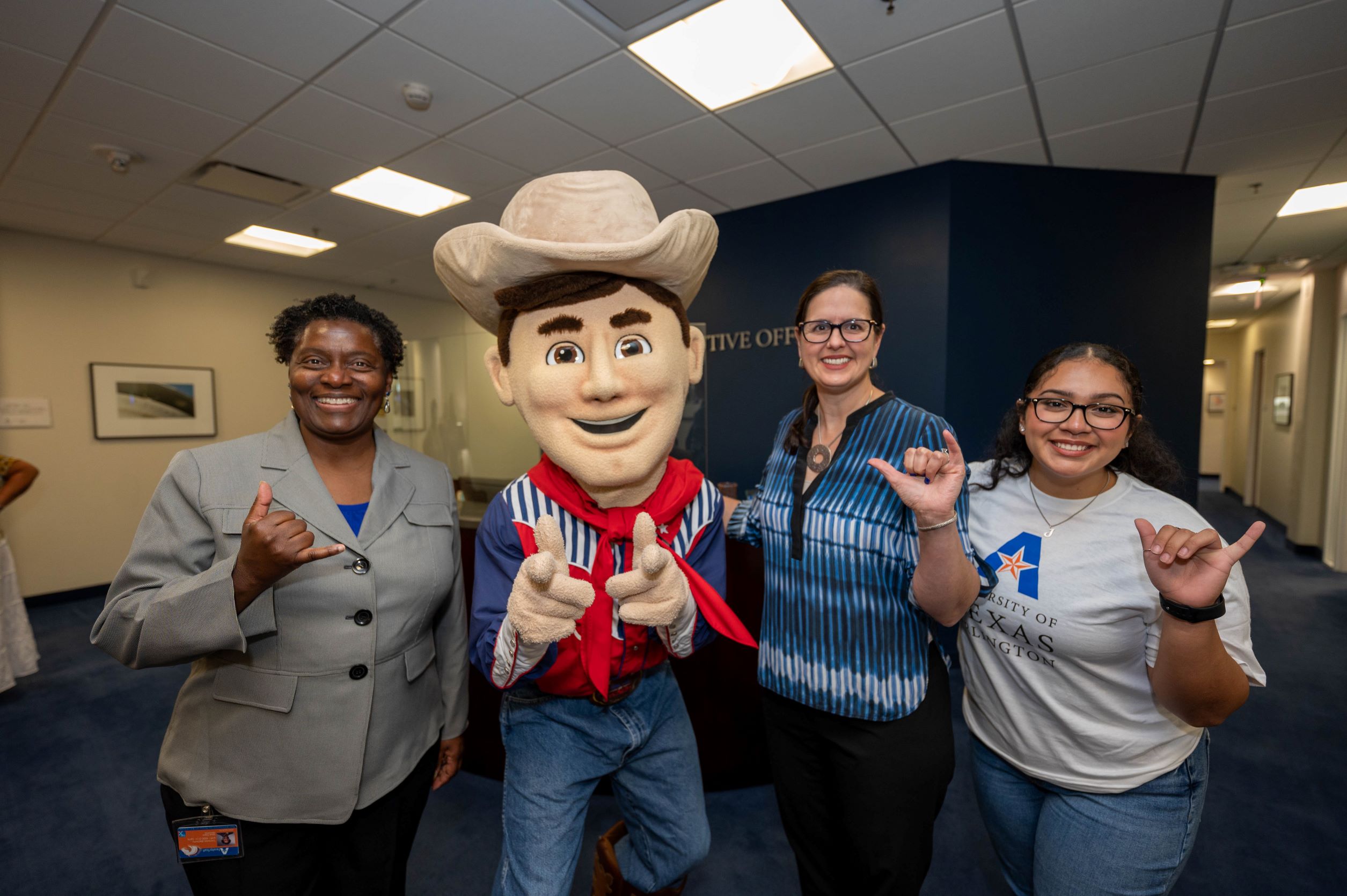 Juan Martinez and Julianna Serrano are starting their first semester at The University of Texas at Arlington thanks in part to the State Fair of Texas' Big Tex Scholarship Program.
Martinez and Serrano are two of seven new Mavericks from Dallas Independent School District high schools in the Fair Park area to receive the annual scholarships. Martinez said growing up near the Oak Lawn area of Dallas inspired him to pursue a degree in architecture at UTA.
"I've always wondered what goes into building houses, and it's a little tricky," he said. "But it's also fun to do the actual work."
His family members—including three younger brothers—said they were so happy when they found out Martinez would be a scholarship recipient so he could pursue his dream.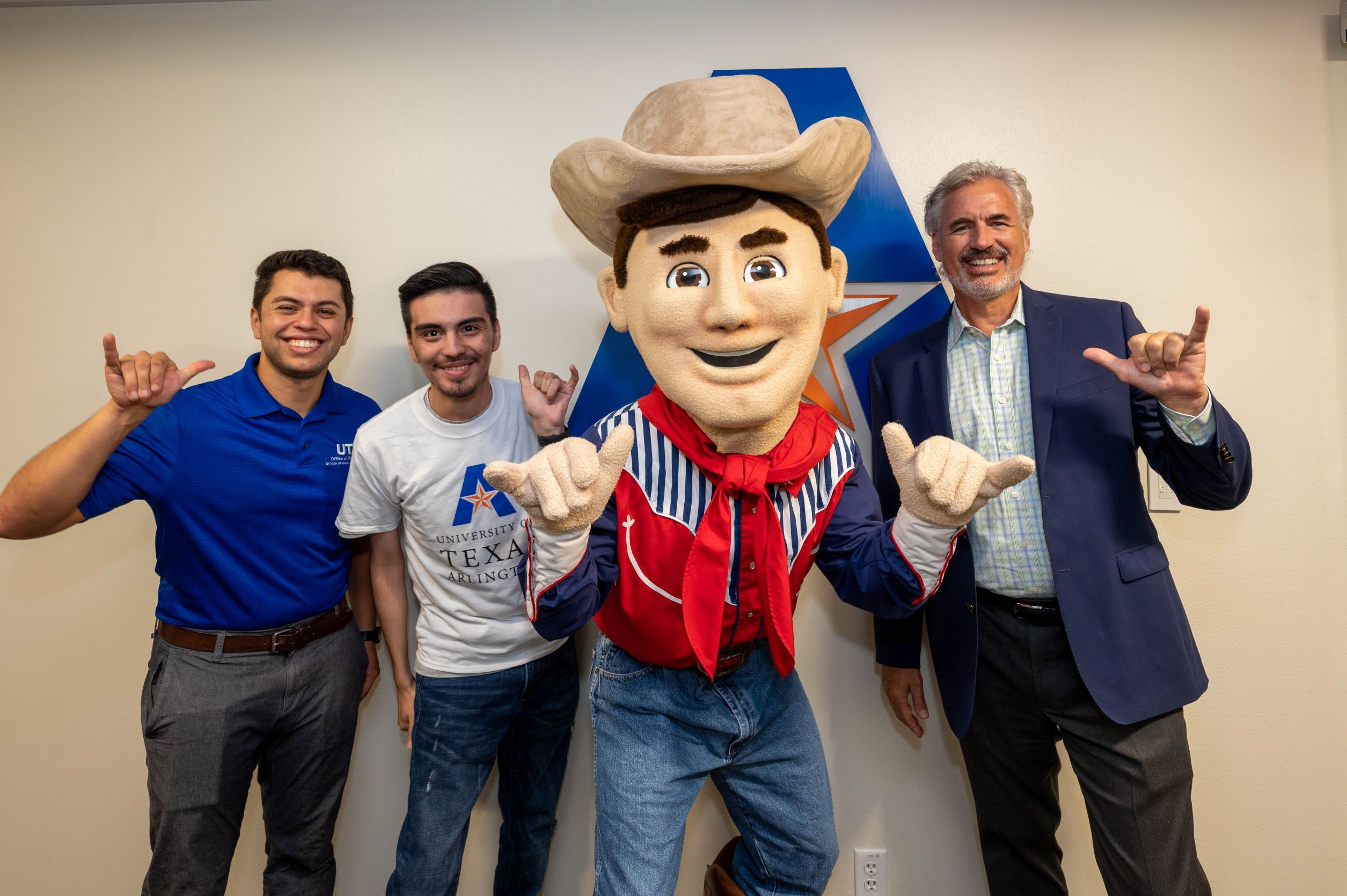 "I'm glad I can show my little brothers that if they work hard, they can be like me one day and discover their passions, go to college and pursue a career," Martinez said.
Serrano said her passion is nursing; she knew she wanted to be one when she was just 10 years old.
"When my little brother was born, he was in the newborn intensive care unit for a really long time. At that age, I didn't understand why," she said. "What I do remember is knowing that the nurses were there to help, and I was thankful for that."
Now Serrano is beginning her nursing studies at UTA, so one day she can be there for others.
"The field of nursing is really exciting, and there's so many resources at UTA," she said. "I feel really lucky to be here."
Martinez, Serrano and five other students received over $150,000 in scholarships, financial aid and grants from the State Fair and UT Arlington.
"At UTA, we're committed to partnerships with our community, and the State Fair of Texas and UTA are aligned in supporting University students," said Troy Johnson, UTA's vice president of enrollment. "This partnership ensures that these talented students are supported in college and on their way to getting a great job to contribute to our dynamic DFW workforce."
Justin Silcox, director of scholarships with UTA's Financial Aid Office, said UTA's partnership with the State Fair provides transformative scholarships that help students gain access to college degrees.
"I love UTA's mission of being an access-driven institution as well as fostering high-achieving academics," Silcox said. "It's so meaningful to partner with the State Fair of Texas, bring these great students to our campus and support our DFW community."
State Fair of Texas President Mitchell Glieber said the fair itself doubles as the largest fundraiser of the year for the scholarships.
"We are excited to continue the partnership between the State Fair of Texas and University of Texas at Arlington by providing support to our community here in the South Dallas/Fair Park area—bolstering one of our education initiatives, the Big Tex Scholarship Program," Glieber said. "We receive a competitive, diverse pool of applications each year, and as you read our scholars' essays and hear their stories, you can't help but feel inspired and proud of these future leaders.
"As a nonprofit organization, it is our hope that this one-of-a-kind partnership will help pave the way for more colleges and universities to join us in our mission of supporting Texas youth by uplifting them to pursue an affordable education. We invite folks to join us this year at the 2022 State Fair of Texas, our largest fundraiser of the year, to support the fair's mission of promoting agriculture, education, and community involvement."