Ascension Texas supports online nursing education
$150,000 gift to benefit CONHI's Accelerated Online Bachelor of Science in Nursing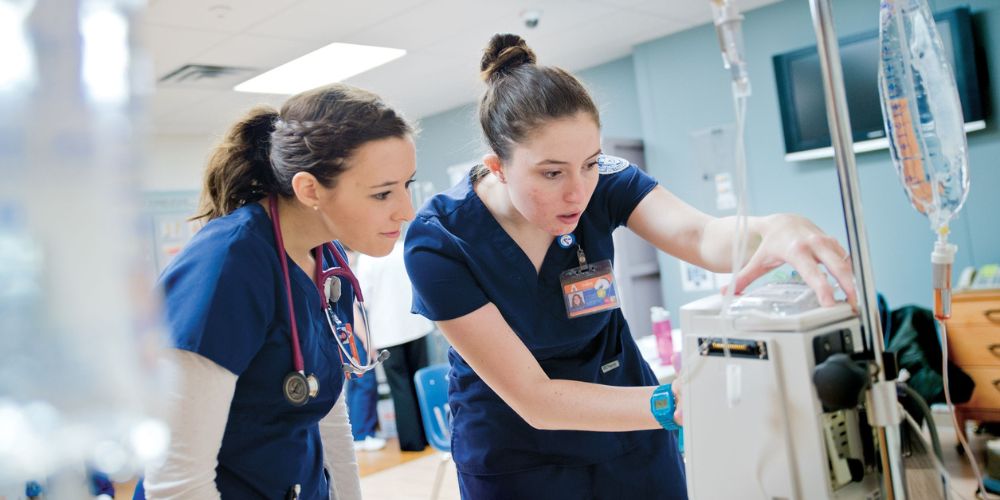 Ascension Texas is supporting The University of Texas at Arlington with a gift to help train the next generation of nurses.
The $150,000 gift will support the College of Nursing and Health Innovation's (CONHI) Accelerated Online Bachelor of Science in Nursing (AO-BSN) program, designed to spread the impact of nursing even further beyond the UTA campus.
"This generous gift from Ascension Texas embodies their commitment to access to education and, as a result, increased access to care for all Texans," UTA President Jennifer Cowley said.
Through the accelerated online program, students can complete their faculty-supervised lab and clinical experiences through partner hospital systems and health care facilities around the country, allowing the newest nursing professionals to earn their degrees from the largest producer of registered nurses in Texas and one of the largest in the country.
"Our Accelerated Online Bachelor of Science in Nursing program provides place-based education for aspiring nursing students through a rigorous online platform, ensuring that talent across the state has access to education without having to travel to the Dallas-Fort Worth Metroplex," said Elizabeth Merwin, CONHI dean. "Ascension Texas plays a critical role in our online students' success, including through access to its Clinical Education Center. We appreciate this generous support."
Ascension is dedicated to providing personalized care to all and access to a wide range of doctors and specialists through a national presence of 2,600 sites of care across 19 states and Washington, D.C. Currently, there are more than a dozen UTA AO-BSN students at Ascension Texas' Austin location.
"Providing increased availability of quality nursing education is part of Ascension Texas' mission," said Geronimo Rodriguez, Ascension Texas chief advocacy officer. "This gift helps UTA accomplish this goal while addressing access to care and improving the lives of families living and working in the communities we serve."
About Ascension
In Texas, Ascension operates Ascension Providence in Waco and Ascension Seton, which includes Dell Children's Medical Center, the region's only comprehensive children's hospital and pediatric Level I trauma center, and Dell Seton Medical Center at The University of Texas, the region's only Level I trauma center for adults. Ascension Seton partners with Dell Medical School at The University of Texas at Austin and shares a common vision of transforming health care through a focus on quality and value. Serving Texas for more than 120 years, Ascension is a faith-based health care organization committed to delivering compassionate, personalized care to all, with special attention to persons living in poverty and those most vulnerable. Ascension is one of the leading nonprofit and Catholic health systems in the U.S., operating 2,600 sites of care—including 145 hospitals and more than 40 senior living facilities—in 19 states and the District of Columbia. Visit www.ascension.org and www.dellchildrens.net.
About The University of Texas at Arlington
Located in the heart of the Dallas-Fort Worth Metroplex, The University of Texas at Arlington is a comprehensive teaching, research, and public service institution dedicated to the advancement of knowledge through scholarship and creative work. With an enrollment of approximately 46,000 students, UT Arlington is the largest institution in North Texas and the second-largest in the UT System. In 2021, UTA's combination of outstanding academics and innovative research contributed to its reaffirmation as a Carnegie R-1 "Very High Research Activity" institution and its designation as a Texas Tier One institution, two significant milestones of excellence. Further, the University also received the 2021 Higher Education Excellence in Diversity Award for outstanding commitment to diversity, equity, and inclusion in higher education. The University ranks No. 4 nationally in Military Times' annual "Best for Vets: Colleges" list, is designated as a Hispanic Serving-Institution and an Asian American, Native American, Pacific Islander-Serving Institution by the U.S. Department of Education, and has the fifth-most ethnically diverse undergraduate population in the United States (U.S. News & World Report, 2023). UT Arlington's approximately 250,000 alumni occupy leadership positions at many of the 23 Fortune 500 companies headquartered in North Texas and contribute to the University's $22.2 billion annual economic impact on Texas.