Using light to improve short-term memory
UTA bioengineer co-authors breakthrough study on light therapies for brain health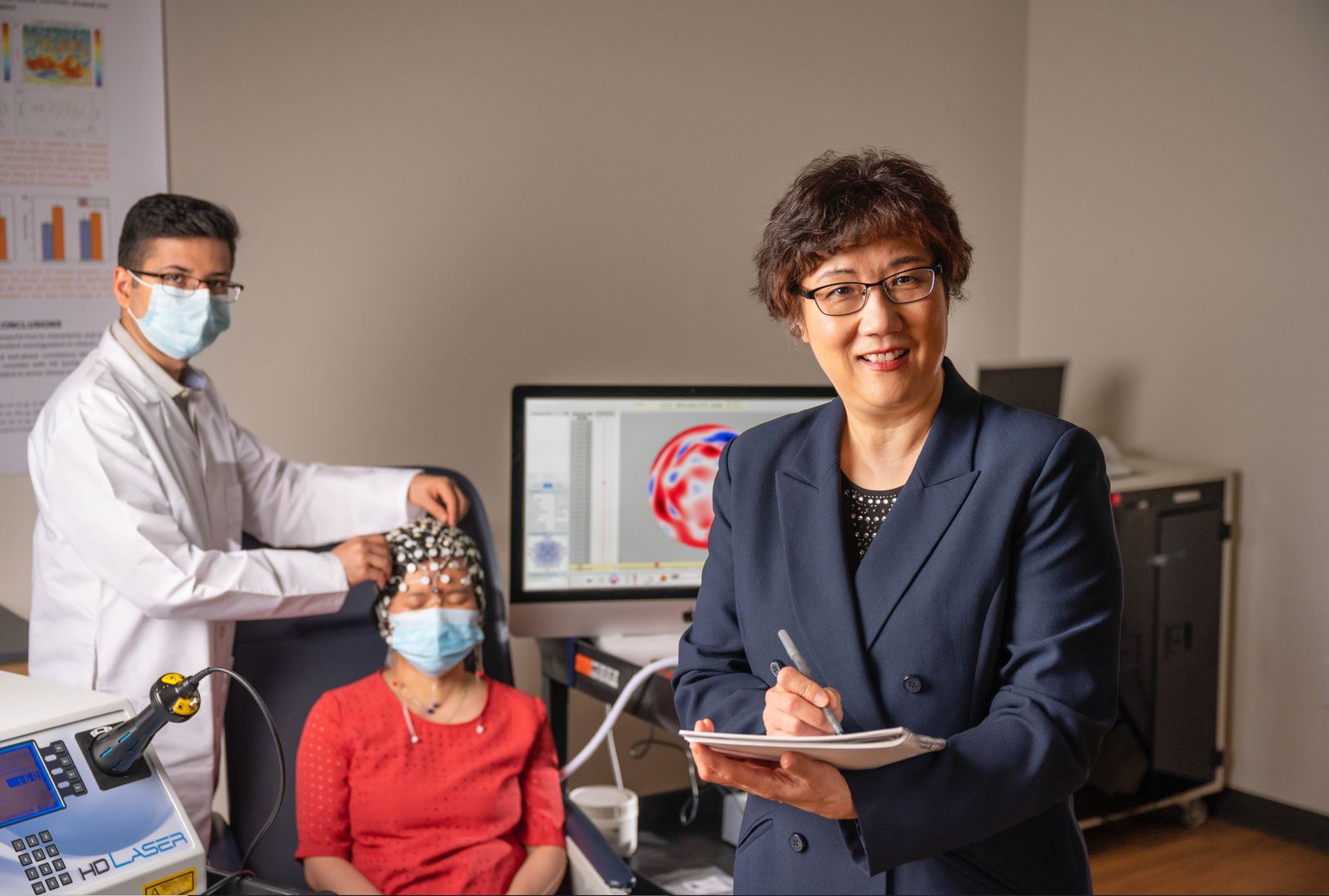 A noninvasive light therapy known as transcranial photobiomodulation (tPBM) can improve short-term memory in humans, according to a Science Advances study co-authored by a University of Texas at Arlington researcher.
Hanli Liu, professor of bioengineering, said tPBM is emerging as a promising treatment to improve cognitive functions, especially for individuals who are at risk for Alzheimer's disease and related dementia disorders.
"People are living longer than they used to, and healthy aging is more important than ever," Liu said. "We are very optimistic about tPBM's potential to treat age-related memory problems. It's a low-cost and low-risk therapy that is simple enough to administer at home."
The study— conducted by an international team of collaborators from UTA, Beijing Normal University and the University of Birmingham—is the first to confirm a neural or neurophysiological link between tPBM and working memory capacity in humans. Their primary was to reveal and pinpoint the connections from the front to the back of brain during memory tasks, Liu said.
To examine the link between light therapy and short-term memory, scientists conducted four experiments in which participants completed two sessions of tPBM where a laser was directed at their right prefrontal cortex. After, participants performed a visual memory task, during which their visual working memory was manipulated and instantaneous neural responses were recorded. The participants then performed a series of follow-up experiments that compared differences in working memory in response to various light wavelengths with where the light was applied to the head.
Across all four experiments, the researchers found that light stimulation applied to the right prefrontal cortex can improve visual working memory capacity. Their findings were based on behavioral outcomes and neural measurements. Even though visual working memory capacity is closely associated with the rear of the human brain, light stimulation in the front is effective because the human brain is a comprehensive system with well-connected neural networks, Liu said.
Recent publications by Liu's group have demonstrated that tPBM significantly enhances functional brain activities in the rest of the human brain.
"This is a unique and timely study because no one has yet been able to examine the links at the neural level between the light-stimulated human brain regions and improved cognitive functions with rigorous neurophysiological measures," Liu said. "It's very exciting to participate in leading research and better understand how light therapies can be used for brain health interventions."