A graduating Maverick who's ready to give back
Kyairra Burns survived childhood cancer. Now she wants to help kids just like her.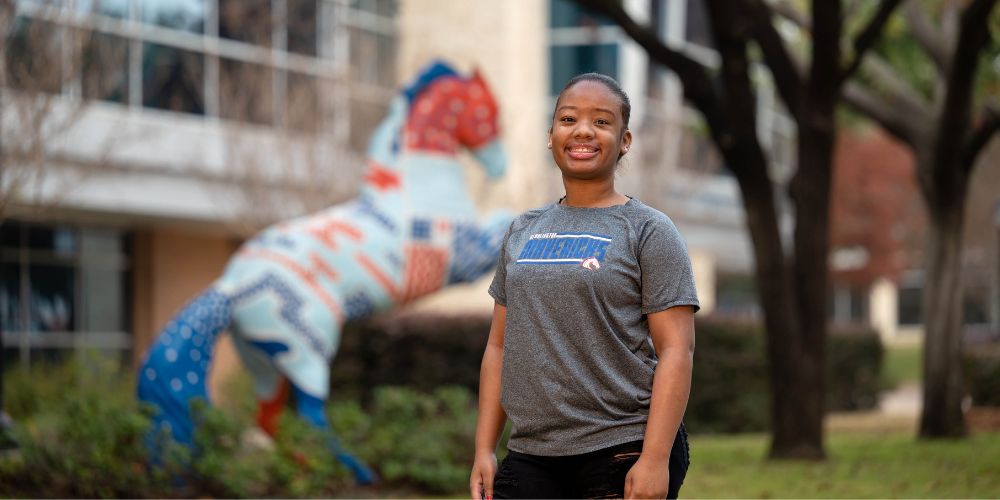 When Kyairra Burns volunteers at area pediatric hospitals, she knows just what young patients are looking for—because she used to be one of them.
"The little kids just want someone to play with," said Burns, 26, a survivor of childhood cancer. "The older kids, they just want the truth."
On Friday, Burns will join about 4,500 fellow Mavericks crossing the stage at The University of Texas at Arlington's fall commencement ceremonies at Globe Life Field. She is graduating with a Bachelor of Science in public health, an academic path inspired by her passion to help children and their families fighting their own health battles.
After graduating, she has a job lined up with a nonprofit organization that works with children with critical illness and their families and offers them support, comfort and assistance.
"It's obviously very meaningful to me," she said.
Burns has heard the story of her own childhood cancer many times. Just 5 years old, she was sitting on her living room couch in her family's Dallas home when her mother noticed that her left eye was protruding from its socket. "It was out a lot, not to the point where it was going to fall out, but a lot," she said.
The diagnosis was rhabdomyosarcoma, a soft-tissue cancer that typically forms in muscles and can produce a lump or swelling that presses on surrounding organs. In Burns' case, the tumor was pressing on the back of her eye, causing vision problems even two decades later.
Burns spent nearly a year receiving chemotherapy and radiation treatments, then a couple more years battling illnesses as her weakened immune system struggled with common colds and viruses. She lost a lot of weight and most of her hair. "I hated that," she said.
She said she was too young to comprehend the gravity of her condition. Even while secured to a gurney with her eye taped open so she could receive radiation treatment, Burns said she was always cheerful. "I just wanted to listen to music," she said.
The treatment worked. She regained the weight she lost from chemo and her hair grew back.
She also developed a fearsome work ethic and a desire to help those in similar straits. She volunteered at hospitals, participated in charity walks for groups like Make-A-Wish and started working toward a degree from UTA's College of Nursing and Health Innovation (CONHI). At first, Burns planned to major in exercise science, but switched to public health after a conversation with an assistant dean who convinced her she could use her degree to work with critically ill children.
As part of a senior project in her public health program, Burns created a website that includes resources and information aimed at families who have children with cancer.
"She has such a passion for this work, and it really showed in her project," said Brandie Green, clinical assistant professor in the public health program. "She is one of those students who we wish for in the field of public health. We always say your passion is going to come from your life experiences. That makes us so proud as faculty because we know how far she will go in the field because of that passion."
While still a full-time college student, Burns spent two years working full-time on the overnight shift at an Amazon warehouse, then commuting from her Duncanville home to the UTA campus. She said the extreme effort was worth it.
"I don't remember sleeping that much," she said. "I just knew I had to finish. My parents tell me if you start something, you should go ahead and finish it."
She did, thanks in part to supportive faculty in CONHI and a strong connection with her family and friends.
"My professors were so hands-on; you can go to them with just about anything you have going on and they will help," she said. "I also had a lot of friends at UTA, and going to class with them, I didn't feel like I had to do this experience alone."