Establishing climate-smart agricultural practices
UTA biologist leads project to implement sustainable soybean production across Texas, nearby states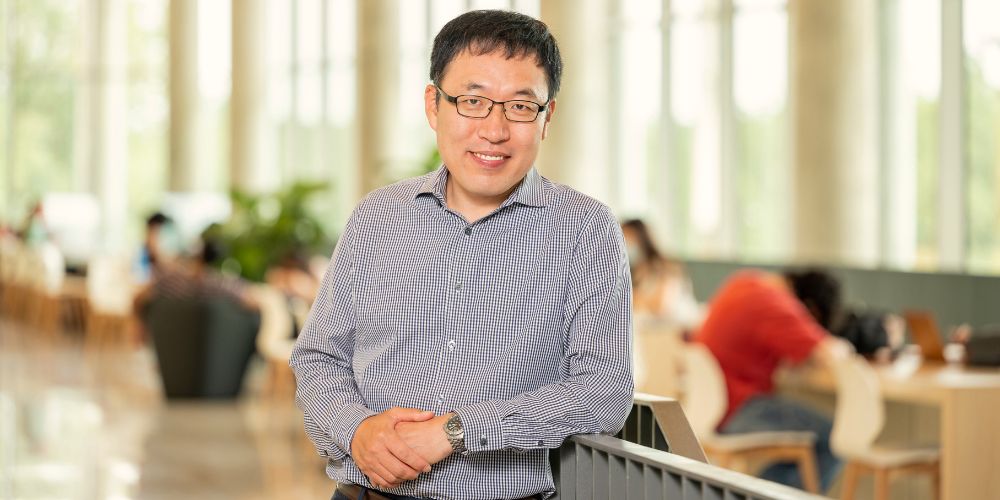 A multi-institutional team of researchers led by The University of Texas at Arlington is launching an effort to provide small and underserved farmers in Texas, Arkansas and Missouri with resources to enhance the sustainability of their soybean production.
Woo-Suk Chang, associate professor of biology, and collaborators from Texas A&M AgriLife, Tarleton State University and University of Missouri received notice of a nearly $5 million grant from the U.S. Department of Agriculture (USDA) through Partnerships for Climate-Smart Commodities to establish climate-smart agricultural practices to reduce greenhouse gas (GHG) emissions and increase soybean production.
"The agricultural industry will soon be a leader in the fight against climate change," Chang said. "Within the last 20 years, advances in plant breeding and biological soil amendments have allowed sustainable and regenerative agriculture to take on a more pivotal role in aiding the fight against the destruction of our planet."
To reinforce efficient and sustainable soybean production, the researchers will work with farmers to combine new techniques and innovative pilot projects, including:
No-till agriculture – Tillage can lead to soil degradation and nutrient losses on highly erodible soils or soils with excessive inclines. To positively impact soil health, the researchers will incentivize farmers to convert to no-till planting to preserve below- and above-ground carbon storage.
Cover crops – Researchers will investigate localized cover-crop strategies to show farmers the multiple benefits of adopting climate-smart practices. Under advisement of local soil scientists, they will use cover-crop mixtures that are adapted to the appropriate soil type and moisture profile of each location.
Climate-smart soybean varieties – Researchers at the University of Missouri have developed a comprehensive, multidisciplinary action plan to accelerate the development of climate-smart soybean varieties tolerant to flooding or drought. To increase the competitiveness of the climate-smart soybean varieties, extensive field trials assessing the yield and potential yield drag associated with the tolerance trait will be conducted in environments without the presence of adverse conditions.
Crop rotation – Crop rotation can achieve sustainable soil health, optimize biodiversity and prevent soil erosion. The researchers will develop and identify the most optimal diversified crop rotation methods; identify cover crops that are suitable for Texas, Arkansas and Missouri; and implement climate-smart soybeans into the diversified crop rotation.
Bio-inoculants – With climate fluctuations such as drought events that cause the largest negative impact on biological nitrogen fixation, having drought-tolerant bio-inoculants as a part of a climate-smart commodity package is a fundamental weapon against climate change.
Biochar – As a soil amendment, the high surface area and porous structure of biochar can enhance water-holding capacity and provide a shelter for nutrients, biologicals and organic materials from harsh abiotic conditions. In this project, biochar is proposed as a cost-effective and sustainable solution to lowering GHG emissions from agricultural fields.
"Sustainable production systems that strengthen economies and bolster human health are cornerstone priorities for our research enterprise," said Cliff Lamb, Ph.D., director of AgriLife Research. "This grant will help Texas A&M AgriLife produce unique and novel biochar materials with primary emphasis on the reduction of greenhouse-gas-emissions while also enhancing drought tolerance across multiple environments."
Fourteen soybean producers from the three states have agreed to participate in the climate-smart practices put forth by the research team. They have been selected based on conservation programs established by the USDA's National Resources Conservation Service. These programs focus on socially disadvantaged, beginning, limited resource and veteran farmers to provide farming aid. The intent of this recruitment is to enroll small and underserved producers and bring climate-smart changes in agriculture by eliciting the acceptance of innovative farming practices.
Outreach and educational training will be provided by specialists and consultants to allow a solid foundation for success across the varied environments that have been pledged to the climate-smart farming initiatives. By providing enlisted farmers with climate-smart commodity packages, financial incentive and the ability to accrue carbon credits, the researchers expect to accumulate a growing list of producers across all three and neighboring states that want to adopt the innovative climate-smart practices.
This project is one of 141 funded through USDA's Partnerships for Climate-Smart Commodities, part of a more than $3.1 billion investment. Partnerships for Climate-Smart Commodities is working to expand markets for American producers who generate climate-smart commodities, leverage greenhouse gas benefits of climate-smart production and provide meaningful benefits to producers, including small and underserved producers.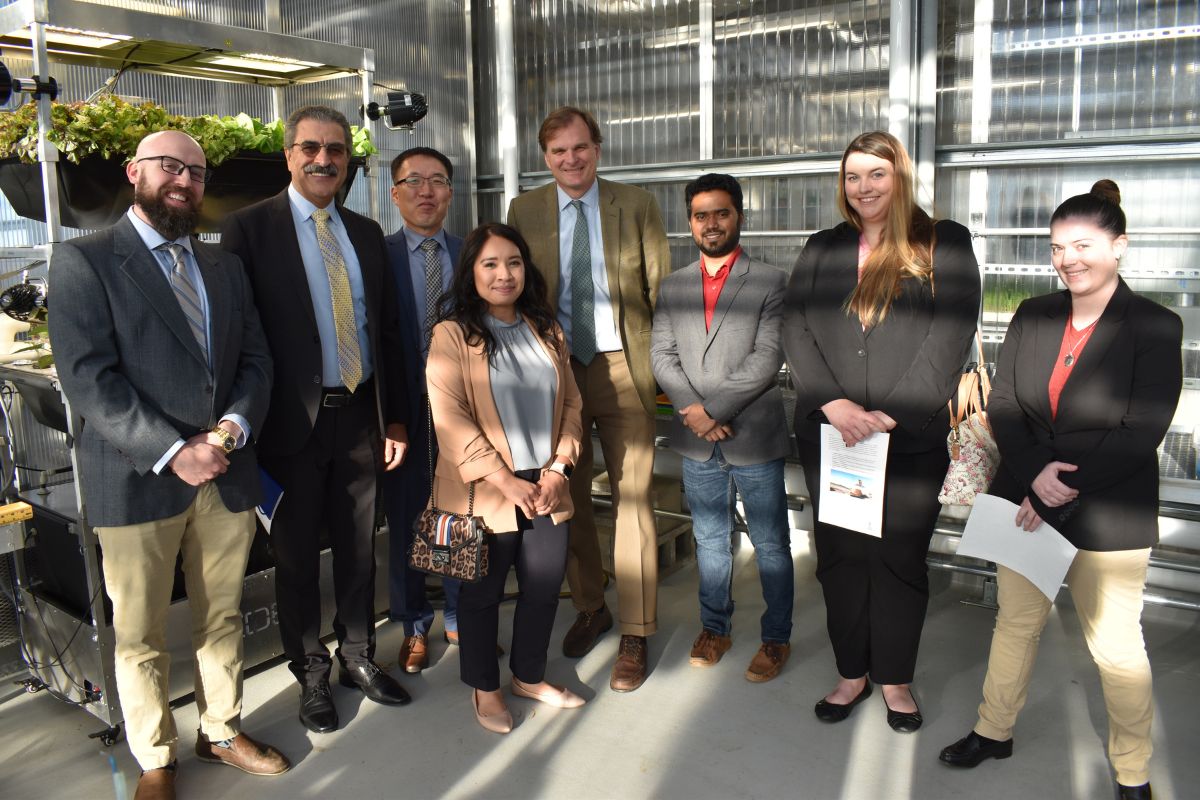 To celebrate the launch of the project, Robert Bonnie, USDA Under Secretary for Farm Production and Conservation, traveled to North Texas and met with the project team, including faculty and student researchers from UTA.
"Expanding opportunities for small and underserved producers is a key goal of Partnerships for Climate-Smart Commodities," Bonnie said. "Small and underserved producers, including those here in Texas, are facing the impacts of climate change head-on, with limited resources, and have the most to gain from leveraging the growing market demand for agricultural goods produced in a sustainable, climate-smart way. We look forward to working with The University of Texas at Arlington to expand markets for climate-smart commodities and ensure that small and underserved producers reap the benefits of these market opportunities."
Learn more at www.usda.gov/climate-solutions/climate-smart-commodities.